By Paola Sacerdote
As 2021 comes closer to an end, we reflect on the hardships of this year, and it shows on our face. So Bronze Magazine turned to Board-Certified Dermatologist Dr. Shari Marchbein for answers about the connection between one's skincare routine and their mental health. In this recent Q&A, Dr. Marchbein offered helpful skincare tips that included incorporating the *NEW* PONDS Rejuveness Collection into your nightly routine, which can help you better relax by ultimately placing you in a positive mental space at the end of the day and even the start of the new year.
Why is washing the face with soap not enough?
I, along with most dermatologists, recommend washing your face twice daily, both morning and evening. But this may vary based on your skin type (for those with dry or sensitive skin, washing once a day at night is likely enough whereas for oily skin, washing twice daily is better) or what products you apply to your skin those times of day (ie: If you are using a night time acne routine, you would want to make sure to rinse those products off in the morning with a gentle cleanser. If you are going to skip one, it is better to forego the morning rather than the evening wash. It is extremely important to remove makeup, dirt and pollutants that have accumulated on your skin during the day, before heading to bed. And, sleeping with makeup on/forgetting to rinse your face before bed is a big no-no as it can cause major acne breakouts including painful cysts. Over washing on the other hand, can strip the skin of essential oils, leading to irritation and lack of moisture, so be careful to not exceed twice daily. Using a double cleansing routine can be especially helpful if heavier makeup is worn, where makeup is first removed using facial wipes or micellar water (Simple micellar water is my favorite) and then the face is thoroughly cleansed using a gentle foaming or creamy face wash. Also use lukewarm water, not hot, so as to not strip the skin of moisture and pat the skin gently afterwards to dry it.
In what ways does skin care routine connect with mental health?
First, stress NEVER makes anything better and lots of skin conditions including eczema, psoriasis and acne can flare with stress (although of course there are other causes). Hormones are one of the main contributing factors in acne breakouts and while we typically think about testosterone and progesterone, cortisol is the hormone which increases in the blood at times of stress or with lack of sleep and can trigger acne breakouts by stimulated sebaceous glands. Beauty sleep is also real and the health and appearance of your skin depends on getting at least 6 hours of sleep per day to repair itself and recover overnight. When sleep deprived, the body makes more of the stress hormone, cortisol. Increased cortisol caused inflammation and stress on the body and can worsen other skin conditions such as eczema, acne and psoriasis, as well as cause an increased breakdown of collagen and hyaluronic acid ( the good stuff that gives skin its glow and plumpness), so getting appropriate sleep and trying to de-stress and take care of your mental health is also very important for skin health.
"Getting appropriate sleep, de-stressing, and taking care of your mental health is also very important for skin health."
Why is POND'S Rejuveness Collection the best choice for nighttime skincare?
The Ponds' Rejuveness Collection is one of the best because it is combined with Niacinamide (Vitamin B3), one of my favorite powerhouse antioxidants. While amazing for all skin types to help calm inflammation and redness, it is especially gentle for sensitive skin and those that have rosacea and can reduce redness and hyperpigmentation of the skin

Does price reflect the quality of a skin care product?
Absolutely not. Often higher priced products are that way because of packaging and marketing. There are so many amazing and affordable drug store skincare options in every category from face wash to retinol to vitamin c serums to sunscreens etc.
What is the best nighttime skin care routine for stress and for rejuvenating the face?
Nighttime skincare routines are essential for healthy, glowing skin as our skin repairs itself overnight, and it doesn't have to be complicated or expensive. The three key steps are:
Step 1: Cleanse your face with a gentle cleanser. It is extremely important to remove makeup, dirt and pollutants that have accumulated on your skin during the day, before heading to bed.
Step 2: Apply a pea sized amount of retinoid/retinol. We often forget to treat our eyelids and necks, but these can be some of the first areas to show signs of aging especially since they are thinner skinned areas of the body. The POND'S Skin Tightening Serum is perfect to tighten and treat the neck area, showing a difference in just one week with twice daily usage. For the eyes, I use an eye cream 1-2 times per day to help hydrate and improve the appearance of dark undereye circles and fine lines and POND'S Lifting & Brightening Eye Cream is a favorite.
Step 3: Layer with a moisturizer over top for hydration throughout the night. The POND'S Advanced Hydrating Night Cream is the perfect way to finish off your routine as it is designed to be used as the final step of a nighttime skincare regimen, reducing the look of wrinkles, and hydrating to help slow new signs of aging.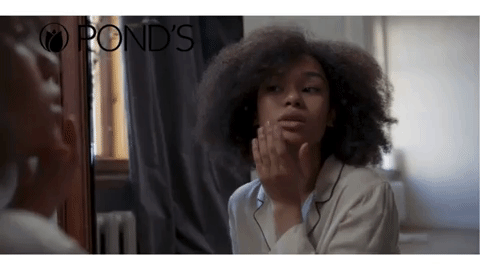 What's the difference between morning skin care routine and night skin care routine?
The morning skincare routine is meant to protect the skin so vitamin c serum and sunscreen are key ingredients. Nighttime routines are meant to repair the skin so retinoids are most important this time of day.