WRITTEN BY MARIAN NIMOH
IMAGES: JASON MCCOY PHOTOGRAPHY
Of her many successful endeavors, best-selling author, sought-after empowerment specialist, revolutionary thinker, and transformational leader Dr. Cindy Trimm's accomplishments extend far beyond the pulpit. As the Founder and CEO of Cindy Trimm Ministries International and a former senator of Bermuda, Dr. Trimm is proven as one who takes action. In her desire to help others engage more openly in positive change-making, the global influencer introduced GREET change, an acronym used to push people forward to heal the world.
"It started with the protest and I asked myself the question of how can we move from protest to progress? I watched TV and what resonated very deeply with me were the many different countries, island nations, ethnicities, and nationalities meeting and protesting with signs that said, Black Lives Matter… my heart began to leap with hope and faith in humanity. It was no longer about color; it was about our humanity. I had this sense and understanding that people were really saying we no longer want to live in a world like this," says Dr. Trimm.
Reminded by the words of J.R. Tolkien, "There is good in this world, and it's worth fighting for," Trimm believed and decided she was the change. "I wasn't waiting for a government, a person, organization or an institution to be that change for me, I decided I am the change." It is her passion and determination for humanity to bring healing and change in the world that caused her to get others involved in becoming examples and influencers of change.
Through the GREET Change initiative, Dr. Trimm's goal is for individuals to come together and transform through an open mind and heart by showing respect and empathy for different backgrounds and perspectives, define and deconstruct problems and share ideas, values, and visions. "I came up with the acronym in G.R.E.E.T. Change to help everyone remember five simple steps in positive change-making: gather, respect, engage, elevate and transform," explains Dr. Trimm.
THE FUTURE IS FEMALE.
Through Trimm International Foundation, Dr. Trimm strategically partnered with the United Nations in helping achieve their 2030 development of sustainable goals. As part of the sustainable goals, she created the Adopt-A-City program which focuses on discussing and improving the economic, legal, health, and education inequalities around the world. "A lot of the protesting is about the economic, health and educational disparities," she says. To help bring changes in these areas, Dr. Trimm began by adopting a city and she is working with the city of Albany in Georgia, as well as Bermuda, and Liberia to address the disparities. "It's not just cities, it's countries. While other people decided to adopt children and pets, I decided to adopt a city. We receive funding from grants to work immediately on these issues, and we work with the local governments looking for alternative models to bridge these types of gaps that we currently see today, says Dr. Trimm. She encourages people to contribute to a local community problem by first choosing a community problem to solve, hosting a GREET change, and becoming the change the community wants to see.
In a world where technology is powerful and evolving, Dr. Trimm has goals for women in the wave of the 4th industrial revolution and she sees the world of dreamers. "The future is female," she says. "I am really focusing on mentoring the next-generation leaders, helping them to see themselves as agents of change, and how to influence others. Women can retool themselves and develop new skills for the new world. There is a demand in the marketplace for critical thinkers and problem solvers. That's what women do. We solve problems, we raise children, and we're holding things down. We can make a difference. I am hoping that women can see themselves as problem solvers," says Dr. Trimm.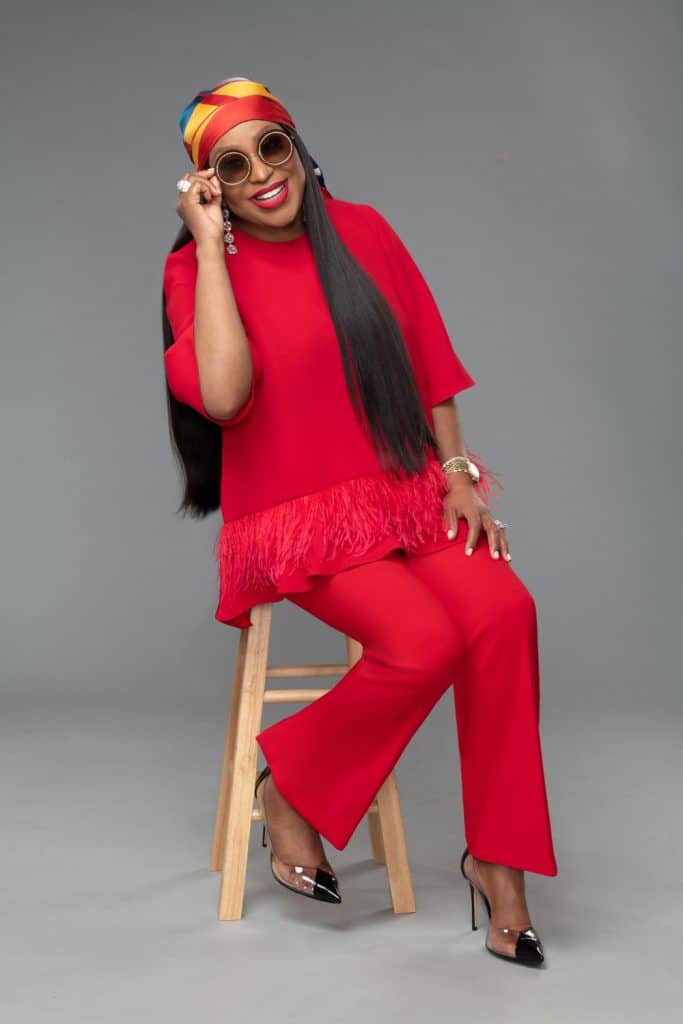 Dr. Trimm is also the founder of Trimm Global Charities. Through her charity, her mission is to solve problems around the world by working with countries and communities to help them thrive. She wants to bring revolutionary ideas to strengthen humanity for generations to come. She is interested in engaging in a civic conversation, to challenge the health, education, and economic disparities and do more than being a commentator by bringing solutions. "Our intention is to build a case of hope and look back at history to say that humanity has always found a way forward and our current challenges will continue to push us forward as a global family. This demands a new industry-specific thought leadership. All our educational institutions are looking for those critical thinkers and problem solvers and we are hoping to be one of them at the institution."
Of her greatest accomplishments in life, Dr. Trimm is enormously proud of Trimm Institute for Global Leadership. "It takes a village," she says. "We have been able to tool industry-specific thought leaders from around the world, not only to think outside the box but to create new boxes and to see themselves as change agents. So, I am proud of being able to be a part of the solution; to bow low and steady the shoulders of my generation so the next generation has steadier shoulders to stand on. I am extremely proud of that."
Dr. Trimm is so passionate about life and work that she wishes she had 40 hours in a day as opposed to 24. "I want to do more, and I found out I can do more with other people as opposed to doing it alone. We are helping people see how we can live in a better world if we put our shoulders together. I figured out how to do more by networking and partnering with others," says Dr. Trimm. Her greatest joy is to help people and sympathize with them. She believes that the greatest skill to challenge people of the 21st century is the ability to learn, unlearn, and relearn.
Despite a global pandemic, it has not changed Dr. Trimm's perspective of the world. She believes in the collective nature of humans and how we should lead and not wait for the government. "This has given me the opportunity to push the humanity agenda. We are all human beings. We all have dreams, we all have visions, and we all have desires for our children and health. We have made the government God. The pandemic is a pregnant pause and we get a chance to reinvent ourselves; we get a chance to define what it means to be human and we get a chance to retool, rethink, unlearn, relearn, and learn. We get a pregnant opportunity and it's how we use this opportunity," she says.
The global pandemic has taught Dr. Trimm how fragile life is and it has reinforced the value of time and love. "We don't know when we are going to die or how. We do know each one of us will die, but as long as we have breath, we have hope; we can have faith and create a better world. We should value people, our community, and we should value our world enough to make it a better place," says Dr. Trimm. Although there is discomfort amid a pandemic, she believes that there is a purpose in the pandemic, and that is to bring change. She believes there will be generation-born leaders, thinkers, dreamers, history and progress makers. "The problems or challenges we are facing may seem overwhelmingly disheartening. When we look back at history, it has a way of teaching us great lessons, and one of the lessons that I have learned is that the pain points have always pointed us to solutions, and we are able to solve the problems and overcome them. And it's the pain points that have also shaped the next generation of leaders, innovators and history makers moving humanity forward. Our collective intelligence is finding solutions to solving the world's biggest problems, and I expect no difference in our generation. I think that we are challenged to create a new paradigm of leadership and a new way of thinking. We can do that once we get clarity; and that is what this is all about. I want to help people get clarity, says Dr. Trimm.
During her youth, Trimm was very involved in her community. At the age of 8, she started her first business. By the age of 18, she was consulting the government. At 20 years old, she was assisting the Girlguiding Commissioner in her country, and by the age of 30, she was the government. Dr. Trimm values the youth, their creativity and fearlessness. She believes that the youth should be taken seriously because they can bring a lot to the table and their energy should not be wasted. "If we wait for the youth to become a certain age, we lose the value of youth," says Dr. Trimm. She believes that youth are interested in living in a better world, and with technology, they can be extremely helpful.
Dr. Trimm is currently working on GREET Change, Adopt-A-City, and the Institute for Global Leadership. She is also working on her new book for women called Indispensable, which is about the power of a powerful personal brand.
Dr. Trimm believes that she is walking in her purpose. She loves to mentor, advise, and coach the greatest minds. "I wake up excited and I go to bed excited. I'm doing what I feel is going to move humanity forward. My work is play. I am in my element," she says. But when she is not playing, she is reading, writing, traveling, and she loves a good movie.
When asked what one piece of advice she would give to her younger self, Dr. Trimm replied, "Keep doing what you are doing." You can find out more about Dr. Cindy Trimm on all social media platforms and her website.
FB: @drtrimm
This article currently appears in our September digital issue