In November, many people tend to decorate their homes in preparation for Thanksgiving, but even though the holiday has come and gone, it's still not too late to give your home a unique style by creating your own decorations. Here's a few ideas.
Pinecone Crafts
Pinecones are easy to find this time of year, whether you find them in your backyard or in an arts and craft store like Michael's. There are many different decorations you can make with these flowers (yes, pinecones are flowers).
Bleached Pinecones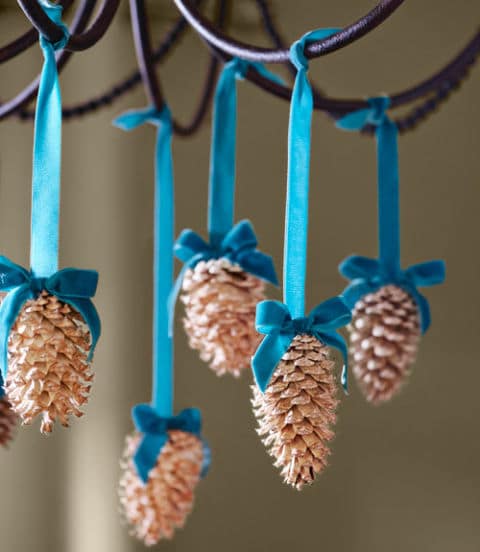 Materials You'll Need:
Bleach
Water
A bucket
Ribbon of your choosing (length depends on how many pinecones you want to hang)
A glue gun
Instructions:
1.) Mix two parts bleach and one part water into a bucket and place the pinecones that you want bleached into the bucket. You will have to place a heavy object like a plate on top to keep them underwater. They'll have to sit in the bleach for 24 hours.
2.) Rinse the pinecones in water and set them outside to dry. This could take up to a week depending on the weather.
3.) After they've dried, you can hang the bleached pinecones as they are, just cut your ribbon evenly (one for every pinecone). You can also cut shorter pieces to make bows for the top of the pinecone. Use your glue gun to adhere the longer ribbon to the base of the pinecones, then glue the bow to the base of the pinecone.
4.) Or you could use the bleached pinecones as a part of other pinecone crafts.
Pinecone Centerpieces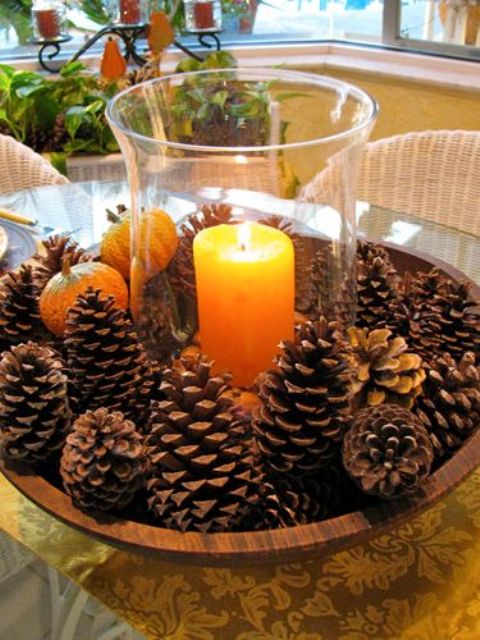 Materials You'll Need:
A bowl or another container you wish to place on your table (a size of your preference)
Pinecones
(Optional pieces: mini pumpkins, fall flowers, leaves, candles, moss, etc.)
Glitter and/or paint (if you wish to use them)
Instructions:
Take the pieces that you want to use in your centerpiece and arrange them to your liking. You can mix in plain pinecones or the bleached ones. You can even paint the bleached ones to get brighter colored pinecones and the mini pumpkins if you use them.
Pinecone Door Hanger
Materials You'll Need:
At least 6 or more four to six inch pinecones
Two-foot long ribbons (one for each pinecone)
Glue gun
Instructions:
The pinecones that are used for the door hanger can be plain pinecones, bleached pinecones, or pinecones that you've painted/decorated with glitter. Glue the last two inches of the ribbons to the base of each pinecone. Once the glue has dried, take up the ribbons and align them so that the pinecones fall at varying lengths. Knot them together and trim the ends so that they are even, and hang up your pinecone door hanger. (The simplest way is to slip the knot over a nail.)
Pinecone Snap Ornament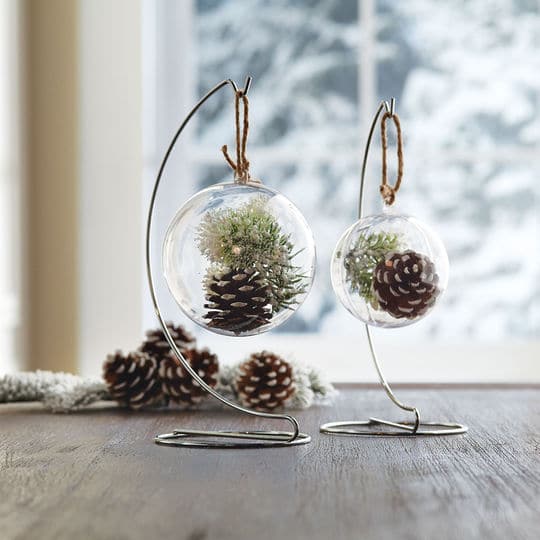 Materials You'll Need:
Fir
Faux berries
Pinecones
Snap Ornament
Twine
Evergreen boughs
Instructions:
You can glitter the tips of the pinecone or the entire thing to give a winter feel to the ornament if you wish. The best way to glitter/snow your pinecones is to place glue where you want the glitter/snow to stick.)Â  Open the snap ornament and fill it with the pieces of your liking. Once it's filled, close the ornament and tie a piece of twine about 8 inches long to the top of each ornament as a hanger.
Pumpkin Crafts
Fruits aren't only for eating, they can also be used to decorate your home. Here are a few decorations that utilize pumpkins, but can also be used with other fruits as a substitute like squash or gourd.
Mini Pumpkin Vases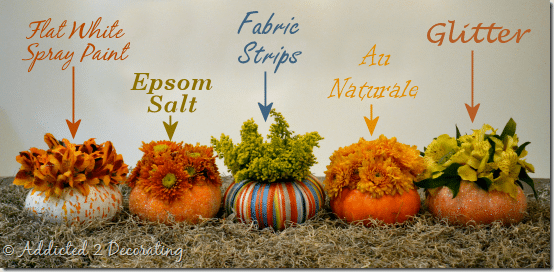 Materials Needed:
Candle Carver
Mini Pumpkins (white or orange)
Paint
Flowers (of your choice)
Votive Holder
Instructions:
If you choose to paint your pumpkins, you should do so before you carve them. Once the paint is dry, use the candle carver to remove the pumpkin chunks. Place the votive holder into the pumpkin to supply water to your flowers and then add your trimmed flowers. (Or if you don't want to deal with real flowers, you can forget the votive holder and just fill the pumpkin with fake flowers instead).
White Pumpkin Centerpieces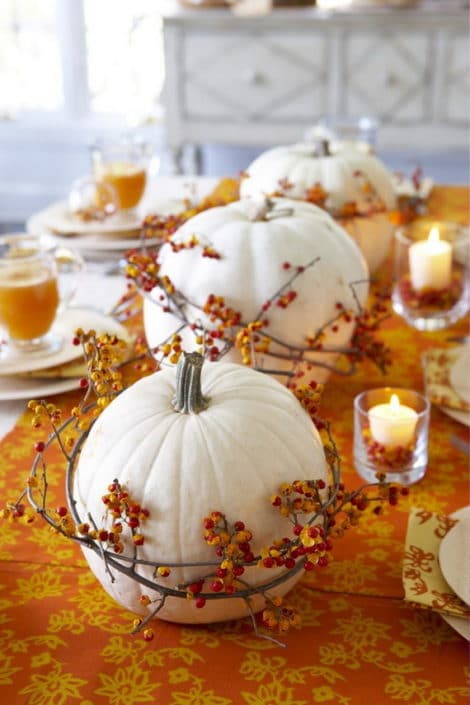 Materials You'll Need:
White Pumpkins
Bittersweet Vine
Instructions:
You can do this with mini white pumpkins or large white pumpkins. You just take the pumpkins, whichever size you prefer. Wrap the bittersweet vine around it in a manner that suits you. And there you have your centerpiece.
Floating Display
Materials You'll Need:
Glass Containers (like vases or drinking glasses, depending on the look you're going for)
mini pumpkins (white or orange)
Your choice of autumn blooms
Water
Any other materials you want to add in (leaves, berries, twigs, etc.)
Instructions:
Fill the glasses with water and place one pumpkin and flowers or other materials  in each glass to float. This will add beauty to your table.
Candle Crafts
Everyone loves that candle glow and you can decorate your candles to make your candle glow unique to your home.
Golden Glow: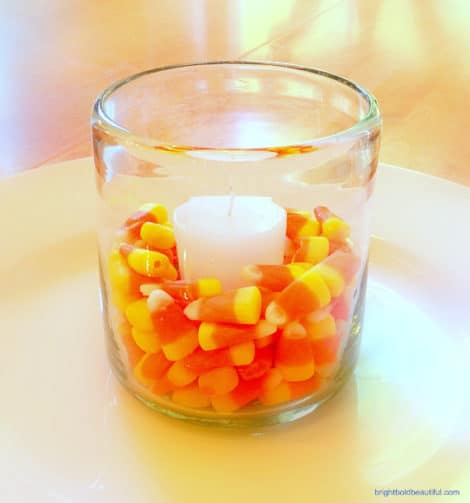 Materials You'll Need:
Votive Holder
A candle (battery powered or real)
Popcorn kernels, candy corn, colored/clear round stones, or any colorful material you might want to use
Instructions:
Place the candle in the votive holder and surround it with the materials of your choice. Place your golden glow where you want it to go and either light or turn on your candle.
Autumn Votives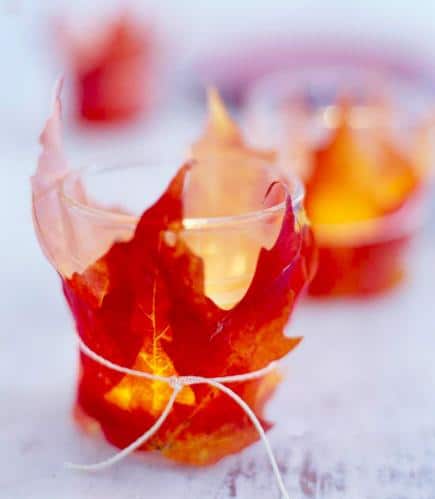 Materials You'll Need:
String or twine
Artificial leaves
Votive holders
Battery-powered candles
Instructions:
Take the votive holder, wrap the fall leaf around it and tie it using the string/twine. Then place the battery-powered candle in the votive holder. The faux leaves and candle allow for a safe and long lasting beauty.
Enjoy the unique decor of your home for the holiday season.
By: Kadisha Kentish
Image Sources:
http://www.countryliving.com/diy-crafts/how-to/g312/all-about-pinecones-1206/?
http://www.digsdigs.com/34-cozy-pinecone-centerpieces-for-fall-and-thanksgiving/
http://www.sweetpaulmag.com/crafts/pine-cone-door-decor
https://www.michaels.com/nature-inspired-snap-ornaments/B_56661.html
http://www.addicted2decorating.com/mini-pumpkin-vases—one-idea-five-ways.html
http://www.familyholiday.net/thanksgiving-fall-autumn-white-pumpkin-centerpiece-and-decorating-ideas/
http://www.midwestliving.com/homes/seasonal-decorating/easy-fall-decorating-projects/?page=18
http://lauratrevey.com/2012/08/31/fall-decorating-ideas/