On June 5th, 2016 Deshauna Barber was crowned Miss USA in Las Vegas, Nevada. Barber is 26-years-old and was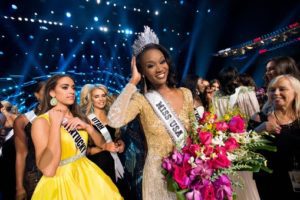 born in Columbus, Georgia. After many years of relocating to several states due to her father being in the army, she finally settled in Washington D.C, where she became the contestant for the District of Columbia.  Barber, like her father, is also a part of the United States Army, being commissioned as a Quartermaster Officer in 2011. Barber received her Bachelor's Degree in Business Management from Virginia State University. She is currently an IT analyst for the U.S Department of Commerce and a Logistics Commander for the 988th Quartermaster Detachment Unit at Fort Meade. Barber has a plan to focus on treatment for PTSD soldiers.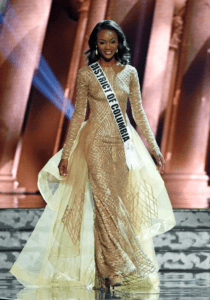 The Miss USA pageant takes place annually, consisting of 52 contestants, each contestant representing a different state, or region of the United States. The Miss USA pageant originated in Long Beach, California, in 1952. Starting only as a local swimwear competition, the pageant has developed into a worldwide multi-million-dollar organization.
Barber will go on to represent the United States of America in the Miss Universe pageant in December 2016.
By Tiara Bryant
Edited by Victoria Krute
Layout Design by Renita Singleton