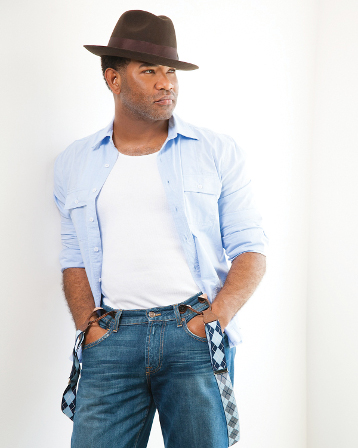 Parenthood has a way of changing your perspective of life. For most men fatherhood and being a parent changes almost everything. Topics and behavior that once passed under the radar are noticed. Their decisions on what is and isn't acceptable behavior, conduct and conversation changes; especially when in the presence of their child.
Imagine if you may, a true gentleman who has decided to be that father to the "today's man" sense of style. His role and job is to guide men of today as he would his own children on the do's and don'ts, except his consultations and advice are on style (yet given the right time or circumstance he will do that also). To him, men's accessories are the runway lights that guide your path of impeccable style, enabling your fashion sense to take flight. To let him tell it, he firmly believes the art of style not only represents you, but it is also a powerful tool to present yourself to the world.
In honor of Father's Day and in the style of Bronze Magazine, we decided to pay tribute to a man who is not only a father to his children and community, but also a father to redefining and repositioning the definition of elegant style for men around the world. Succinctly, showing them how to dress up their button downs.
Who is the man of the hour? None other than Marlin Jones, CEO and founder of Taylordblu, a men's designer accessory line that is custom made but individually inspired.
Marlin likes to state that he believes that there is a natural order of who we are. He further explains that he is who he is not by seeking to be the person he is, but rather by seeking to experience life, which has made him who he is today. So who is he? An ex-military man, a nurse, model, a father and designer; rooted as an entrepreneur. Marlin seeks to take his passions and turn them into profit.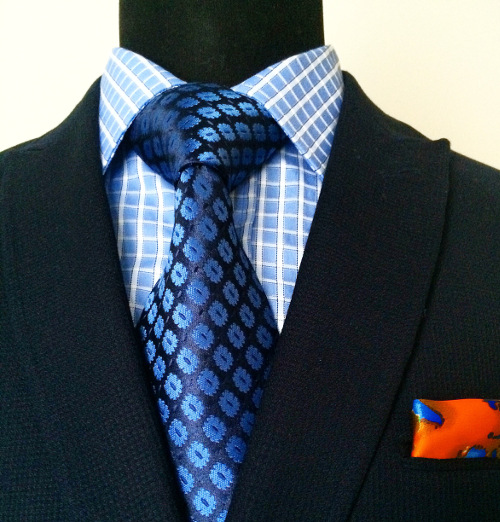 2 tone Navy blue | Blue silk neck tie w floral design paired w our "Paint drops" silk pocket square
Candidly he states, "Instant made really isn't me. With no formal education in fashion design I learned from the school of hard knocks. Learning how to maximize every situation is what makes me who I am. "Marlin's experiences exemplify these statements. One year before he graduated from high school he decided to enlist in the military so that he could have something to do and somewhere to go instead of the streets. Upon arrival he decided to get an education and pursue a career in nursing. The second oldest child of six raised by a single parent, his mom worked as a unit ward clerk in a hospital. That's how at a young age Marlin decided that being a nurse would serve his passion for caring about others. While in the service he was trained to always strive to be the next supervisor; meaning, never settle with your success. Instead, always push to be more and do more and you will learn to be your best.
Marlin's military training took on a different meaning upon the loss of his elder brother. Marlin turned to writing as a means of therapy to help him cope with his loss. As he began to post his writings and poetry on his social media platforms, many of his friends began to request that he send them more because his words were helping them find the words to explain, describe and get thru their own situations. Again, the consummate entrepreneur that he is, Marlin decided to compile all of his writings and publish his first book titled "The Definition of a Man: Translations of the Heart." Marlin explained, "Writing a book was never my intention. It was my therapy, using metaphorical vernacular to promote thought and reflection. We are all poets. I believe we all just say it in a thousand different ways." His belief is that reflection helps you understand who you are. He explained that sometimes when in the eye of the storm you can't see your progress, yet when the storm is over and you are able to look back and reflect on the situation, it enables you to appreciate where you are and what it took for you to get there. The personal success of his first book made him release his second book titled "In My Own Words."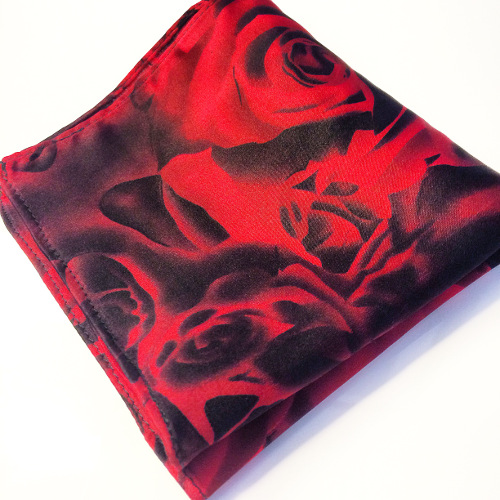 Black | Red silk pocket square w a floral design
Again, the consummate entrepreneur seeking to be better, Marlin's next venture was to take his writing and create a line of greeting cards. "Sometimes rejection is the conception and birth of a new business," states Marlin. After reading his writings, many told him they were like greeting cards. After contacting and consequently being ignored by some of the major greeting card publishers, Marlin sought to create his own limited line of greeting cards to distribute to those who understood his work and sought his messages. "I'm so simple I'm complicated," states Marlin. "My cards help others get a peek at me while helping others to let others get an understanding of them."
As the interview began to convert more into an intense conversation of inspiration, determination and divine intervention, Marlin began to paint a vivid portrait of the man behind the designs. His first color was painted with this statement, "Outside is a reflection of the inside you. When you feel good about how you look, you feel better about yourself overall. Many times I hear people say to me I don't fit the stereotype. That's disheartening. Being articulate, poised and progressive is the stereotype." After researching that comment he was right. According to history, African Americans and people of color have more years of dressing in suits, ties, shoes and hats than they do in t-shirts and baggy jeans; yet somehow the latter is more associated with us than the former, which is our true history. He continued by stating, "Being an example of what can be is more powerful than words. People tend to see me more than my environment. The bible says, "There is life and death in the tongue." The very words you speak will construct that box that you stand in. Stand where you are or be something different. My journey is like my clothing line…different."
We also customize silk 6 tab button suspenders with leather or braided ends/hips paired w our silk neck tie
Well if words construct the box you stand in, then according to Nolcha, the world renown independent fashion showcase has deemed Taylordblu and Designer Marlin Jones as "NEXT!" Although the line started three years ago, Marlin has been in the clothing business for over 17 years. His first line was baby clothes and baby accessories-bibs, onesies, blankets, etc. His logic was that women make up 80% of all shoppers and the must-buy for them is baby cloths. Every woman at some point in her life has purchased baby clothes. If not for her then one of her friends, family or associates. From baby clothes he did screen printing, polo's, and then eventually Taylordblu. An avid supporter of on-the-job training, Marlin is a student of fashion.
He explains, "People are always watching. So you should walk with dignity, purpose and respect. It's important to always be and look your best. They might not remember your name but they will remember you. That is my inspiration. I want to give a part of me to the world. They might not remember my face but they will remember my fashion. That will be my resume to the world." That made me curious about how the name Taylordblue came about. He explained how his daughter is named Taylor and his favorite color is blue. He was told that simplicity sells, and he liked the flow of the name because it reflected tailored suits, which he loves, and which his accessory line also compliments.
"The way you dress is your first resume to the rest of the world. It's the first conversation before ever really getting to know me." Even though in many of his pictures he wears a nice pair of jeans with a crisp button up, he made it clear that casual dress is attire for everything and everywhere. Instead he encourages men to take the time and effort to wear clothing that really speaks to who they are at their best. He has taken it on as one of his personal missions to bring back the style and definition of who we were, but with a today twist. Event and venue is equivalent to time and place. To understand that simple fact is the gateway to unleashing your true fashion sense and flair. Marlin continued with, "I love the style of the Harlem Renaissance. Everyone was dressed with their Fedora hats. It was class, craftsmanship, and a look that is timeless. Taylordblu draws from that era yet sets itself from those times by the fabric I select and the colors I select for my line." He believes that it is important to constantly reinvent to stay relevant. Nothing lasts and failure is not an option. He makes it clear that he gets around the word NO by walking in the back door then leaving out the front to let everyone know he was there. His line does the same.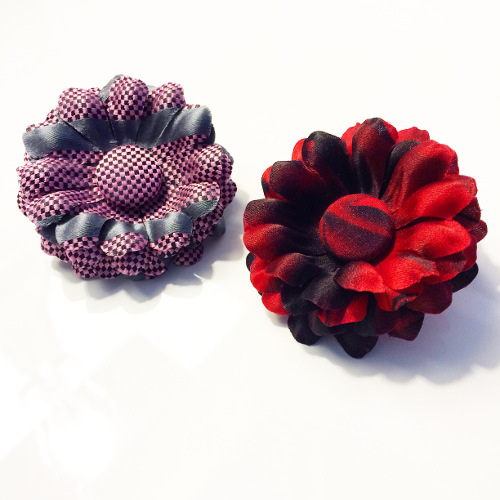 Our one of a kind silk lapel flowers. We do custom daisies and roses w our pin backing for easy attaching to shirts, sport coats/jackets , or shirts
Another person that is living by the code of reinvention is actor Pee Wee Herman. The big news for the label is that he has agreed to wear Taylordblue accessories in his new movie. Marlin told the story that when he got the call he thought for a moment. He believes in reinvention and viewed the opportunity as a defining moment for Taylordblu, affirming its value of contributing in their own way to the comeback of another man's success. That comeback is also a come-up for Taylordblu, helping to redefine what the brand does for fashion and the people who wear his line. He gave a poignant summation, "Strong people get back on track. They humble themselves and then move on. It's great not only for the person but also the people that believe in him." I guess determination inspires change. Taylordblu is determined to redefine the way today's man dresses.
Like all great dads, his family is everything. That rule pertains to Marlin as well. He states that family is important because it gives you balance. He explains that with his family he is the oldest now by default. "Since my brother's death I have the role of the eldest. As such it's important for me when they come to me that I tell them what they need to hear and not what they want to hear. If you knew better you would do better. I use that same philosophy with my designs and my company." Yes he does. Taylordblu even gives their clients the history of the man's ascot so that they can understand the reasoning and how to tie and carry yourself when wearing an ascot.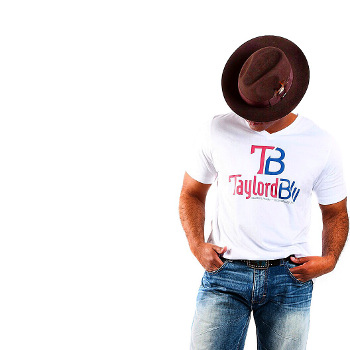 Family doesn't just end with blood. As a member of 100 Black Men, Marlin asserts that it is imperative to give back. He doesn't hesitate to share that although he is in his life now he really didn't have his dad in his life when he was young. Life for him is about impact. He affirmed that giving back is really paying it forward. I implore other black men to be surrogate dads to youth who don't have a father figure in their life so that they have that experience. Again, going back to "If you knew better you would do better," except he explained it as, "If you help them want better they will do better on their own." It's their choice that you encourage.
As refreshing as it was to speak with Marlin Jones it was time to close the interview. My last question was for him to finish the following sentence, the Taylordblu today's man is… His reply lead to another 30 minute discussion. I quote, "He is educated, sophisticated, well spoken, understands hardship and struggles, is a student of life possessing perseverance, and has a positive attitude." He believes that none of us are teachers. He believes that life humbles us at times so we are always students of life if we are truly living and not existing.
"Faith has been my backbone and gave me my self-worth. Faith showed me that I am important and that I can be an influence. Understanding that I am only one, but all it takes is one to make a difference." He continued by stating, "At the core, the Taylordblu man loves, understands and presents the best of himself that he can. He walks into a room and he is thought to be decent by the way in which he carries himself even before anyone gets the chance to know him. Positive people attract everyone!"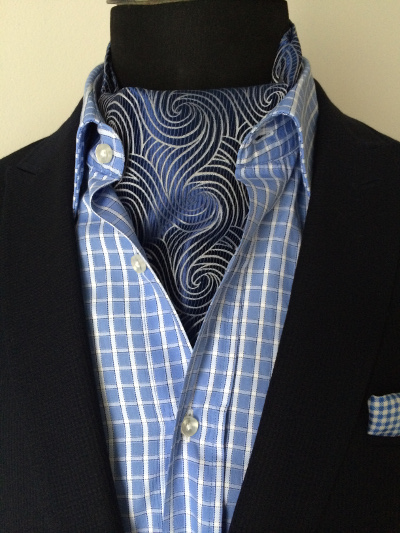 Our Ascot with a Blue | Gray iridescent swirl pattern 100% silk
If I had to use one word to add to that description it would be honest. Marlin's most poignant statement to me was, "Everyday has not been a sunny day for me, but I wake up every day and I smile that I have another day to correct the wrongs of yesterday; all of which has made me a better person." With an attitude of appreciation like that how can you lose?
Marlin ended the interview with appreciation, stating that the support he receives from others who support and believe in his vision and mission enable him to believe in his dreams. Their support fuels his understanding that the sky is the limit. Marlin hopes to one day pass his torch of style to his son, keeping the image of today's Taylordblu man a continuing legacy.
Not to give it away but let's just say… Taylordblu is building its own Empire.
by Ameliaismore
I dedicate this article to my dad who if he were with me today in flesh instead of spirit would be a today's Taylordblu man. Thank you Dad for teaching me to be a lady and inspiring other men including your grandson what it means to be a real man.Your love is eternal. HAPPY FATHER'S DAY TO ALL THE FATHER'S OUT THERE AND EVERYONE WHO TAKES ON THEIR ROLE. You're a parent by blood but a Father by love.
PEACE!