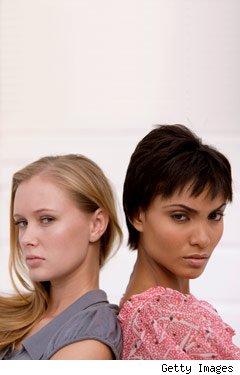 Competing and comparing ourselves to our peers, feeling good when we outperformed them and feeling bad when they outperformed us is dangerously unhealthy. The pressure of competing with others keeps one stuck in the mode of always needing to prove oneself and believing that one has to be better and best at everything.
Unhealthy competition and comparison can be two of the most self-destructive forces. Years ago while in corporate America, competing and comparing kept me entangled in trying to do better and to be better based on a need to be acknowledged and accepted. What it did was turn a natural God-given desire for achievement and accomplishment into a dangerous desire to achieve at another's expense. I was living by default instead of by design. My eyes opened. I had to stop.
Do you have any symptoms of these two debilitating diseases? I will share with you the symptoms to look for in yourself and others and then provide you with the cure to diffuse their destructive power.
Women compete with each other for status, influence, affection, position or respect. The symptoms show up in irreconcilable relationships, unethical and dishonest business practices, lying, broken focus, jealousy, envy, discontentment with one's own situation, a critical spirit, hatred, and loss of time, resources and finances. The culprit is plain ole ignorance.
Ultimately, competing with and comparing to others can diminish your productivity as you waste your energy worrying about whether you measure up to other women's performance or lifestyle. As I turned unhealthy comparison and competition with others into healthy comparison and competition with myself, I was challenged to improve. It literally changed my life. Self-competing became a great tool for my personal development because I became more productive and focused on a natural ability for excellence.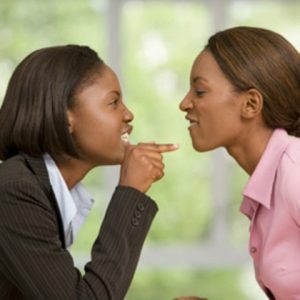 Here are some healthy ways to compete with you:
1. Discover your unique identity.  Who are you? What are your strengths? List everything that you like about you. Dismantle every idea of what someone else wants you to be.
2. Discover your why. Why are you here? Why do you crave certain things? Why are you different?
3. Discover your dissatisfactions. List the things that irk at you. These could be a clue to your purpose. List everything about you that needs improvement. Invest in your personal and life development. Remember, you are only competing with you!
4. Discover your priorities. Journal the most important to the least important of desires of your life. The point is there's a time and season for everything. Prioritize, but discover its timing.
5. Discover your life plan. Where are you going? Gather all the above information and begin to outline a blueprint for your life. Plan your life for the next fifty years. God has wired you with the ability to do this through the gifts of imagination and writing. Keep it to yourself and treasure it. It will serve as a sounding board when you're tempted to get off path and ultimately enable you to fulfill your destiny.
Your interior DNA is opportunist not opponent. Unhealthy competing and comparing are directed at stealing your purpose. Be encouraged to redirect your energy toward improving yourself to perform your God-given assignment with the tenacity to stay on course. Focus more on your vision and you will regain the energy lost to worrying about other people's performance and how it compares to your own. Live by design.
©2011 All Rights Reserved
Dr. Deana is founder of LivingDesigns360, a company that mentors kingdom-minded women to break-through emotional barriers through creative ways of renovating and designing the interior life. Clients work with Dr. Deana through private strategy sessions, on-line events, workshops, group mentoring programs and retreats. Visit her at www.DeanaMurphyGlobal.com