By Priyanka Hardikar
Dancer Megan Corbin had a heart attack last July, at age 30. A young professional dancer, she didn't fit the stereotype at all. "I think it happened to me at a young age for a reason, so I can reach out to people my age or younger," Megan says.
Raising heart disease awareness for women of color
After her heart attack, Megan began working with the American Heart Association to raise awareness. "I wish I would've known the symptoms," Megan says. Prior to having the heart attack, she had felt pressure in her chest and back for about a week and even before that, but it had gone away. That's why she had brushed it off, thinking it was gas. Since working with the American Heart Association and her hospital visit, she learned that women feel and experience heart attacks differently. "For us, heart attacks are in our chest, in our back, and for men, it's more so in their hearts. That's something huge to know," she says.
Megan wants women to know that heart disease is serious, it kills one in three women in the U.S., and it takes a life every 80 seconds. "It can happen to anyone. It happened to me and I thought I was doing everything right," she shares.
"I know for me in general and the African American community, we don't like going to the doctor. One of the main reasons – especially for women – is we feel like we're being ignored," Megan says. When we believe we will only be ignored, we resort to not saying anything at all. We avoid the doctor's office. We think ginger ale will fix everything, but it does not, Megan says. If her husband hadn't been there, Megan admits she would have chosen to stay home instead of going to the hospital. "We probably wouldn't be talking right now because there would've been a different outcome," she says.
Megan posts frequently on her social media account – sometimes, a video of her dancing, and underneath it information on the American Heart Association. Her goal is to encourage people to pay attention to their bodies, to know what to look for, and to take action early on. "You need to know your body. Your body gives you signs that something isn't right," Megan says. Aside from the pressure she had been feeling, she noticed there was a difference in the way her nails were growing – how weak and brittle they were.
The best thing you can do is know your numbers for cholesterol, blood pressure, blood sugar, and body mass index. Pay attention to your diet and lifestyle. When you go to the doctor, continue to get your regular check ups; that way you can stay proactive and see how your numbers have changed with time. "Don't downplay your health. We have to get out of that mindset of trying to fix everything ourselves and actually start getting the help that we may need," Megan says.
"I'm not saying that we won't have fun. I'm 30 years old. My generation – we're at our prime right now! We're kicking it – but kick with moderation," Megan says, playfully. For example, she adds: Start by grabbing an apple, instead of eating a snickers bar. Small habits like that, to start, can make a difference. Megan's go-to snack is apple with peanut butter – the healthiest version of her favorite candy, Resse's peanut butter cups.
Day of the Heart Attack
Megan woke up at 6 a.m. with joint pains, took some tylenol and went back to sleep. Two hours later, she started feeling heavy pressure in her chest and back. She couldn't move and could barely talk. She had cold sweats and felt like she would vomit. She felt a numbness in her arms. Megan was experiencing heart attack symptoms, but she didn't know it yet.
Her husband drove her to the hospital, and Megan found out that she had a blood clot in her artery, so there was no blood flow getting to my heart. They put in a beta blocker to open up the clot and because Megan lives in a small town, they flew her over to the next big town with the better hospital – from Crescent City, California to Medford, Oregon.
They did the procedure, and Megan stayed at the hospital for another 10 days, recovering. "Even though it's a terrible situation, I had a good experience with the team," she recalls. She was told to take it easy for the next month, started cardiac rehab in September and was cleared after five sessions. The next month, she opened her dance studio.
"I, for one, don't like to waste time," Megan said.
A Change in Mindset
As a dancer, Megan already had a relatively healthy lifestyle – she ate well and she was very active. "The dancer in me has made me a lot stronger," Megan says. If anything, she had to reverse it and control how active she was. An overachiever, she had to learn to slow down, to take a break, and to not let things stress her out as much as they used to. "For me, it's just the mindset. I've learned to just let things go. If I feel like something is going to be stressful, I'll just say, 'You know what, I can't deal with that right now,'" she says, and then she will revisit the subject another day – because she is learning that it can wait. "And like my family always says to me, just sit down somewhere. I hear it once a day. They say, 'Megan, you're doing too much, just sit down somewhere," she says, laughing.
Fulfilling a childhood dream
On October 6, 2020, Megan opened up her dance studio, "Alter Ego," – fulfilling her childhood dream three months after having a heart attack – and in the midst of a pandemic. Having a heart attack had taught her that life is short, something we all know but don't realize until something life-threatening happens. She thought to herself: "The opportunity is presenting itself. Your time is now, so just do it. What if everyone had that mindset before a traumatic event happened? Imagine where we all would be."
She named her dance studio "Alter Ego" because we all have so many personas and some type of alter ego, and in Megan's classes, we don't have to be afraid to show them. Megan invites her students to bring out their alter ego – to let it shine. "I love heels because, honey, that is my alter ego. She is fierce, she is sexy, she is all of the above," Megan says, laughing.
At Alter Ego, people of all shapes, sizes and backgrounds are welcome. The world of dance is diverse and there is enough space for everyone. "Don't be uncomfortable. Just go for it. Dance your heart out. No one is judging you," Megan tells her students.
Megan's Journey as a Dancer
At five years old, Megan joined Dance Plus, a dance studio in her hometown St. Louis. Megan is a part of a family of dancers. Even today, dancing is a family affair – a full and joyful experience for all of them. Her parents are head coaches for a middle school and high school dance team, her brother is in charge of the music, and her sister is the decorator for their events.
Before Megan was born, her mom was on a dance team, and while pregnant with Megan, she continued to teach dance. "She's definitely the reason why I'm a dancer," Megan says.
In sixth grade, Megan chose dance over flute, and remembers that as a defining moment in her life. "That's when I knew this is what I want to do because I chose one thing over the other," Megan says. She pursued dance in college – acquiring a degree in dance theater at the American Musical and Dramatic Academy, both in New York and Los Angeles.
After college, Megan joined a bollywood dance company – finding the style and language of it mesmerizing. She did shows such as Hairspray and Memphis. In 2019, before the pandemic, she was doing a rock and roll show called Cherry Boom Boom in Las Vegas for about four months.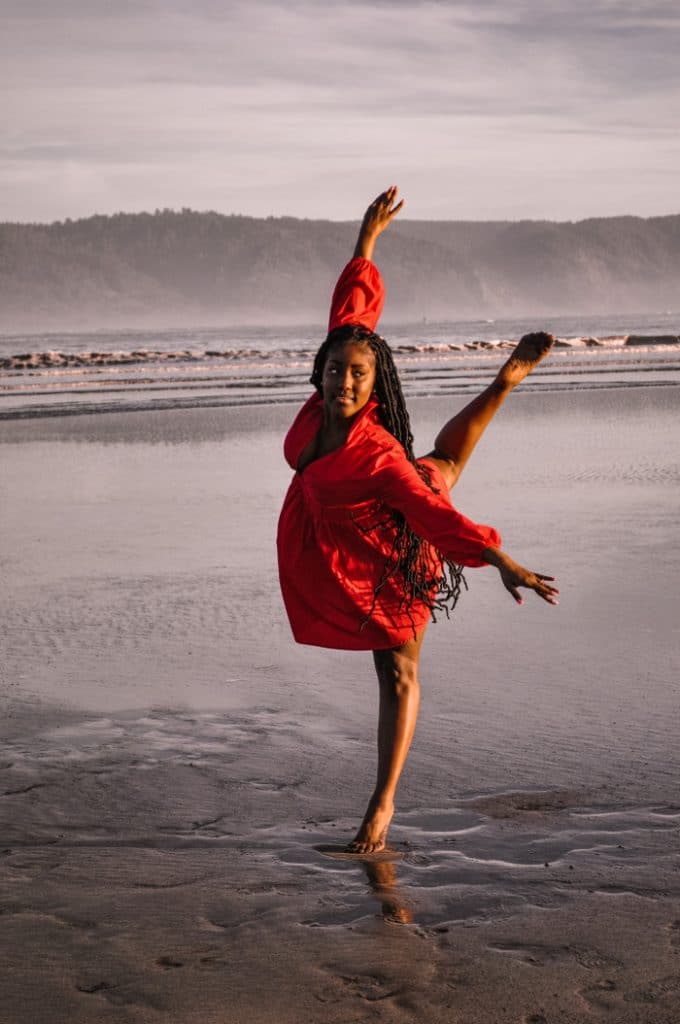 Pick-Me-Up Song
Megan's pick-me-up song is either a Beyoncé song, India.Arie's I am not my hair or Brown Skin, or Jill Scott's "Golden." It really depends on which personality is showing up that day, Megan says.
Megan's Advice for Dance and Life:
1. Trust that your time will come
Megan reminds us to not feel pressured to keep up with the person next to us: "We're all on a different timeline, and your time will come. Pace yourself because you don't want to burn yourself out before you even get there. Take your time and just know that your time is coming. If it's not now, it will come."
2. Go with the flow
As a dancer, Megan feeds off the energy of the song that's playing, and as a teacher, she goes off the mood of the day. "Some days I'm feeling groggy and don't want to do much – that's modern or contemporary. Some days, I'm like 'ooh I'm feeling myself'; that'll be a heels day, or sassy jazz-funk. I may be feeling lyrical." Or maybe it will be ballet – a dance she didn't love at first, but grew to love in college. She fell in love with the fluidity of ballet – how you can be graceful and as light as a feather.
It all depends on the music and the mood. "It's best to not force. If you just go with the flow, things will happen. I found that going with the flow I am a much happier person," she says.
3. Listen to your body and take action
"A lot of us are stubborn. We think we know it all and we don't like going to the hospital because we feel like we aren't being heard most of the time, but if that's the case, we need to get in the habit of finding second, third or fourth opinions until someone listens to us. We need to get in the habit of branching out of our normal doctors until someone hears us. Someone will listen; it's just finding the right person," Megan says.
"Ladies: Pay attention to your body. A heart attack is a thing, a very serious thing, and if we can prevent it, if we can bring awareness to it now, then hopefully it will save a life tomorrow." –

Megan Corbin
Follow Megan Corbin on Instagram to be inspired and to increase your awareness on heart disease. Check out her dance studio to let your alter ego shine. Megan will be offering a variety of virtual dance classes from adult heels to jazz to fitness, starting in the spring.