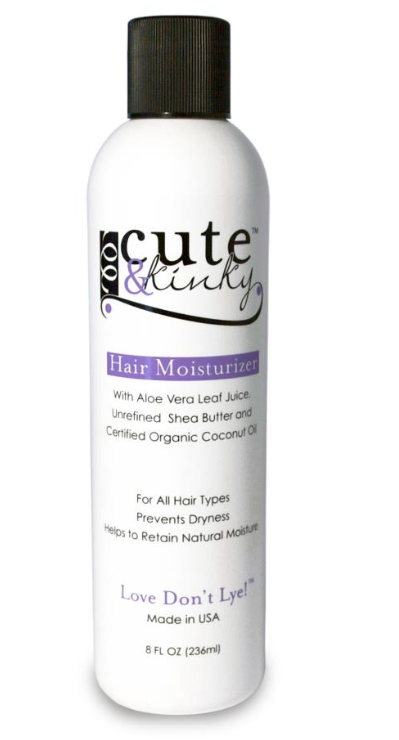 Owned by dynamic mother and daughter team Kim Nobles and Kristen Muldrow, Cute & Kinky, LLC is a hair care company founded on the principle of love and self-acceptance, while helping black women everywhere embrace who they really are, hair flaws and all. As a swimmer, Kristen understood firsthand the importance of strong, healthy hair and wanted to develop a product to assist others with daily hair maintenance. Using only pure and natural ingredients, Cute & Kinky® is best known for its flagship product, the hair moisturizer. Based in Dallas, Texas, the company's sole focus is to aid customers on their hair journey at an affordable price. Their signature hair moisturizer can be found in over ten health food stores in the Texas region among others (in CA, MO, OK, and AK). In this interview, we talk to Kristen about what inspired them to start the company, what makes their company unique, and where they see themselves in ten years.
BM: What ignited the spark in you to start this particular business venture?
KM: We started the company because we feel that black people (black women in particular) deserve more from their beauty and health products. It's not really so much product selection, but rather how they're presented to us as a whole.
BM: Besides your official website, what stores can people find your hair moisturizer? Will you be offering other hair care products in the future?
KM: The hair moisturizer can be found in several stores in various states. We keep an updated list on the official website of all available locations. Because we are more focused on hair health, we are in health-related stores as opposed to the big name retailers.
BM: What are your company's short and long-term goals?
KM: From a short-term standpoint, we'd like to be placed in more stores nationwide. Long-term (as the company's product developer), I'd like to see more of my original ideas for other hair care products come into fruition.
BM: How did you make your first sale?
KM: It was more than likely at one of the many expos we've attended over the years. Kim (the Operations Manager and my mother), is responsible for most of our sales due to her being more of a people person. But for me, the most significant was the first store where we achieved placement.
BM: What is unique about your business?
KM: What makes our business special is that it's based on a genuine care and focus on black women. Cosmetics in general is a massive industry, and the amount of money that companies make on black hair care alone is outrageous. But oftentimes, these products are created without any knowledge of our hair or skin type, and don't benefit us as they should. On top of that, there is a dilemma with image and the way products are marketed to us. We wanted to offer something that truly works, along with respecting and preserving the image of black women.
BM: Where do you see yourself and your business in 10 years? 20 years?
KM: Ideally, our offerings would have flourished into a complete line, and hopefully the brand will have expanded to other areas of health and beauty.
BM: If you had one piece of advice to give to someone just starting out, what would it be?
KM: Perseverance. This is especially important if you are a small, start-up operation and don't have a rolodex of mega-millionaire investors or other connections that will propel you along. When you build a business from the ground up, you have to possess a certain level of endurance. So even if you get frustrated, don't give up!
BM: Other than deciding to work for yourself, what was the single most important decision you made that contributed to your success? And which was more rewarding: making your startup a success, or being able to continue keeping it successful?
KM: Piggybacking off the last question, I'd say that the fact that I'm not a quitter is a huge factor. Therefore, the most rewarding part for me is growing as a person (both professionally and personally).
BM: What is your favorite aspect of being an entrepreneur?
KM: Freedom. I crave autonomy in all things. I've been employed full-time before, as most of us have, and we all know that when you work for someone else, it's their way or the highway. You are obligated to follow and uphold their rules, vision, and standards. That's a difficult a pill to swallow when not only do their standards conflict with your own, but your pay-off for buying into their vision is modest in comparison. I like the fact that if something is trivial to me, I don't have to do it. If something isn't advantageous to me, I can opt-out of it; and in doing so, I don't have to worry about being penalized for it.
BM: What were some of the biggest lessons that has impacted the way that you work? What was the lesson, and what was it like before and after?
KM: The first lesson is that stepping out of your comfort zone can benefit you in all aspects. I'm a life-long introvert and it's not natural for me to interact with people extensively. But ever since we launched our business, I've found myself speaking more than I ever have in my entire life.
Another lesson is that you have to be really cautious about who you can and cannot trust; and I'm not talking about personally. Once you start a new venture, you'll get offers from other so-called "entrepreneurs" for partnerships, assistance, and other things that sound appealing. Sometimes, those connections are legitimate. Most of the time, they aren't. The important thing to remember is that you can't jump into everything with everybody, because if you do, you'll wind up wasting precious time and possibly money.

by Farren Washington