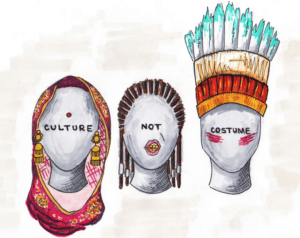 As Halloween draws closer, costumes choices are immense. However, there's a topic that deserves discussion, especially this time of year: Cultural Appropriation.
Susan Scafidi, the author of Who Owns Culture? Appropriation and Authenticity in American Law, explained cultural appropriation as such in her work:
"Taking intellectual property, traditional knowledge, cultural expressions, or artifacts from someone else's culture without permission. This can include unauthorized use of another culture's dance, dress, music, language, folklore, cuisine, traditional medicine, religious symbols, etc. It's most likely to be harmful when the source community is a minority group that has been oppressed or exploited in other ways, or when the object of appropriation is particularly sensitive, e.g. sacred objects."
With this in mind, a lot of costumes this year are a form of cultural appropriation because they generalize entire races, perpetuate stereotypes and portray that a person's culture is a costume to be worn for entertainment purposes.
But for Halloween, the lines seem to be blurred for appropriators who believe that for one night they can get a free pass- that blackface is acceptable because it's more accurate for the portrayal of Kanye West, and putting metal over our teeth to be a thug is 'dedication' to the holiday; that being a sexy geisha is just representing what geisha's really were in Japan (and that's not true, but Memoirs of a Geisha has painted this image). It's not.
Due to marketing, these costumes push forth a false image of minorities such as, that Japanese women are submissive in nature, or black women are thugs and mentally unstable (I see you Crazy Eyes), and feed into deeply rooted historical significance.
Yes, there's a difference between culture appreciation and appropriation. Going with your friend to celebrate Dia De Los Muertos with her family is fine, because you are respecting her culture and actively participating. Dressing as a Mexican dancer with a sugar skull makeover isn't. Dressing as an established character such as Princess Jasmine is fine, but just being a 'sexy Indian' is not.
Appreciation can be done in a tasteful manner, such as attending the Sakura Matsuri (cherry blossom) festival . If I were to don a traditional kimono for this festival and make an effort to wear it as it should be, that's an appreciation.
People are taking stands against it. DoSomething.org has campaigns that target costumes that commit cultural appropriation by flagging and giving negative reviews that call awareness to the stores that sell them. People are actively removing pieces of the costume that would be offensive, such as removing a sombrero off of a 'Mexican' Taco. And other people are just picking alternative costumes that have nothing to do with a culture, like a Starbucks cup, or a doll, or a meme, or pretty much anything else.
If you or your friends come across a costume that seems to generalize or symbolize a race or culture of people, please reconsider and inform others of the ramifications of being the sexy Indian or 'hippie revolutionary' that for some reason has an Afro and a Dashiki.
Because it's a culture, not a costume.
By Schane Flowers