Crystal Waters a New York native, who is currently a Master Barber in Atlanta, Ga., says, "I really didn't become interested in the hair industry. The gift to cut hair was given to me and when the opportunity to use my gift came, it was at the right time."
Appearance plays a role in romance, employment, entertainment and virtually every other aspect of our lives. It's no wonder the hair industry has flourished during a weakened economy. In an interview with New York Times, Charles Kirkpatrick, director of the National Association of Barber Boards of America said, "The number of barber licenses across the country has been rising, with about 250,000 now, up from 190,000 in the 1980s."
As with many Americans, Crystal had to take on another job, in order to live a balanced financial life. "At the time I was going through a divorce, after 11 years of marriage and two young children. My full time job, at LaFace Records, took care of all my household bills but I needed extra funds to have for my children," Crystal shares.
"I'd worked in the music industry with LaFace Records. I had the wonderful opportunity of working with some very impeccable people. Just to name a few, Usher, Tony Braxton, Outkast & TLC and the main vein to the whole thing was LA Reid. If anyone heard of LaFace Records they always heard quality!"
Crystal too, has the same measure of quality! Ensuring all customers and guest have a relaxed ambience, she provides refreshments and entertainment for the customers in wait. There's a sense of inspiration as one waits on their friend or family member to have their haircut. Indeed, an inspiration she is to so many of us as we struggle to figure out what we can do to make ends meet.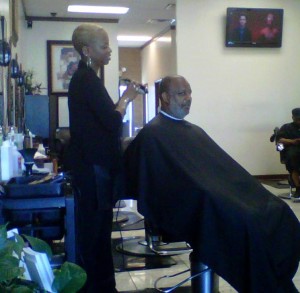 She watched, listened and learned from her own barber (Crystal sports a sassy low cut), who owned a barber shop. "We had established a real life friendship, that allowed me an opportunity to work in his Barbershop. He took me under his wing, and pretty much taught me how to cut, inclusive of four other brothers, whom I watched & learned from. It was cool! Ironically, the employment opportunity presented itself while cutting in the shop." She's been off and running ever since; no longer with LaFace she now owns a Barber Shop.
When it comes to her goals in the industry, Crystal says, "My ultimate goal for the hair industry is to continue implementing, professionalism & customer service into Barbering. I want to continue to set a standard, in order to allow everyone that enters the shop, whether male, female, child, adult, corporate, or warehouse worker, hood brother or professional, to be appreciated & given a quality cut, incorporated with empathy & professional service."
Her advice to all those that are truly interested and 'serious' about the hair industry is, "You are your biggest advertisement. When you're in the business to create 'artwork'; you are the initial canvas. Representing the industry resonates from you. Word of mouth is one of the most powerful tools in this industry – people talk, whether good, bad or indifferent and the work you put out, should matter to you."
Another piece of advice she has for upcoming Barbers and Cosmetologists, "You as a professional in this business, have the opportunity to determine your clientele more than you think. The time spent in sharpening your skills, utilizing all areas of Barbering and gaining knowledge about hair, will always make room for you wherever you go, something no one can ever take from you."
If the job you are looking for does not present itself, tap into your natural gifts and see where it takes you. Crystal Waters did not hesitate to tap into her gift and now she is one of the leading Barbers in Atlanta, Georgia!