by Guest Contributor Leslie Shields
Be ready to present your business idea when the opportunity presents itself!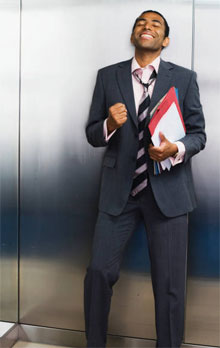 Elevator speeches can be useful in a number of occasions but probably none more important than when you want to get and keep the attention of a potential banker, investor or venture partner. Whether you want to give just a short pitch of about 3 to 6 minutes or you need to make your presentation in 10 minutes, the goal is to whet the appetite of the financier – not to give him the whole presentation. You want them to be interested enough to make a follow up meeting.
The most important part of the elevator speech is the story. Everyone loves a good story and when you use it to pitch your idea you'll not only get their full attention, it will have them asking questions. Here's what to include in your story:
What is the problem and what is your proposed solution? You'll want to really focus on the "pain" of the current situation and how your idea is uniquely able to provide a solution. Your solution should not only fix the problem, it should have just a bit of something more.
What makes the financier well suited to work with you (other than money)?
The current economic climate is more favorable toward solutions that involve big social and cultural impacts. Business people these days need to know that their investors and partners will be inspired.
When describing the opportunity, you need to have the hard facts on what percent of your target market will use the what you have. If the niche is too narrow it's likely that your opportunity won't be seen as viable from a profit point of view. Don't claim huge returns or outstanding IPO's – in today's economy that's not realistic. Investors already understand what's going on in the financial world and they just want to make a decent profit – tell them how that's going to happen in your business.
You also need to show the potential investors that you will not be blowing through their money. If you have milestones related to the funds then briefly state what the milestones will be and how they will be measured. For example if you need X to get started and X in 90 days then let them know. You also want to talk about the members of your management team, especially those members who will be watching the finances. Let the investors know how your management team is qualified to handle the money responsibly.
As you may suspect, you'll need to have some research completed before hopping into that elevator. Find out about the investor you want to meet. Know about their company and projects they tend to pursue. If you um and eh your way through the presentation because you don't have the background knowledge the financiers will be less than impressed. If you are able to run through the story highlights, management team, milestones and how the investors uniquely fit your program you'll be much closer to the second meeting.
The second meeting is the place for the fine details and where the financiers will be asking the tough questions so don't worry about this unless it comes up in the first meeting. Instead, focus on the above steps and show them that you've thought things through. If you need help getting it all together for the big presentation contact me! I'm happy to help.