By Nsi Amah
Summer is brewing and the weather is getting hot! You know what that means ladies? It's vacation season and its time to pack those bags for the trip you have been saving for since January. So, it's getting super close to your trip and you are doing last minute shopping for cute outfits for the Gram. After all this shopping and going through your closet, you start to pack your whole life away. Literally, you begin to pack three suitcases of clothes that are probably not needed; you just feel like you need them. On the other hand, you need to be mindful of how costly it can be to overpack, depending on which airline you take.
Create a simple Color Palette
Arranging a color palette will make packing for you a lot easier and limit how many items in your luggage. I suggest pairing colors with well-hidden neutrals like forest green, denim blue, browns, tans or whites. Once you have an idea what neutrals you want to incorporate, then that's when you begin to add your pops of color like yellows, reds and purples. The key is to have most if not all of your items mesh well with each other to create cute and funky looks for your pictures. Yes, I know every girl wants to have every color in the rainbow in her suitcase but let's be practical. The few colors you have, the easier it makes for you to pack.
Create Multiple Ways for Multiple Looks Making a layout for multiple looks is a good way to get rid of duplicates. This will also help create space in your luggage. For example, if you are packing a pair of denim shorts or jeans, you can find three or four tops to go with them. That easily eliminates packing several bottoms. This is also a handy trick when packing shoes, which can definitely take up space. I usually pack no more than two pair of shoes; one comfortable pair of sneakers for walking and a stylish pair for going out.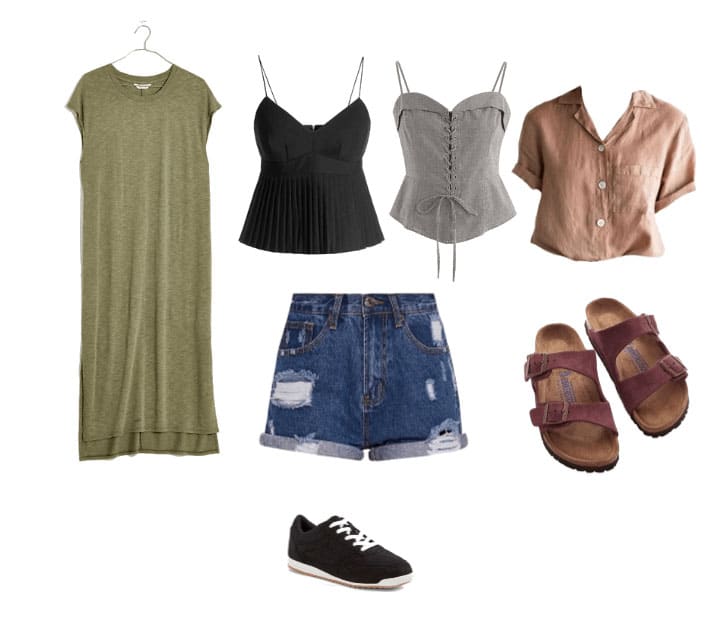 Make Reversible Clothing your Friend
There a many places that market reversible clothing, which can save you space in your luggage and you can also wear more than once. They come in all types of fashion like scarves, dresses, tops and etc., can be styled in more than one look, and are marketed to the businesswoman who likes to travel. No one will notice that you have worn the same top; that can be a cool secret to yourself.
Prioritize! Prioritize! Prioritize! This is where you really need to decide what you need and don't need. And I do stress, don't need. Of course, pack your necessities like medications, sanitary napkins/pads, travel sized shower products and etc. Any other items like camera gear, books, or a makeup kit can all fit in your personal bag along with your passport. The goal is to be more efficient in packing to reserve space! Remember, less is more.