By Aisha Powell
Going to college means you are taking the next step in your educational journey. For most, it is a chance to find themselves, learn more and make new friends. For minorities, this also means they are about to beat stereotypes to obtain a higher education and probably be attending a predominantly white institution (PWI). Not only do minorities have to go through the typical college experience, but the lack of members from their community is another obstacle they must overcome. Not having an adequate amount of people from your race can be discouraging and add another burden onto a college load. We can see how representation shapes young girls of color's self-esteem in the media when they look at magazines or go to buy dolls, and they do not see women of color. For young boys of color, it's when they watch the stereotypical image of a "black thug" over and over again on TV. The same subconscious message of the disapproval of blackness that resonates with kids can happen to college students as well.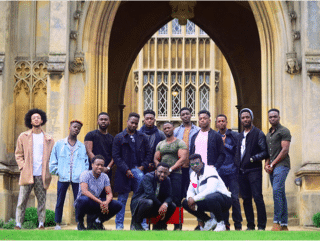 America has 2,618 accredited colleges and universities that are private or state owned. There are 104 historically black college and universities (who primarily focus admissions to black individuals, although they accept anyone), leaving the other 2,514 open for "everyone." A Gallup poll taken in 2005 showed that blacks were least likely to receive admission against their white counterparts with the same qualifications in college, even though black enrollment into college has increased. Another study by the Indiana University's Center for Postsecondary Research showed that amongst the top-tier schools, black enrollment has steadily decreased with almost no representation. These schools included Ivy-League and public state schools. Meaning the odds of going to a PWI, especially if accepted to an acclaimed school, is highly likely. However, this is not just likely nation-wide. In 2015, 38 black individuals were accepted in the highly respected Cambridge University. Of the 3,449 accepted students, 14 of those 38, were young black men, whose pictures went viral.

Their goal was to inspire young black individuals, especially men, that anything could be achieved. "The aim of the picture was really to encourage more black students to apply here because many people get discouraged by a particular image or stereotype of a Cambridge student that they have in their mind, thinking that they won't fit in or be accepted," said Folajimi Babasola, 20, who is studying engineering at Cambridge.
If you are black and not attending an HBCU, your chances of attending a PWI is pretty high. If you are attending an Ivy-League institution, then it's 100%. The lack of representation does not need to be your demise. Joining multicultural organizations at your school can help you connect with other minority students and join a community. If your school does not have one, creating your own can be your way of unifying your people. Â When black students come together, they are capable of anything as we see with Harvard University, whose 2017 black graduates have raised enough money to have its first black commencement ceremony. It may seem like a PWI is a pre-requisite to enter the predominantly white-world that most will have to encounter. You don't, however, have to go through it alone because there is an entire society of minorities in PWI's all around you.
References:
http://learningenglish.voanews.com/a/a-23-2005-05-11-voa1-83125492/124600.html
http://www.gallup.com/poll/18487/blacks-whites-advantage-college-admissions.aspx
https://www.theatlantic.com/politics/archive/2015/11/black-college-student-body/417189/