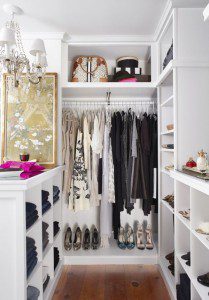 Embarking on a new season results in drastic outfit changes and adaptations to the weather. It is important to at least go through your closet every season to get rid of things you do not wear or do not intend on wearing. Sometimes you buy clothes randomly and never wear them. But it is important not to clutter your closet with unnecessary items.
Here are a couple of tips for cleaning out your closet to remove the clutter:
 1. Look at Quality. You do not need every trendy statement piece, the newest fall items or any of that to make a quality wardrobe. To make a quality closet, you need staple pieces. For ideas on what statement pieces you need in your closet read my previous article. Sometimes we have to let go of items that are not useful for us. Example, maybe you have a discolored shirt that got stained, but you love it so much you cannot let it go. It has to go! Just get rid of it. Find another similar shirt to replace it; make sure it is of quality. If it's fixable, good. However, if it is not, then say goodbye.
 2. Does it fit? Try everything on. It may take a couple of hours but it will be well worth it. Some things just don't fit properly or look good on your body type. If this is the cases, toss it. The goal is to reduce clutter and make room for pieces you know you can make outfits out of.
3. 1-2 year rule. Let's face it, if you haven't worn something for a year, what are the chances you are going to start wearing it? You should think about getting rid of it. If you haven't worn it for two years, just get rid of it. You are not going to wear it again. This leads to the last and final tip…
4. Donate, if it is not damaged. Don't just throw your clothes in the garbage (unless they are damaged). Donate them to the Goodwill or pass them down to someone you know will wear them.
by Bola