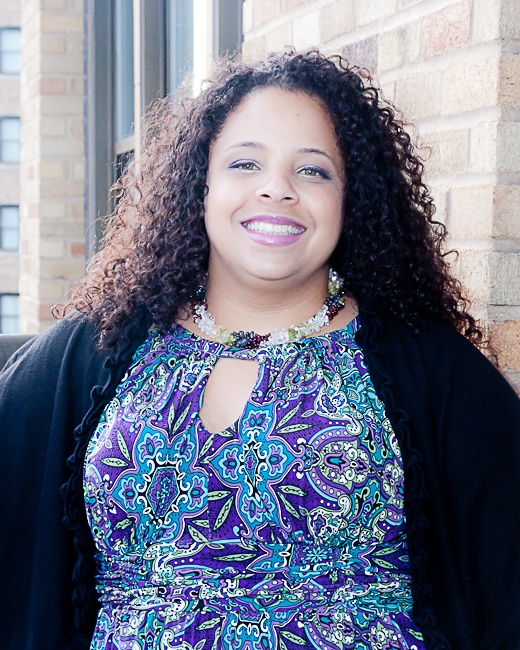 With over 15 years of specialized education and experience hand-crafting works of art, independent jewelry designer Christine Haynes has managed to amass quite a loyal following of fans and clients. Her business, Fezelry Jewelry Designs  not only attracts glam moms, young women, blushing brides and budding fashionistas; celebrities, socialites and political powerhouses alike have all embodied the essence of Fezelry Jewelry Designs. Her client list reads like a variable "Who's Who in Entertainment, Journalism, Politics and Society.
BRONZE MAGAZINE: When did you know you wanted to be a Gemologist and how did you develop a talent for designing jewelry?
CHRISTINE HAYNES: I actually started to design jewelry by accident. I broke a favorite necklace and decided to attempt to repair it. I enjoyed the process and created a few more for friends. Next thing I knew people were buying these necklaces from me left and right! I dabbled in the art on and off but never really took it seriously as a business; it was mostly something I did in my free time or to make an extra income. I actually wanted to be in TV or radio! I wanted to be a reporter or a radio personality! I even started school studying television and radio broadcasting! I also did a little modeling and acting while I lived in New York. But the whole jewelry thing was far from front of mind! I didn't take the business of jewelry design seriously until we moved to Maryland a few years ago. Once I launched the business and things began to take off I really realized all that time I was "dabbling" I was actually running form the passion I had within. From the very beginning I created all of my jewelry using gemstones and sterling silver. But I knew very little about the gemstones I was using. I decided if I was going to do this I was going to do it right! I wanted to make sure the materials I was purchasing were of good quality and I wanted to be taken seriously in the industry by my fellow designers, distributors, and my clients so I knew what I had to do. I went back to school. I graduated from The Gemological Institute of America (on a full scholarship)! I am currently an Accredited Jewelry Professional or A.J.P. holding several certifications from the GIA in diamonds, colored stones, and jewelry essentials.  It takes several years to get the graduate gemologist degree so my schooling is still in progress but I do not regret one moment of my decision. It has helped to solidify me as an expert in my field and has opened many doors for me in the business and industry.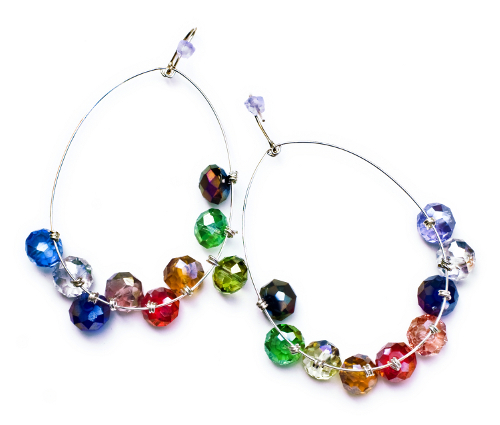 Multi-color Earrings
BRONZE MAGAZINE: What type of inspiration goes into making your unique jewelry pieces?
CHRISTINE HAYNES: For me inspiration can come from almost anywhere, music, people watching, even sitting at home flipping through colorful magazines can conjure up design inspiration. Watching reality TV shows like Project Runway, or these days Project Accessory can keep me up half the night working on designs! The simple act of "playing" with gemstones and materials can inspire me and put me in a creative zone. I must confess, I often go into a project without a plan… I simply let the beautiful materials lead the way. There are many times I wake up in the middle of the night with a really great design idea and can barely keep myself from working on it right away! It's an addiction!
Tigerlilly Necklace (Pink Products)
BRONZE MAGAZINE: What is the significance behind your company name Fezelry?
CHRISTINE HAYNES: I love that you asked this question! It is actually very special to me. It's a play on my childhood nickname. They called me "Fez" growing up because there were a million and one Christine's in our clique we all had nicknames to tell us apart mine was Fez (It was a shortened version of my maiden name). As a matter of fact many people only know me as Fez and have no clue that my name is actually Christine! When I started designing and selling my jewelry I realized that the name I had chosen was way too popular and it needed to be changed ASAP!  I decided to re brand my company and find a new name that would really stick, I had a brainstorming call with two of my closest girlfriends and we threw out new names for my company. After over an hour of consideration and shooting down names my friend Barbara blurts out, "Why not call it Fez's Jewelry? It is "your" jewelry! You know, you can call it Fezelry…"  I told her she was brilliant! And Fezelry Jewelry Designs was born! I think I still owe her some money for that one! J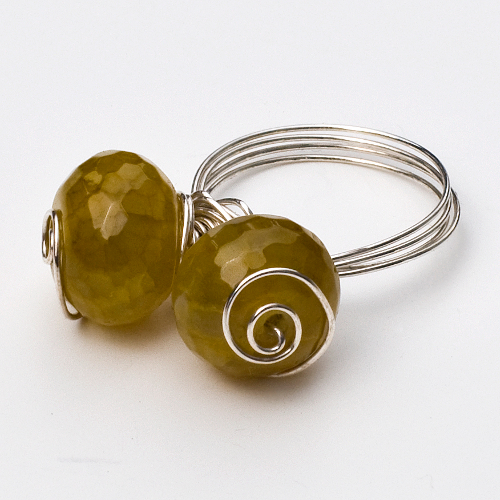 RingFour
BRONZE MAGAZINE: How long does it take for you to "sculpt" a design?
CHRISTINE HAYNES: My designs can take as little as 30 minutes to as long as several days! I have one necklace (no longer in the collection) that took me 3 days to create! It was a beautiful piece that became very popular after it appeared on a popular local news anchor  whom I styled for an event; her picture appeared everywhere wearing that necklace! and the phone started ringing and the orders came in from all over even Canada and Italy! But the process of creating it was way too time consuming (I don't outsource) I had a wait list of 3 months for that necklace! Once I completed the last necklace I had to retire the piece.
Bracelet
BRONZE MAGAZINE: What signature materials do you use to create your unique pieces of jewelry?
CHRISTINE HAYNES: I love gemstones I especially love rough gemstones and you see them a lot in my designs. I think my favorite gemstone is the carnelian. It seems to pop up a lot in my designs. And I am very much known for the clustering I do. I have been doing a clustering technique with crystals, for a very long time.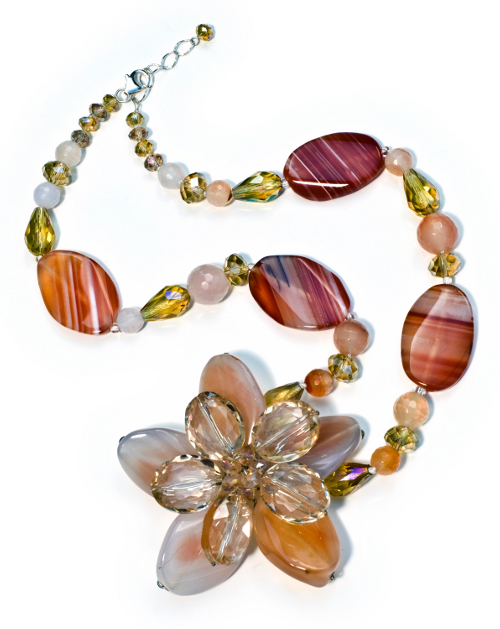 Flower Necklace
BRONZE MAGAZINE: Do you only design jewelry for women?
CHRISTINE HAYNES: At this time yes.  Although I have made a few pieces for my husband. He is extra special. One day I might launch a men's line.
BRONZE MAGAZINE: Tell us about the importance of your Pink Products?
CHRISTINE HAYNES: The Fezelry Jewelry Pink products support a different breast cancer organization every year or so, for the last two it was the Susan G. Komen foundation. This year we are supporting the Tigerlilly Foundation. Breast cancer is very close to me as I have lost several family members to the disease and I have had my own "close" call with the disease myself. It's a way I can support a worthy cause using my God given talents. I feel I am blessed to be able to do so.
BRONZE MAGAZINE: Where can we find your beautiful collection?
CHRISTINE HAYNES: You can shop for Fezelry Jewelry Designs on line at www.fezelry.com and in the DC metro area exclusive designs are only available at Critique Boutique at the National Harbor and at the Beauty Full Boutique in Alexandria VA. I also have several trunk shows a year (keep track of these through Facebook (www.facebook.com/Fezelry and Twitter @FezelryJewelry) and custom orders are always welcome. If you have a custom order request you can e-mail us at jewelry@fezelry.com to schedule a consultation.