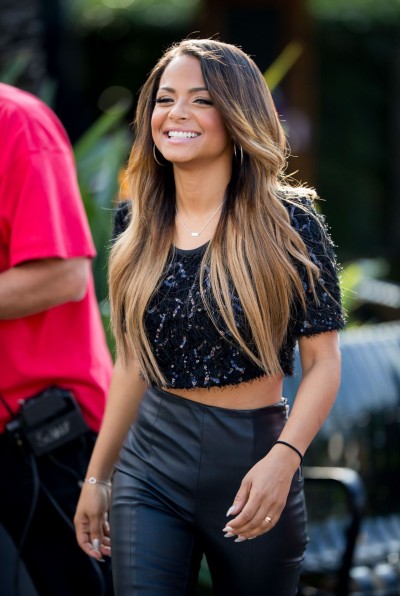 Pop singer and actress Christina Milian has recently been cast as Magenta for Fox's revival of "The Rocky Horror Picture Show." Milian, who currently stars on Fox's freshman comedy "Grandfathered," joins a star-studded cast that includes Ben Vereen, Laverne Cox, Victoria Justice, Ryan McCartan, Adam Lambert, Reeve Carney, Staz Nair, Annaleigh Ashford and veteran actor Tim Curry (who played the original Frank-N-Furter in the 1973 stage production and 1975 film) as the Criminologist Narrator.
Fox's version of "The Rocky Horror Picture Show" is a modern-day re-imagining of the cult classic, which has the longest-running release in cinema history. The story follows engaged couple Janet (Justice) and Brad (McCartan), who stumble upon Dr. Frank-N-Furter's (Cox) unusual place of residence. Frank-N-Furter, a sexually ambiguous, alien mad-scientist, and his faithful employees Riff Raff (Carney) and Magenta (Milian), are holding an annual, Transylvanian science convention to showcase the birth of "Rocky Horror" (Nair), a fit, handsome man created specifically to fulfill Frank's desires. Magenta is the castle's submissive maid who, along with her brother hatch a secret plan to return to their home planet of Transsexual. Magenta was originally portrayed by Patricia Quinn in the stage production and the 1975 movie.
Kenny Ortega (best known for the High School Musical franchise) will direct, choreograph and executive-produce; Lou Adler, who was an executive producer on the original theatrical release, will have the same role on the new two-hour special. The project is backed by Fox 21 Television Studios and The Jackal Group. Though not live, "Rocky Horror" is the latest musical production for Fox, which is still basking in the ratings and critical success of "Grease Live." Production is scheduled to begin this month in Toronto and will air in the fall. The original Rocky Horror Picture Show cast reunited for the 40th anniversary last October.
Aside from co-starring on "Grandfathered," Milian has appeared in "Be Cool," "Love Don't Cost a Thing," "Pulse" and other assorted films and TV shows. A Grammy nominated singer-songwriter, she is currently signed with Lil Wayne's Young Money/Cash Money/Universal label and is repped by WME. Milian also has her own reality series "Christina Milian Turned Up," which just wrapped its second season. The series chronicles the everyday lives of Christina, her mother Carmen and her two sisters, Liz and Danielle.
Other past projects include being a social media correspondent on the early seasons of "The Voice," and participating on Season 17 of "Dancing with the Stars." Last year, Milian released three new singles "Rebel," "Do It," and "We Ain't Worried" of which the latter was used to promote her "We Are Pop Culture" clothing line. In July, she performed the National Anthem at the 2015 Americafest and debuted a new single "Like Me" featuring Snoop Dogg. Her long-anticipated EP "4U" was released on December 4, 2015 which includes five tracks and music videos.
By Farren Washington