Christian romance author Mya Kay, a Philadelphia native, completed her first Christian romance series with the final installment, In Loving Bliss, being released on Monday, November 7th.
Right before completing the last book in the series, she received news on October 1st that she was one of the 100 semi-finalists picked to film the new reality show concept, America's Next Great Author. She was one of many picked out of 801 applicants. While she didn't win, she realized that her gift is indeed making room for her.
The series also includes: Storms of Love (June 2022) and Battles of Love (September 2022). The series focuses on romantic storylines with contemporary themes of healing, childhood trauma and religion, and all of the characters are waiting on God for love.
One of the series' main themes is mental health. Mya Kay shows her characters going through their therapy sessions whenever they are triggered by something in their relationship. When triggered, instead of turning to sex, drugs or other empty addictions, her characters turn to prayer and therapy.
"I also wanted to dispel the myth that Christians can't or don't go to therapy. One of my favorite therapists, who is also a pastor, says this: prayer is a weapon, therapy is a strategy. My stories teach a new narrative that therapy is a tool used by God to help us become the best versions of ourselves while we're here on earth. Going to therapy doesn't mean we don't trust God. It means we trust Him to provide the resources and tools we need to heal mind, body and spirit."
The novelist, who has taught English in South Korea, approaches her story from an angle that has been a long back and forth battle between the church and mental health experts.
"I also wanted to show that waiting on love in your late thirties and early forties is not taboo," says Mya Kay. "I'm thirty-eight. Don't nobody got time for toxic love and I'm tired of entertainment making it seem like it's the only way women, specifically black women, deserve to be loved. Like, who came up with that? Don't get me wrong. I was a fan of Love & Hip-Hop. I knew people on the show, but I wasn't trying to connect with the idea that that was real love."
Set in Philadelphia, the entire series focuses on Ellie & Jeremiah, and Bliss & Montez. Both couples meet while working on a film set and eventually, their love grows, but not without challenges, childhood trauma surfacing and even toxic family members creating unnecessary tension. In Loving Bliss has a unique angle because Bliss is half black and half Korean. Culturally, she has a very tense moment with her mother that confronts their generational beliefs.
"I wrote this series because I'm waiting on my future husband and continuing to grow my relationship with Christ. There's not enough stories like this in the market and I believe Christian women should be able to read fun, engaging stories without sex and cursing if they choose to."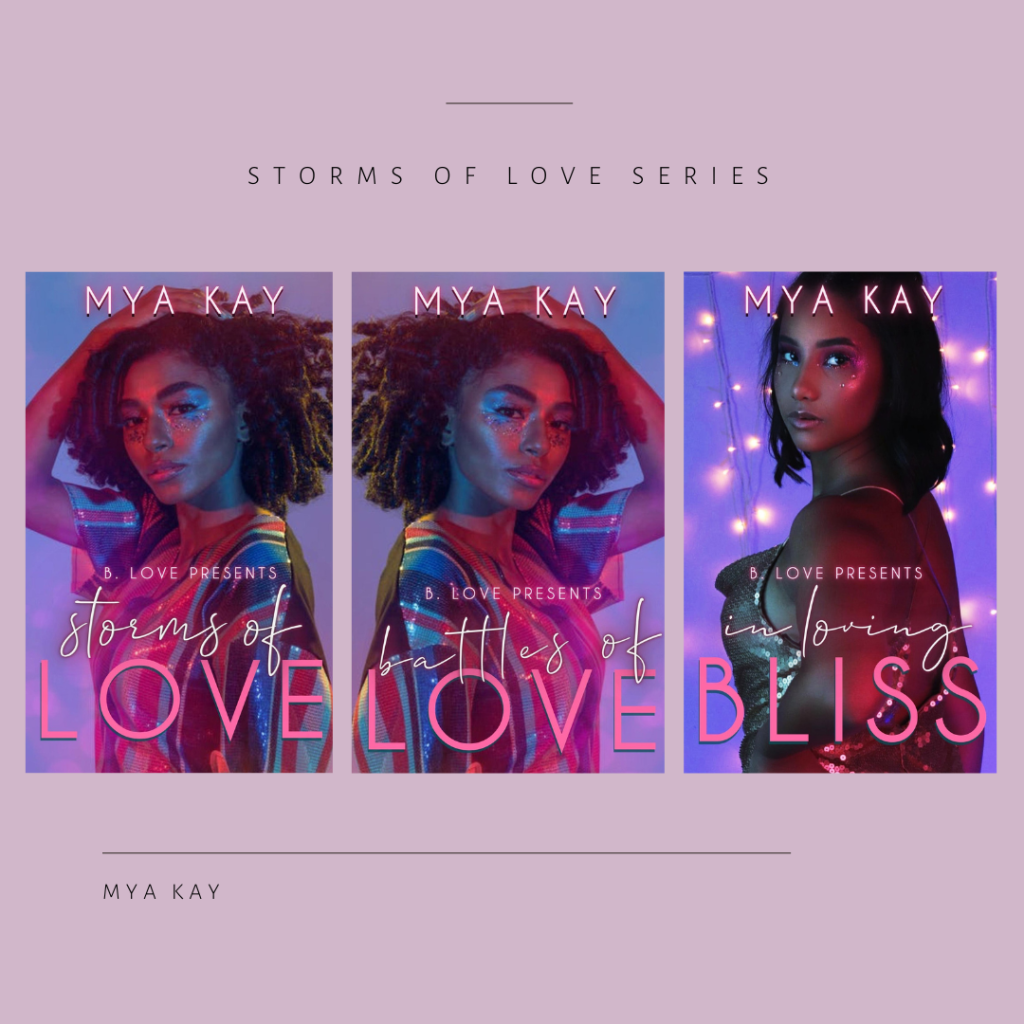 A Conversation with Mya Kay
When did you know you wanted to be an author?
I knew I wanted to be an author when I was in college, but I tried to write my first book when I was five. I remember asking a girl in my class if she would draw the pictures for a quarter a piece. It was about two talking dogs. The rest, I couldn't tell you.
How long did it take you to complete The Storms of Love series?
I started Storms of Love in August of 2021 (late August). I finished it October 1st. Battles of Love, I started in July 2022, finishing it in about five weeks, and In Loving Bliss, I wrote it in exactly twenty-seven days, completing it at the end of September 2022.
Who is your favorite character in the series and why? Who is your least favorite?
Ellie. Ellie and I are very much alike from her down-to-earth personality, to her no-nonsense attitude and her passion for Christ. I grew up in Philly, which is where most of my characters are from and I also switched from a mainstream career to a creative one halfway through college.
My least favorite in the series is Grandma T. While she does grow throughout the entire series (she's only mentioned briefly in the third book), I realized just how hateful and bitter she was toward Ellie, which can be triggering for many people who had grandmothers that were unhappy in life.
What advice would you give to aspiring writers?
My biggest piece of advice to aspiring authors is to not be afraid to break all the rules after you've learned them. I think the industry puts too much stress and pressure on how things should be done. You HAVE to write every day or you're not a real writer. You HAVE to outline. You HAVE to study your genre mercilessly. I think it kind of sucks. I think some of the greatest writers of our time, my favorite being Karen E. Quinones Miller and Kimberla Lawson Roby, just found they had a gift and acted on it. That's not to say that they didn't learn some hard lessons along the way or that they didn't follow the "rules." But I definitely feel that when you know you have a gift to tell a story, you have to follow your heart. Of course, certain rules make sense. You SHOULD read books in the genre you want to write in (but you don't have to stress over it). I was reading so many books in my genre because I thought I wasn't a good writer if I didn't, that when I went to go write, I got stuck. All I could think about was how so-and-so did it and if I didn't do it like them, it wasn't right. Outline simply. Then outline some more if you get stuck, but your outline doesn't have to be twenty pages. And write when you can. If you can't write your minimum daily (mine is 3,000 words), at least write 200. You can't always write when you are inspired because there will be days you don't feel so inspired. Remember – breaks are just as important as going non-stop. Now, if you want to be a full-time writer, then do everything I said above, except stop treating writing like a hobby and you MUST write every day. You can't dedicate eight hours to a full-time job, and only one hour to your writing career when you are full-time. This is a business.
Was writing this book hard?
The entire series challenged me because as I mentioned, I'm a lot like Ellie. I had to go through healing by going to therapy and working through my stuff. As women we say we want a love sent by God, but when it shows up, will we run from it? And are we the person we're praying to meet? You have to be whole to attract whole. So, writing my first Christian romance novel from a healed perspective was very different for me. All my other romance novels were written when I was broken, so I had to realize I was a different person. Which means, I cried, I laughed, I stopped, I wanted to start over, but essentially, I kept going. As a writer, I pour out a lot, so I create from a very emotional space.
Tell us about any upcoming releases.
Fumbled Your Heart comes out December 1st. It's a re-release and the third edition of the book, so I'm excited to put it out under my current publisher. B. Love Publications has built a solid platform for us to give some of our previously self-published books a shot with her.
What is the importance of this book's theme in relation to today's culture (non-fiction angle)?
The healing and mental health aspect is key. I focus on my character's arc by showing their therapy sessions, then showing how they are triggered in their relationships, then they go back to therapy to figure that out. I'm showing that real healing takes work and of course, I'm addressing the lie that we were told growing up in the church – prayer is all you need to heal. Of course, prayer the foundation, but therapy is also needed. With mental health being such a huge topic now, when it was once so taboo, especially for the black household and the black church, it means a lot to be able to highlight therapy and healing in my novels. I also focus on addressing childhood trauma and wanted to show how that looks in a healthy way. So often, we see childhood trauma being addressed on "Love & Hip Hop" or other reality shows centered on love and it's toxic when it is addressed. The Storms of Love series shows women that you can have a Godly love, you don't have to settle and while you wait, instead of dating, heal.
To read an excerpt from In Loving Bliss, visit Mya's website at
https://writermya.com/2022/11/04/in-loving-bliss-sneak-peek/. To order her books, please visit her Amazon author page at: Mya Kay Books. The series Kindle version ranges from $2.99 to $4.99 per book and the print versions are $14.99.