By Makeda White
Ranked as one of the top 25 Christian bloggers in the nation, a devoted follower of Christ and mother of three, Author, Speaker & Mentor Courtnaye Richard uses her gift for writing to reach women around the world. Through her weekly blog posts and recently published book, Richard's uses her personal experiences to encourage women through their own spiritual journeys.
Richard's greatest hope is that through her words, workshops, and website, women will not only find their faith but their purpose. By finding their purpose in life, these women will also begin to share their journeys and become women of impact.
Bronze Magazine: Define in your own words what it means to be a woman of impact.
Courtnaye Richard: As a Christian woman and a woman of faith, being a woman of impact means having the willingness to lay down your life to make a difference in the lives of others through the humble leadership of service – adding value, inspiring others, sharing your gifts and talents; using all that God has given us.
BM: Tell us about your personal journey in becoming a woman of impact.
CR: It started with blogging, which I've been doing since 2011. I wanted to use my gift of writing on a bigger scale. In addition to reaching women within my community, I also wanted to reach them globally. One day my husband tells me, "You know babe, I think you need to write a blog." I did not know what a blog was at all, so I did some research on blogging. Once I educated myself, I was able to get the hang of it. I've been writing ever since. Now, I have a blog that publishes on Mondays at 7:30 am for women all around the globe.
BM: We all face different trials and tribulations in life. Has your faith ever been tested and if so, how did you find your way back?
CR: Absolutely, my faith has been tested. When I was losing my dad to stage four lung cancer, that was a big test in my life. I had to remember to trust God and know that God has us as we were going through trials. I couldn't stop writing my blog, I couldn't stop pouring out to women and I couldn't stop making an impact on other people's lives because of what I was going through in my own personal life. I had to keep moving. I'm reminded of James 1:2-3, "Dear brothers and sisters, when troubles come your way, consider it an opportunity for great joy." So, when you know your faith is tested that is your chance to grow.
When you know your faith is tested that is your chance to grow.
BM: You recently wrote a book titled Identified. What are you hoping readers take away from your book?
CR: I hope that the women who read this book will believe that no matter what, even if their faith is ever tested through trials or persecutions, whatever it is that they go through, they will know who they are in Christ. The premise of the book is knowing who you are and then standing firm in that truth, knowing that you are in him, but also growing in your faith and doing what you're called to do in regard to your purpose.
BM: What is the inspiration behind your blog, Inside Out with Courtnaye?
CR: I wanted to help women go deeper in their walk with Christ. The blog basically teaches them through weekly messages that encourage, instruct, provide scripture and asks a probing question on a particular topic. It inspires to go deeper in God.
BM: You have a passion for building women's self-esteem and making a positive impact in people's lives. Why is this so important to you?
CR: I think it's important because people need hope, but they also need to be inspired. And their lives need to be transformed by God, as I mention in my blogs and in my book. One of the scriptures that comes to mind is 2nd Timothy 4:2 – "Preach the word, be prepared in season and out of season; correct, rebuke and encourage with great patience and careful instruction."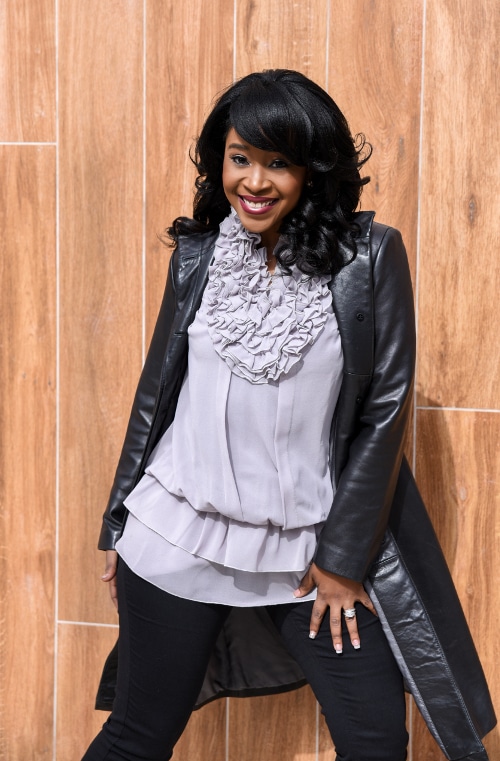 BM: When you look back on your own journey thus far in life and faith, who has impacted you the most?
CR: I would say my husband has impacted me the most. He encourages me when I feel overwhelmed or stressed out about something. He prays over me and gives me the hard truth. He encourages me like no other, telling me, "Come on babe, you've got this." I take that word and I run with it. He is my number one encourager.
BM: What would you say to the women and the young ladies who are reading this, who may be struggling with finding themselves and their purpose? And what steps can they take to become a woman of impact?
CR: Honestly, I would say the most important decision that you as a woman can make is the decision to follow Christ. That's honestly the most important decision, and from there it's standing firm in knowing who you are in him and knowing that with any trial that comes your way you can make it because he's got you. And that he wants to use you to make a greater impact in this world.
***********************************
To learn more about Courtnaye follow her blog for a dash of weekly inspiration.