By Jade Solomon
Chica Beauty was launched by sisters Toni and Mei-Lon Jimenez in November of 2019, with the intention to create a simple beauty routine for women on the go. The brand features makeup kits created with "two essential, high quality products" accompanied with the goal of not covering one's flaws, but to "accentuate each person's natural features."
Chica Beauty was inspired by your magazine ChicaGirl Magazine, which you started 14 years ago. Can you tell us more about this magazine and how it inspired your beauty line?
Toni: We started back in 2007 and it was one of the first online magazines, before iPhones and everything. We didn't want to be a celebrity driven magazine, we wanted to be different and have more meaning. We only had real girls on the cover, not models, and they had to apply to be on the cover. We also gave scholarships because it was important to us to give back. The covergirl on our magazines had to have a motivational story to share with our readers. We would have 6 hour photoshoots, makeup stylists, photographers; and what we saw was so amazing. We would see girls come in and be so shy; and as the day went on, we saw them literally blossom in front of our eyes. By the end of the day they were so comfortable and radiant, and it was amazing to see the confidence that we were bringing out of these young girls. When we transitioned to the beauty industry, we wanted to continue to bring that out.
How do you feel Chica Beauty stands out amongst other beauty brands?
Mei-Lon: We're sisters and we share the same values and the way we were brought up and what we wanted to hold to was that we're more than just a makeup company. We also give back monetarily through our sales, and we always partner with nonprofit organizations. We also spend a lot of time speaking to a lot of young girls, women, college students, and have been on different panels as well. We want to share our stories; although we're sisters, we come from two different career paths and it's interesting to see how the two come together.
We're also Latinas sharing our culture through our products. Each one has a special meaning. We have a beauty set called "BOSS/JEFA" that has two products- the powder blush and liquid lipstick. And we have a new set coming out called "FELIZ" which means happy, and contains our most special product called the "Mija" red lipstick. It's dedicated to our grandmother, who always reminded us to be bold. She called us "mija," which also resonates with our customers because it reminds them to share who in their lives also called them "Mija."
We're more than just a makeup company, and super proud of it and proud of our culture, family and tradition.
Toni: We actually go and speak to women about what they want in the products that they use, and we want them to be high quality essentials. Our products are for women on the go, girls on the go, and we want you to put these products on and feel good and confident, and you're out the door.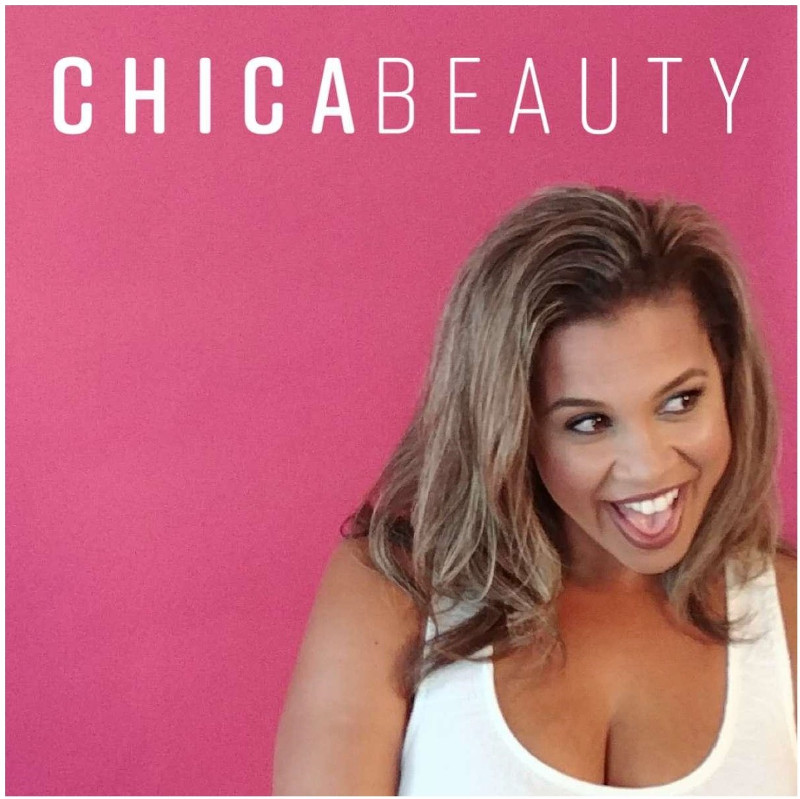 You ladies launched Chica Beauty 5 months before the pandemic hit in November 2019. How were those first months of business and how did you notice things transitioning as the pandemic hit? What kept you all motivated as we started watching the pandemic unfold?
Toni: It feels so long ago. When we first launched we were on a high. We were on every morning show, we were getting written about in newspapers. The momentum was really exciting – we were having speaking engagements – it really showed both us who we are as individuals, and we're really resilient. We had to go through a lot of barriers. And today, we're getting ready to celebrate our brand's second birthday. It keeps us going because we go out to inspire girls but they really inspire us. They love seeing someone like them and it shows that if we can do it, they can.
Mei-Lon: The most rewarding part was when we turned on the chat during our HSN and QVC special, and we were literally speaking and typing with everyone watching us. The segment was so fast and they were able to resonate with us and our message in that short amount of time. They were inspired by someone that looked like them. Our brand is about striving to create these simplified beauty solutions and they understood that immediately.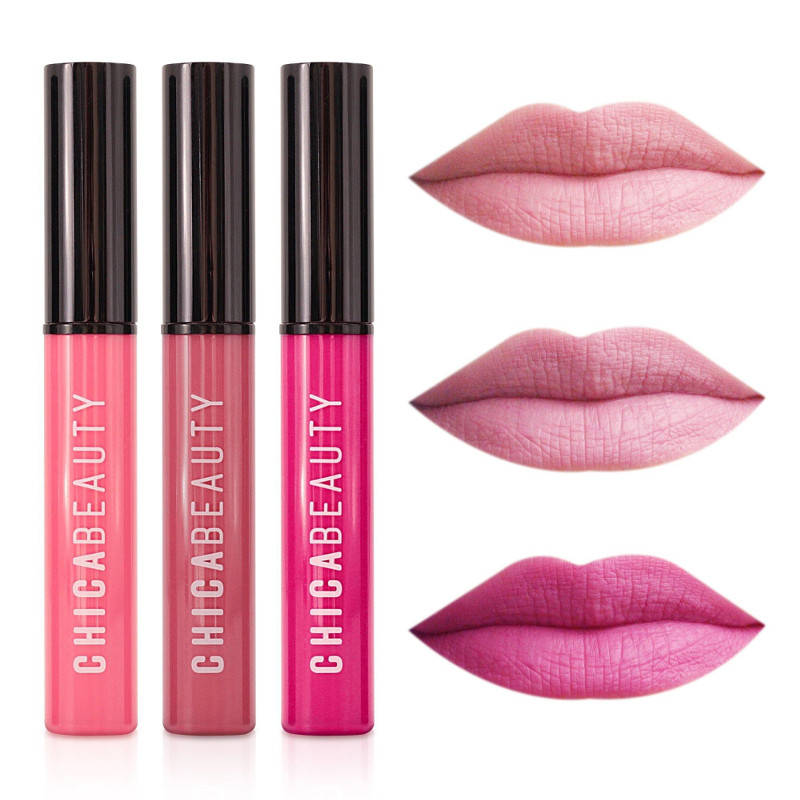 If you each had to pick one favorite product from your entire line to introduce as a must-have for one new customer, which product would you choose and why?
Toni: The "Mija" red lipstick. Every girl needs a bold red lip in her makeup essentials. Sometimes that's all I put on and I feel good. Yes, it's just lipstick but it's also so much more than that. It embraces all that we are in Chica Beauty. When you put it on, you feel like you're ready. The "Mija" bold red lip encompasses who we are in Chica Beauty.
Mei-Lon: The SPF Tinted Moisturizer only because it encompasses 3 in 1 products. It has SPF 30, anti aging, and it's a lightweight tint; not like the gel of heavyweight make up. It's the perfect product. It's oil free and we've gotten so many five star reviews which is major because it's one of the items we launched during the pandemic in June 2020. It was one of the most successful products that we've launched, and is currently our number one seller.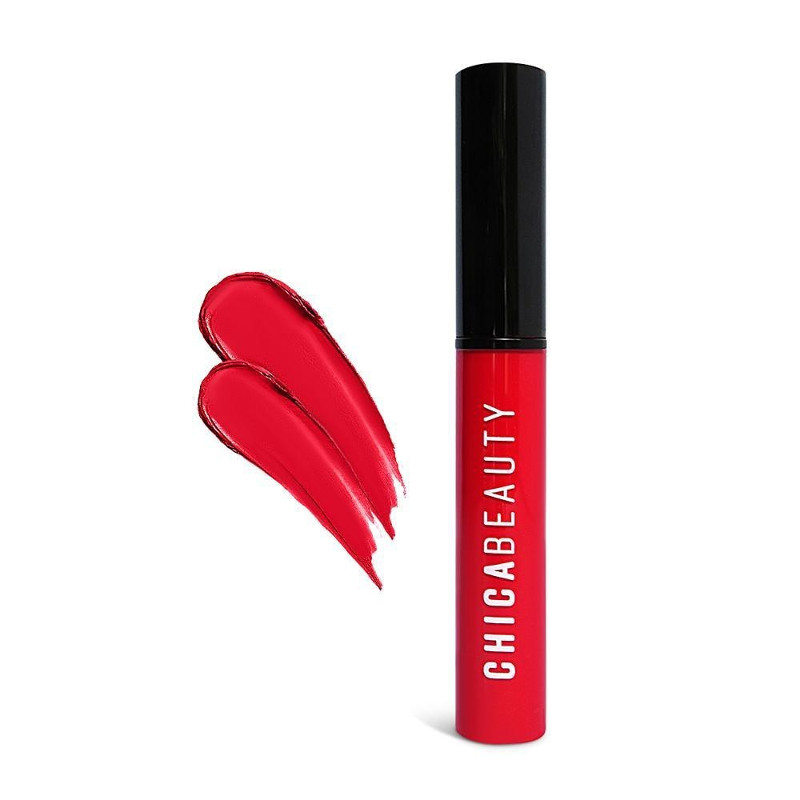 QVC and HSN recently featured Chica Beauty on their Small Business Spotlight for Latin-x owned businesses. Can you tell us more about that experience and how it felt to be featured on such a national platform?
Mei-Lon: There's so many words. We're just so grateful to have been recognized. We have still continued the relationship with the National Retail Federation who have supported small businesses like ours. We're just so grateful, and have had such exciting experiences that have gone by so quickly. It was an amazing opportunity and we're continuing to work with them. We have big plans going forward!
Toni: I've never seen so much support like what I'm seeing now from big businesses supporting small businesses, especially women and Latin owned. We are excited and are taking advantage of every opportunity that comes our way. We're just so grateful. People are ready for it, and we're really excited about future partnerships. We encourage all small business owners to get out there and apply for things because you never know what partnerships may come. That day was so exciting for us, and honestly the most memorable experience. Of course it was also really exciting to be able to experience that together.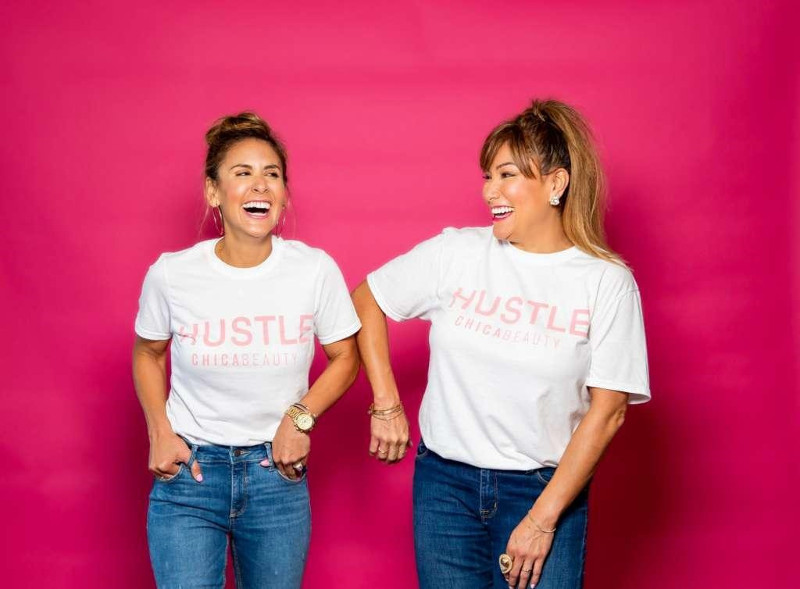 From your website, "With every product purchased, Chica Beauty donates to a rotating cast of stellar organizations through our Chica Gives Initiative." Why was it important to you all to not only give back but to make giving back a consistent part of your brand?
Toni: Giving back originally stems from our family and how our family raised us and the values that they instilled. We've always been active and proactive about giving back. When we first started ChicaGirl Magazine we were giving back with scholarships, so it's so important to us to continue giving back. As a brand we are trying to do more than just give back monetarily, that is the bigger part of what we're trying to do as Chica Beauty.
Mei-Lon: Our parents instilled giving back in us at a young age. During holidays we'd go and take food to the homeless and women's shelters, and we'd be there for half the day spending time. And then going to school, we had sisterhood there and did a lot of volunteer work there. Giving back always felt natural, and it was really important that we built into our business. It will never go away.
Chica Beauty's Two Year Anniversary was recently on November 19th. What's next for Chica Beauty?
Toni: We're very excited for a lot of things that we have coming up. We are getting ready to continue our partnership with the National Retail Federation. And we're ambitious and excited to enter physical retail – we're working hard towards that goal. For us, launching right before pandemic and now we're celebrating two years – it shows that the sky's the limit. And doing it all with my sister makes it that much more rewarding.
Mei-Lon: Together we're unstoppable. My advice to other small businesses is to try every opportunity, take initiative when something comes your way. You never know what people are willing to do if you just ask. There's so many opportunities going on, we're heading for retail and will be meeting with a lot of big companies at the beginning of the new year, then we have something really special rolling out towards the end of 2022.
As for this holiday season, our upcoming "FELIZ" set has a brand new product called the XLXL Mascara that's perfect for the holidays, and can be purchased by itself or in a set with the red "Mija" lipstick and then you get a choice of one of our new gel eyeliners. This will be our first set with 3 products, packaged in an eco-friendly bag – perfect for the holidays as a gift for a friend or glam for yourself.
Head over to chicabeauty.com to purchase your holiday sets and products today!