Photos by Keith Saunders
It's not about what you're doing but what you were becoming while you're doing what you're doing."
Food is the center of all gatherings, from summer BBQs to weekly date nights. Imagine taking a passion for something so beloved and turning it into a career. For celebrity chefpreneur Jacoby "J" Ponder, that's a reality. We caught up with this Bronze Brother to learn more about what inspires him, and more about his journey to living rooms across America.
It all started years ago during childhood, when Ponder was introduced to cooking by his parents and grandparents. That early introduction would set him on the path for success and stardom, but first, he found himself serving in the military.
That would lead him to apply to Food Network's Chopped: Military Special, repping for the Navy. This would not be the last time he sautéed his way into America's living rooms. A second competitive reality show stint landed Ponder on Cutthroat Kitchen.
With two top shows on his resume and experience working as a Culinary Specialist for the Navy, Ponder is now busy running his own business while working with some of the biggest names in Hollywood, leaving no shortage of star power in his Rolodex. "One of my absolute favorites would have to be Laila Ali due to the fact she is a true foodie when it comes to health and well-being."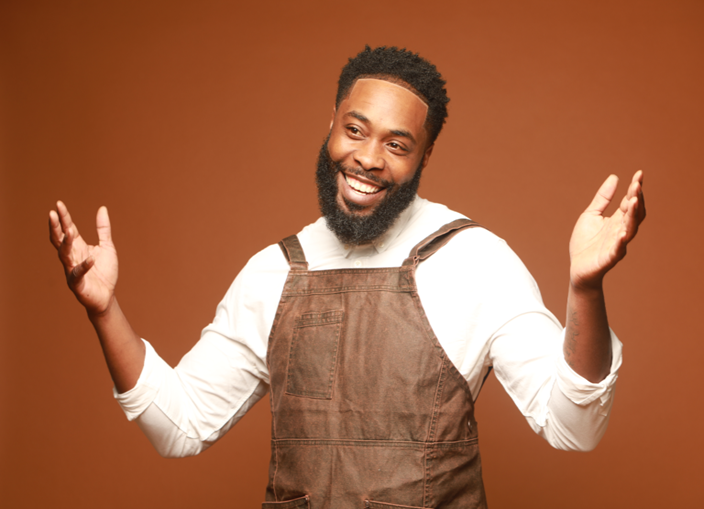 The fact that I cook for so many people made me the expert at institutionalized cooking, and started me on my path as a personal and private chef."
When not busy whipping something up himself, Ponder is busy helping others succeed in the industry, professionally and recreationally. He founded Chef Ponder & Co., which employs passionate culinary professionals from Virginia and Atlanta as well as Firesyde Chef & Co. It started "as a personal and private chef collective that offers services to individuals who wish to have an in-home chef," he explained. "Since then, I have turned my effort into multifaceted operations of catering, private chef and specialty services."
Next, he plans to relaunch the Chefpreneur Academy. It's an online course for "veterans who are transitioning out of the military as cooks, teaching them how to take what they have learned in the military and to reapply it as a civilian."
Take a chance. Take a chance on yourself, venture out, and never be afraid of failure. Prepare to fail and fail often, but also be prepared for you to learn."
That is not it. You can learn from the chef himself. He started couples cooking classes after noticing a need for more date night options. Each class includes a live demo and walkthrough from Ponder. "People love to eat. People love to cook. Why not combine the two and create an experience of both food and education?" he said.
All of my efforts are about inserting information and informing the people and educating on food health and wellness."
Can't make it to a class? Ponder has some advice for at-home chefs. He recommends every kitchen have three ingredients: herbs, onions and garlic. "Those three ingredient combinations create a fantastic dish no matter the main ingredients."
So what is a favorite on the menu for a chef to the stars, who is a star himself? Something from under the sea. "My specialty recipe would have to be my shrimp and grits. It has become an all-time favorite due to the fact of my special cream sauce that I fuse with fresh crab and crawfish."
With summer and cookouts in full swing, what does this chefpreneur see on the grill across backyards everywhere? "I see a lot of trends with smoked fruit, grilled meats and combinations of what we call in the culinary industry – infusion," he said. "Now that individuals are more health-conscious about what they consume, I also see a lot of chefs turn to fresh herbs to promote sustainable foods."
There you have it. From the military to TV and now teaching the next generation everything he knows. Chef Jacoby Ponder is paving the way for delicious food made right. We will be keeping up with the chef for the latest tips, tricks and more. Follow him on Instagram for the latest updates on the chefpreneur.