By Imani Agbionu
Emme Collins is an Afro-Brazilian professional chef based in Seattle, Washington. As an entrepreneur, personal chef for a retired basketball player, Jamal Crawford, and executive chef for Seattle Public Schools Chef Emme has secured her journey as an expert in the art of food. Competing in cooking competitions broadcasted on television with a win under her belt, Chef Emme has been able to grow her presence in the industry while staying true to herself.
In a recent chat with Chef Emme, she talks to us about her journey as a chef from living in Brazil to coming to America and sharing her heritage through her recipes. Also, she gives tips on balancing home and work life and advice to youngsters seeking to become a chef.
How do you correspond your Afro-Brazilian while growing up in America?
I feel like I have come full circle. I came to Seattle when I was young, at just six years old. My upbringing here was super powerful. I wanted to be American, like my friends. I kind of resented not having that American culture like everybody around me.
My parents did a good job of keeping the Brazilian, especially the Afro-Brazilian culture alive. They're artists and performers so when they came here, they kind of forced me to do performances with them at schools and workshops and stuff consisting of Brazilian music and dance. So, I always felt that they kept me rooted in Brazilian traditions and cultures. I feel like that played a big part. Even though back then I still kind of compartmentalized the two because at home and when I did the performances and workshops with my parents it was Brazilian.
Then, while going to school and being around my friends, I didn't want to speak Portuguese when I was around them. It wasn't until I grew up and became an adult that I saw the importance of having the two cultures.
Your parents own a restaurant in Seattle, Washington that gives attendees a taste of the Brazilian culture. Were they part of your inspiration for becoming a chef?
Yes, definitely. Even when we lived back home in Brazil, my mom was a chef and still is a chef; she had her own catering company that she ran out of our home. So, just being in food and watching the food business from my parents has just always been a part of my life and something that I am comfortable with. When they opened a restaurant, I worked there, which kind of bloomed me. So, working in restaurants was the first thing that I was comfortable and familiar with.
So, I just so happened to really enjoy it, unlike my brother who was kind of the opposite. He grew up in the restaurant business as well, but it just so happened that I loved it more than he.
How do you balance being a chef with being a mom? Do you have any tips for mothers seeking to be entrepreneurs?
There's this myth of the perfect home-work balance. That is just a lie that I feel is harmful to men and women in general but especially women.
There isn't a perfect balance. You just take it day by day, prioritize duties and keep in mind that yes, you must spend time with your kids. Yes, you must pour into your business. You're never going to get it perfect. You're always going to either feel guilty about working too much, spending time with your kids, or neglecting your business. You'll also believe you're not making it because you're not spending enough time on your business because you're having to take care of home. So, I think the key to that is really to know that there is no perfect work-life balance, that's a myth.
In 2019, when you became the executive chef for Seattle Public Schools, what did you learn about schools and the food industry including children's wants and needs?
It's kind of a full-circle moment because again, coming from Brazil at six years old, I came here in the first grade and the thing about Brazilian culture is that lunch is super important. You either go to AM or PM school so, at lunchtime, you're at home and you're eating a home-cooked meal that is a feast. It's amazing. It's delicious. And then I came to Seattle Public Schools. Lunchtime was, you know, a corndog on a stick and I was like, "What is this?" I would just go hungry.
There was also a period where my parents would pack me a lunch of Brazilian stuff, but I also didn't want to eat that because then it's, weird, you know? I feel like I suffered a lot at lunchtime, especially when I was younger. So, I think it's just been such a full-circle moment to now be the person in charge of creating the menus and the recipes for kids. Seattle is super diverse, so, my number one mission has been to make culturally relevant food on the menu.
Again, we're [Brazilians] super diverse. We have people from East African cultures, we have Hispanics and a lot of Asians, but I think that home-cooked meals, like scratch-made food, kind of translate into all cultures. You know what I mean? I feel like if I was little and instead of seeing a hot dog on a stick, I'd see rice with teriyaki chicken or something, I would eat that.
I'm all about changing lunch food for kids to more culturally relevant food and more scratch meat items. The rules and regulations are strict for school lunch, and I think that we need more chefs in this industry. It is dominated by dieticians who think strictly about the regulations and the numbers. They don't have the creativity to make recipes work and fit into the regulations. They're more worried about packaged, processed items and meeting all the regulations instead of doing the work to create delicious recipes that would fit. I am an advocate for more chefs in the industry. I think it essentially makes a difference.
If you had grown up in Brazil, do you think your beginner's journey of becoming a chef would have been different from being in America?
I think so. I feel like I don't even know if I would be a chef, honestly. My mom did have a catering company in Brazil. I did mention previously that my parents were artists, and they were part of performances all over the world sustaining Brazilian cultural dances.
I was more a part of that. I would go to their practices and sometimes I would perform with them. I also was part of a dance company as well. So, I feel like I might have gone towards the dance thing. I still enjoy the artistry, but I feel that my parent's owning a food business is what influenced me to go the restaurant route and I really want American people to discover Brazilians. That is another passion that I want to put at the forefront. I feel like if I was in Brazil, I wouldn't have sparked that passion as well.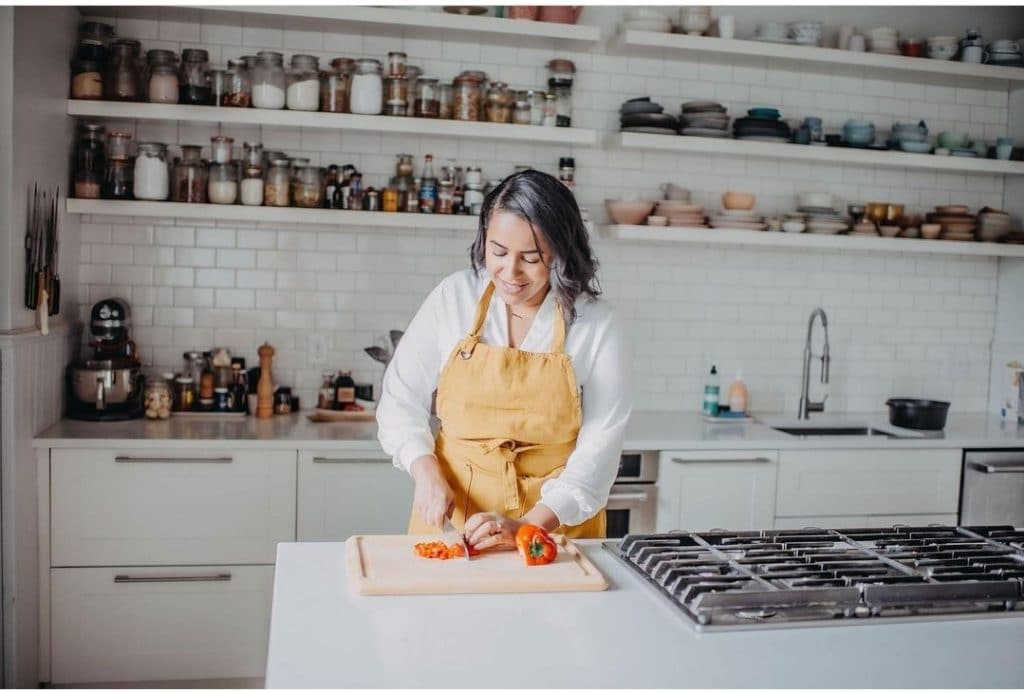 Has there ever been a time when you felt the urge to leave the food industry?
Not really. I never really wanted to own a restaurant or work in restaurants because I saw the struggles of my parents. They were never home, even on nights and weekends. So, I never wanted to be a restaurant owner. But I did I end up taking over my parent's restaurant after 20 years.
We closed right before the pandemic and I don't know, I never like to say never but I don't know if I will ever be a restaurant owner because it's tough and I have always wanted to find different avenues in food that I wanted to work in.
What dish of yours holds a significant meaning to you and why?
It's hard to pick one, but I would pick a Moqueca, which is a seafood dish from my city, Salvador. So, I would pick that because of how it encompasses everything about who I am so that's super special to me.
Also, my parents had that dish at their restaurant. It was the most popular dish on the menu so growing up and serving it all the time and hearing people rave about it again is part of my special memories. They won a lot of awards because of that dish. It is also a dish that when we make it here, we can make it with the fresh local seafood of the Pacific Northwest. So, I feel like it's easy to tie in both of my cultures into this dish.
Congratulations on winning Chopped in 2021! During that moment when you won, what was going through your mind?
I was really excited. Prior to Chopped I had done two cooking competitions, but I felt more confident on Chopped, sticking to Brazilian cooking no matter what was handed to me in the rounds. Previously, I kind of wanted to do whatever we pulled out at the moment and focused more on what the other chefs were doing.
I vividly remember throughout the whole [Chopped] competition that I received good feedback on every round, so I kept true to myself and didn't worry about anybody else; sticking with my culture and with what I knew while knowing I was the only one who could do this. So, when I won, obviously it was such a validation of I am important and I am unique in my story. I can win, and I can make it by being me and not focusing on others. So, even now when I have impostor syndrome or whatever it is, I always think back to the Chopped competition. It proved me right to stick to who I am and not let others influence me.
Who is your biggest critique as a chef that you take advice from to expand your skillset?
I am literally my biggest critique, I really am, and I feel like I am never happy. My husband, kids, and parents are super supportive, and I feel my parents are honest if something doesn't work out. But, for the most part, everybody is super supportive and really encourages me.
What advice do you give to young up-and-coming chefs that are afraid to enter the industry because of what they witness on TV or are discouraged in general?
First and foremost, you are enough, you're you, and nobody else can do what you do, and your experiences really are truly unique, which makes you unique. When I was starting out, I was really discouraged from going to culinary school and was more encouraged to work at restaurants and work my way up. I am always telling young people who are passionate about food that's not the only way to become a chef and become a well-known chef. Especially now in this day and age with social media and digital content. I think that the opportunities are endless, and you don't have to work your way up in a restaurant. If you have the desire and you want to that's great, but I think like in this industry, it's all about creativity and it's all about interpreting yourself and your recipes as super unique. So basically, just stay true to yourself and follow what feels right for you!
Follow Chef Emme on IG at @chefemme_