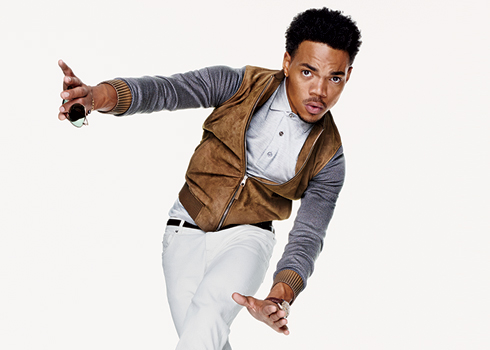 Image Source: GQ Magazine (Feb 2015)
Chance The Rapper (real name Chancelor Bennett) is playing the lead role in a new short film titled "Mr. Happy." His character Victor, struggles with depression and feels trapped in his life and dead end job. The film was directed by award-winning music video director Colin Tilley. After watching the short film myself, I can attest to the fact that it's pretty grim. Victor, a young man with dark thoughts and ideas, contemplates suicide as life's walls seem to be closing in around him. Even though killing himself sounds like the best solution, Victor just can't bring himself to do it. He eventually stumbles upon an unusual website (MrHappy.com) that offers hitman services for a nominal fee. Curious now? If you want to find out what happens next, watch the full movie for free on YouTube. In an accompanying interview with VICE, Tilley said he first met Chance during the shoot for Justin Bieber's "Confident" music video. "We were shooting Chance's part and we got to hang out all day and got into some really cool conversations," he said. "Chance is like one of the most down-to-earth people I've ever met and right away I was like, this dude is really special. We talked about film and he was telling me how he wanted to get more involved in it. Crazily enough, he had a lot of the same taste in weird movies as I do. A couple days later I get pitched this idea for Mr. Happy. After getting together with my friends who wrote it—Steve Mcclean and David Singer-Vine—I sent it to Chance, he loved it. After trying to find a consecutive five days in his whirlwind of a schedule we figured it out and shot the movie."
Chance The Rapper's next music-related project, an LP tentatively titled "Surf," will be a collaboration piece with Donnie Trumpet and The Social Experiment. Speaking candidly about the artists he has worked with recently, though not stating that they are necessarily involved with the new LP, Chance revealed: "We worked with Migos. We worked with J. Cole. We did some work with Emily King just last week. Somebody who helped us out a lot with just getting into the project was Rick Rubin. And Frank Ocean. There's been a lot of just people in the studio watching us work almost like a house band. People come in just to watch us jam out." His previous releases include ambitious debut "10 Day," and the critically-acclaimed "Acid Rap" in 2013 and has gone on to collaborate with Lil Wayne, James Blake, Vic Mensa and Jessie Ware among others.
by Farren Washington
Warning/Disclaimer: This video contains strong language and graphic depictions of suicide that may not be appropriate for everyone. Suicide is the third leading cause of death among African American males ages 15-24 (Centers for Disease Control and Prevention). Any views expressed in the film are not necessarily endorsed by Bronze Magazine. This content is intended to provide users with resources and information which they may find useful and of interest.
Here is a YouTube Link to the short film: https://youtu.be/KZqkMWGc0js