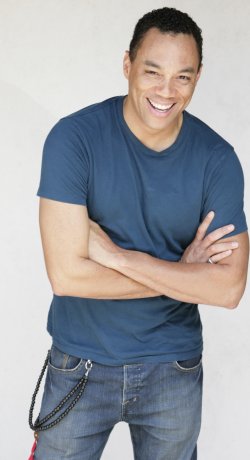 By Editor At Large Patricia Rivera
Sam Russell is a Celebrity Wardrobe stylist for the stars and has been for 12 ½ years, he has dressed many greats  including Legendary Steve Wonder, and actresses Sophia Bush & Melora Hardin just to name a few.  Because of his good looks and kind spirit he was discovered as a model in Houston by Power Agent Page Parkes but he knew he wanted to do more.   He had a great eye for style and after freelancing as an in-house stylist with the May Company, In May, 1999 He decided to "Take a Leap Of Faith" with only $750 in his pocket he left Houston, Texas to move to LA to follow his dream.   Not knowing anyone or what was in store for him except filled with a pocket full of hope/ determination and drive he arrived in LA.  Sam, began  positioning himself in the right places in order to manifest  what he wanted.  He then became a regular "On Camera Style Expert" for NBC San Diego Am News and in Sept 2011 with a grand Finale show he blessed a women with a $10,000 makeover.
Sam Russell aka "The Swag guy" and now my new words for him "Mr. Fabulous" decided after years of being successful dressing celebrities and being able to ask and get whatever he wanted and needed to dress them, he said to himself "why can't I do that for people who really need the help".
Sam Russell decided to start his business called the "The Giving Closet," and through generous donations  from well known fashion companies/designers  he received ( clothes, shoes, handbags, jewelry) another dream came to reality.  The Giving Closet is built on love and wanting to help women that are doing so much for others and their families and very little for themselves and are re-entering the work force.  Sam decided to connect with an organization called  "Dress For Success" because he believed in their mission and wanted to be able to connect with the right recipients for his new venture.
Here are a few things he had to say:
Sam:  I love to dress celebrities but my true passion is to help people in need.  Women re-entering the work force need to look good and feel good about themselves and because I have the ability to gift thousands of dollars to celebrities, why can't I use those same resources and help women who really need it?
Patricia:Â  I think what you do is a beautiful thing but there are some shows out their similar to what you do.
Sam:Â  We are a little different besides helping people getting back into the work force, I don't tear people up, I build them up and help them feel good about the choices they make for themselves.
Patricia:Â  I love that because a lot of the shows try to change a person by putting them in what they think they should be wearing and not necessarily what they want to wear.
Sam: Exactly
Patricia: Is it hard to dress certain celebrities and is there a celebrity who you haven't dressed that you would love to dress?
Sam:  Just like everyone, you might have people that are difficult but you also have ones that aren't.  I love what I do but to answer your question is there a celerity I would like to dress?  I can't say there is one I can think of right now. I have pretty much dressed people I never thought I would be dressing.   My mission and passion now is to be a bright spot in the lives of  women trying to start over and giving them the tools they need to be successful.
Patricia: Sam, you are fabulous, Where do you see "the Giving Closet" 5 years from now? I know just while speaking with you, you have inspired me and motivated me to want to do more!
Sam: Good for you Patricia, I see myself helping women all over the world.
Patricia:  Sam, I have only touched on a little bit of what you have done in your life and will share your contact info so people can learn more about you, but I believe you will be doing exactly what you want( helping women all over the world) , when you are a giver and using your gifts to truly be a blessing in a stranger's life it opens up a whole lot of other doors.  Thank you for your time and I look forward to following you and seeing all the other cool amazing things you will be doing.
Sam:Â  Thank you so much and it was my pleasure.
To learn more about Sam Russell http://wardrobedept.com/