By Priyanka Hardikar
For Chef Crystal Blanchette, food is more than just a way to function; it is about recreating a favorite childhood memory, immersing in a new culture, and spending quality time with friends and family. "For me, food has always been about the soul," Chef Crystal says. She works as a private chef for Los Angeles' entertainers and health enthusiasts, in addition to running Chef's Guide to Divorce (a recipe blog and divorcee dinner events) and "Chef Crystalz World," her lifestyle brand as a chef.
She also helps provide healthy food options to rural and urban communities through a project called the Inner City Kitchen. Right now, Chef Crystal says she is obsessed with mastering the air fryer, as she is working with the Ronald McDonald House for Childhood Cancer Awareness Month to create healthy and exciting meals for kids that are either in the process of recovering from cancer or in the middle of chemo.
While Chef Crystal thinks of "Chef Crystalz World" as the fun side of life for her – where she posts about her kids, traveling and the craziness of whatever she is feeling in the moment, she describes "Chef's Guide to Divorce" as the soul piece of her – the part that can relate to single parents and feeling lonely. During her own divorce, Chef Crystal was alone, apart from her kids for the first time, and feeling uninspired. Something inside her drove her to start watching cooking movies – any cooking movie, at any time and in any mood. Whether she was sad or happy, she watched movies such as "Like Water for Chocolate" and just started cooking. First for herself, and then for friends.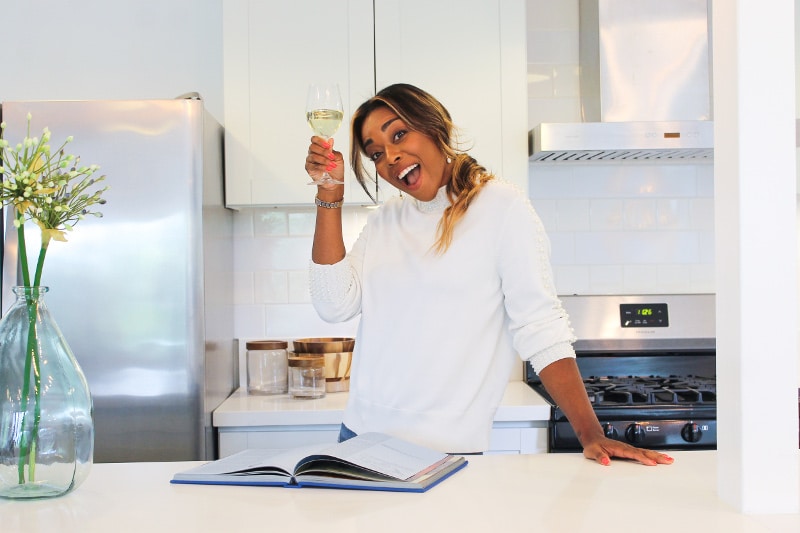 She hosted events based around the film-inspired food she was cooking and gradually began to create more than food: She created a new community that allowed her the space to grow and heal. "I wanted food to be something healthy for me," she says. "I didn't want it to become a crutch or something toxic. I wanted it to be something beautiful for me."
She made it beautiful, by choosing to live her life with intention and by her own terms. "I recreated what my life got to look like and be," Chef Crystal explains. "I got to travel with my kids, cook and if someone didn't want my services the way I was able to give it to them, I was okay with not working with them. I wasn't attached to anyone or any job."
As a child, Chef Crystal's world was constructed around food and family. She saw the immense joy it brought everyone and the depth of love that went into each meal. She learned what it meant to be really present and create food not just with ingredients, but with heart and soul. Her great-grandmother was a farmer, her grandfathers both military chefs, and her family close-knit: There was an innate love for cooking that united them. "It created stability for me," she says. "I always knew I had a place to go. I always knew I had a hot meal. Family was my foundation, and I never felt alone." It is the same feeling she strives to create for her own children, who are four and six years old. Long-term, she wants to own a farm in the middle of the city, much like her great-grandmother – to continue the family tradition to provide fruits and vegetables for her neighbors as well as community trade.
A pivotal moment in her family, she reminisces, was when her maternal grandfather, who would cook annually at the family reunion, passed the baton over to Chef Crystal when he turned 85. It was bittersweet for both of them, Chef Crystal says, when they realized that times were changing, new generations coming. That reunion, she cooked fried catfish, coleslaw, all the traditional southern style food.
There was also a time when Chef Crystal made peach cobbler for her grandfather. Peach cobbler was a tradition within her family, and she remembers that even though it tasted the same and it smelled the same, her grandfather could immediately pinpoint the slight difference – from using brown sugar instead of white sugar. But that is what she loves most about cooking: the challenge of taking something traditional, like a home cooked meal someone enjoyed as a child and adding her own spin on it.
Chef Crystal talks about one of her clients, who does not eat meat anymore but used to love meatloaf, mashed potatoes, and green beans as a child. "Food gets to be fun," Chef Crystal decided, and so she came up with a recipe for him that was similar to what he had eaten as a child, but healthier. "It may not have all the butter and juicy goodness, but it's enough to be able to put a smile on your face," she says.
It is almost like traveling back in time – one bite reviving a memory: the smells, the touch, the tastes, and this beautiful feeling of nostalgia. "Their eyes are closed, and they're just immersed in the beauty of whatever that memory is for them; that's the joy of being a chef," she says. To make dreams reality – both in the kitchen and outside.
Follow Chef Crystal on Instagram @chefcrystalzworld
Feature Photo Credit: Monte Christo