by Jo Jo Harder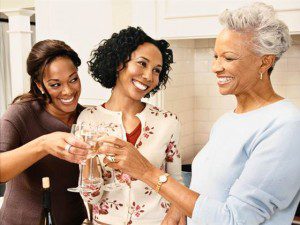 There are many ways to celebrate Mother's Day. Blooms by the bunch from a significant other, the Rice Krispies treats your children bring you on a tray, or giving mom the day off. These are all wonderful gestures of love. But why not follow with a spectacularly, simple brunch? In fact, if spring has arrived in your area and you have a garden or patio, why not set up table outside? And Mother's Day does not have to be limited to the immediate family. It can include special people who touch our lives.
Keeping in mind, this is a day when "less work for mother" comes into play. Here is an easy menu that can be prepared in less than an hour.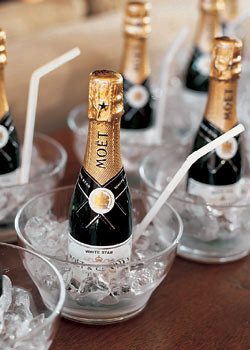 Menu
Cantaloupe with Blueberries
Miniature Quiche
Smoked Salmon, Cream Cheese and Capers on Brown Bread
Strawberry Banana Blueberry Smoothie
Mini Champagne Bottles with Straws
Coffee
For openers, serve cantaloupe with blueberries. Cut cantaloupes in halves and remove the seeds and filaments. Fill each half with blueberries, squeeze with lemon and sprinkle with brown sugar. Serve cold, garnished with lemon slices.
Make miniature quiche in just thirty minutes. This recipe makes twelve servings:
Easy Miniature Quiche
12 slices of bread                                4 eggs
1 grated onion                                     1 teaspoon dry mustard
½ cup shredded Swiss cheese             Pinch black pepper
1 cup milk
Directions:
Preheat oven to 375 degrees. Grease muffin tins.
Cut bread into circles and place in bottom of muffin tins. Distribute shredded cheese and onion evenly between the bread circles.
In a bowl, combine eggs, milk, mustard, and pepper. Divide between each muffin tin.
Bake for 20 minutes, or until tooth pick inserted in center of quiche comes out clean.
Spread cream cheese on slices of bread. Top with the smoked salmon and capers, and season with pepper. Serve with freshly brewed coffee, smoothies, and champagne.
Flowers and cloth napkins make a brunch table pretty. Set the table well in advance, select the music and think of all the things that might make your guests feel welcome.
On a beautiful, May morning, what better way to celebrate moms, and those who love them, than with this festive brunch designed to please tastes of all ages?