Meet Tisha Ayers, founder, and CEO of Cashmere Moon. Cashmere Moon is an elegant skincare line that naturally nourishes glowing skin while also protecting the earth. Their products are vegan and cruelty-free and the minimalist product packaging helps to reduce waste.
Tisha was inspired to build her business when she was in dire need of quality skin care products during her pregnancy. Her husband began researching whipped shea body butters and after finding a recipe they liked and adding a little razzle-dazzle with their favorite oils and extracts, the perfect formula was born. Their friends and family loved the concoction encouraging them to start Cashmere Moon in 2021.
In less than two years, they have garnered partnerships with over 20 retail spaces nationwide and in Canada, along with a secured partnership with Thirteen Lune x JC Penney Beauty – placing their products in more than 600 stores all over North America. We had a chance to chat with Tisha about the importance of having an environmentally friendly brand, her best-selling product, and more.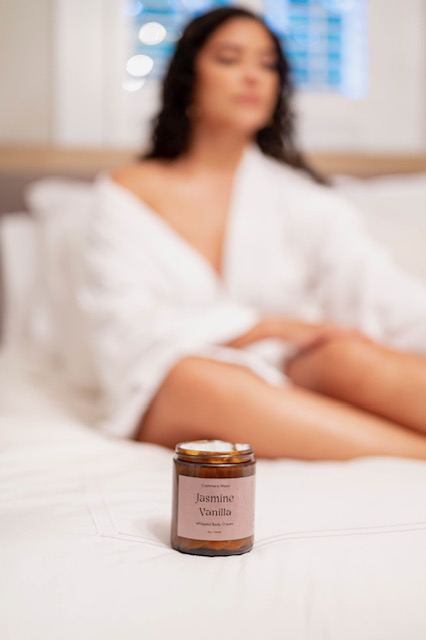 Why is it important for you to have an environmentally friendly brand? 
It's important because we only have one Earth and I want my children and their children to enjoy it. My mother taught us about the importance of taking care of our belongings if we wanted to keep them. It's up to all of us to take care of our planet so I will do my part – in my personal life and in my business.
What's your best-selling product?
Hands down, our best-selling product is our Mango Cocomilk Whipped Body Cream. We can hardly keep it in stock! One of our retailers was actually cursed out because we were taking it off the shelves for the winter months. We don't want that to happen so we kept it on our product line year-round.
What's your best piece of advice for aspiring and new entrepreneurs?
It's ok to make mistakes – each one is a lesson.
What are 3 of your favorite beauty trends?
1. The importance of clean beauty brands
2. The importance of eco-friendly packaging in cosmetics
3. Products with minimal ingredients but maximum results
Do you believe in work-life balance? If so, how do you create it?
I don't know if there's a work/life balance. You really just try to put programs in place to help you out with your business and spend time making memories with the ones you love.