By: Serghie Faustin
We can all agree that one of the worst fears for a natural, or anyone with hair for that matter, would be to damage their hair. In fact, the only thing worst than that would be using a beloved hair product that you're not even aware is potentially hazardous to your hair, scalp, skin, and health. Though I am not here to disappoint, there has been a lot of discussion and speculation on the safety of a popular hair product that you may have in your collection right now. No need to worry! I will be recommending a few hair gels that are healthier alternatives.
In the recent weeks, Eco Styler gels have been in the social media spotlight, and not necessarily for the superb definition it gives natural hair. A number of women and men have voiced their opinion about the safety of the popular gel on YouTube in particular. A few of the possible negative effects of Eco Styler gel that were mentioned by YouTubers included skin irritation, watery eyes, decrease in immunity, and even emotional depression. Some of the ingredients that have been called out are sodium hydroxymethylglycinate, triethanolamine, and even the fragrance used in the gel. According to EWG's (Environmental Working Group) website, these three ingredients can be harmful. Sodium hydroxymethylglycinate is known to form and release formaldehyde. Triethanolamine is known to increase skin absorption. The fragrance is known to be toxic to the human immune system and can be irritating to the eyes and skin.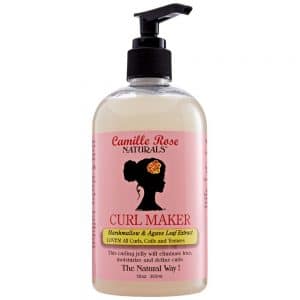 For those who would prefer to use a more natural hair gel and wouldn't mind spending a little more for it, the famous Camille Rose Naturals Curl Maker is the route to take. This styling gel contains ingredients such as coconut oil, castor oil, and marshmallow root extract. Coconut oil is a great moisturizer, castor oil is effective in increasing hair thickness, and marshmallow root extract is great for providing a substantial amount of slip! Though this gel costs about $21, it promises to eliminate frizz, and define and moisturize curls. Stores including Sally Beauty, Target, and Walmart stock this wonderful gel. If you're concerned about purchasing natural products with quality ingredients, you will get exactly what you pay for with the Camille Rose Naturals Curl Maker.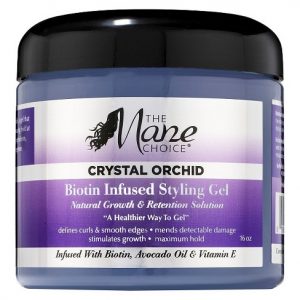 A more affordable choice with ingredients just as great is The Mane Choice's Biotin Infused Styling Gel. This gel is composed of ingredients such as avocado oil, slippery elm, and of course biotin! Avocado oil is a moisturizing oil that contains vitamins, slippery elm is an herb that provides intense slip, and biotin is a vitamin that is used to grow hair. This gel retails for around $11, and has a mixture of beneficial vitamins, extracts, and oils. This gel promises to promote hair growth, define curls, moisturize hair, tame frizz, and minimize hair damage and breakage. Like the Curl Maker, this nutritive gel can also be found at Sally Beauty, Target, and Walmart. A gel that grows hair instead of breaking it off! I think The Mane Choice Biotin Infused Styling Gel will be worth every penny.
Photo Credit: UAEWomen
For those who would like a more DIY approach and an even more affordable option, then you may want to create your own gel at home. Yes, you can make homemade gel with optional custom ingredients of your choosing. For years now, natural women and men have been making their own gel with flax seeds that can be bought at a grocery store! This can be done by boiling whole flax seeds over medium to high heat for about 7 to 10 minutes. The longer you boil them, the thicker the gel gets. It is important to stir as it boils to prevent the seeds from sticking to the sides of the pot. After the desired consistency has been reached, let the gel cool for about 20 to 30 minutes before using a strainer or stocking to collect the gel from the seeds. If a more visual representation is preferred, the well-known YouTuber Naptural85 has a few videos demonstrating just that. A couple things that can be added to flax seed gel are marshmallow root and essential oils. Flax seed gel is known to be very moisturizing on its own and adding marshmallow root will increase the slip the gel will give your natural hair. Essential oils can be added to produce a fragrance of your choice.
Well there you go ladies and gentlemen. Three alternatives to using Eco Styler gel if you are concerned about the ingredients in your hair products. Those who don't mind spending the extra money for natural ingredients, I'd recommend the Camille Rose Naturals Curl Maker. Those who want something more affordable while still getting quality ingredients, I'd recommend The Mane Choice's Biotin Infused Styling Gel. Those who are into creating your own hair products, I'd recommend creating your own flax seed gel at home. Knowledge is power and knowing what you put into your hair is key.