Happy Saturday Bronze ladies! We hope you had a wonderful week! As part of our "Bronze Girl" street style summer series, our fashion team is hitting the streets of NYC this summer in search of some of the city's most fashionably fab trendsetters.  Each day we will feature one stylish "Bronze Girl" whose unique fashion sense and style has been captured by us during her travels throughout the fashion capital of the world. Today's street style trendsetter is Leyah, sporting cute plaid jeans, a white cropped tank top, and cute flat sandals. See more details about Leyah and her outfit below: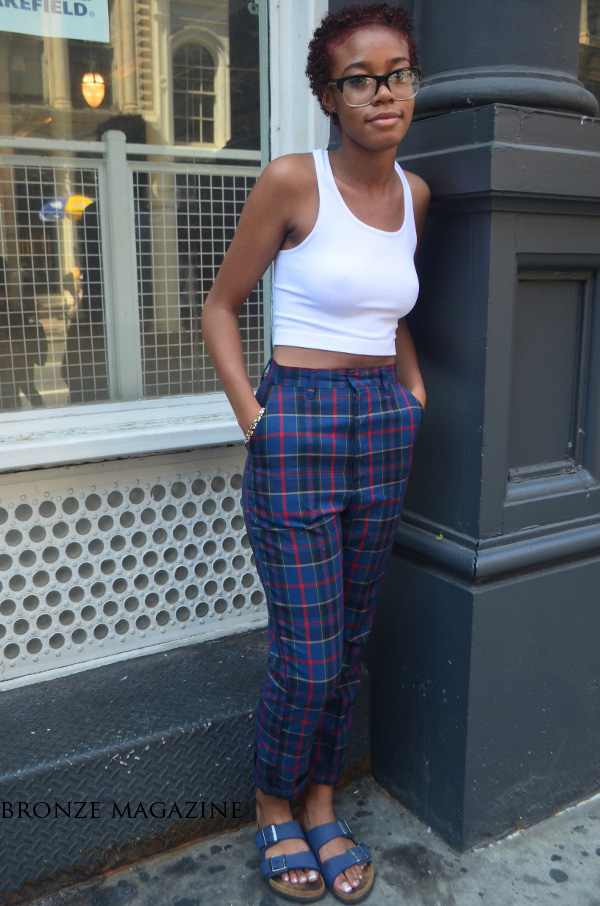 Name: Leyah
From: Brooklyn
Career: Works at Brandy Melville
Fashion Inspiration: "I woke up super late and I needed something quick and easy to wear." Leyah is wearing Stella McCartney readers, thrifted plaid jeans, Birkenstock slides, and a Brandy Melville crop top . Her bracelets were a gift from her friend from Africa.
The approximate cost of Leyah's outfit was under $300
Credits:
Interview by Tanthony Raeshawn, Bronze Magazine Beauty/Fashion Editor
Photo by Saundra Heath