Happy Sunday Bronze ladies! We hope you are enjoying this beautiful day! As part of our "Bronze Girl" street style summer series, our fashion team is hitting the streets of NYC this summer in search of some of the city's most fashionably fab trendsetters.  Each day we will feature one stylish "Bronze Girl" whose unique fashion sense and style has been captured by us during her travels throughout the fashion capital of the world. Today's street style trendsetter is Kimana, wearing a sheer black maxi skirt with black shorts underneath and a white tank top. Kimana offsets her look with a black floppy hat, a beige shoulder bag and white flat sandals. See more details about Kimana and her outfit below: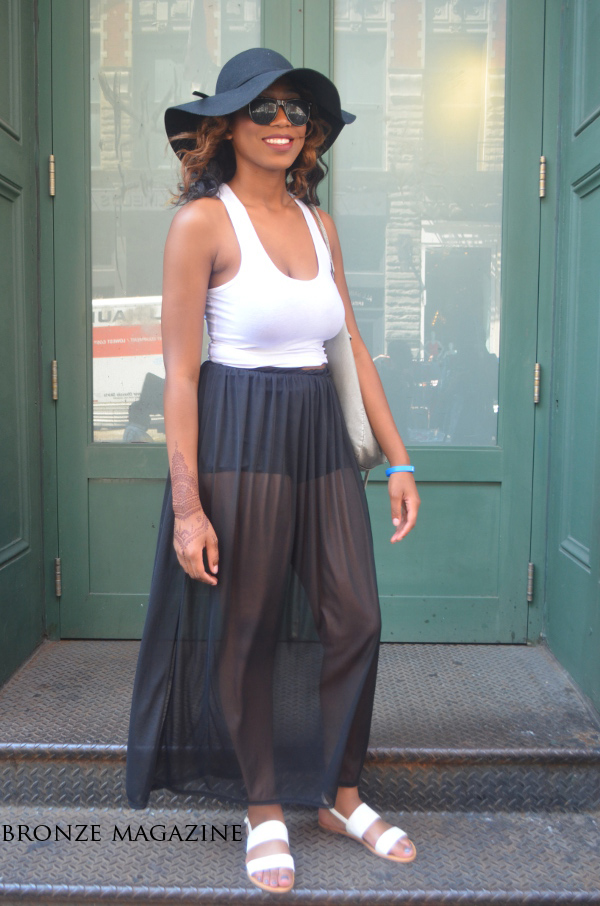 Name: Kimana
From: Bronx now reside in Northern Virginia
Career: Camp Counselor at YMCA and a full time student from Virginia Commonwealth University (VCU)
Fashion Inspiration: "The fact I was going to Soho inspired my outfit along with the weather wanted to be comfortable and yet still show a little skin."
Approximate cost of everything $77.
IG:Kissmyaspirations
Credits:
Interview by Tanthony Raeshawn, Bronze Magazine Beauty/Fashion Editor
Photo by Saundra Heath