Happy Friday Bronze ladies! As part of our
"Bronze Girl" street style
summer series, our fashion team is hitting the streets of NYC this summer in search of some of the city's most fashionably fab
trendsetters
.  Each day we will feature one stylish
"Bronze Girl"
whose unique fashion sense and style has been captured by us during her travels throughout the fashion capital of the world. Iris from New Jersey is wearing a full midi skirt in neon green paired with a bright white shirt and comfy white flats. Her accessories- a black handbag and blue aviator flash lenses offset her look perfectly. Iris' long, beautiful Senegalese braids add an ethnic flair to her trendy look. See more details about Iris and her outfit below: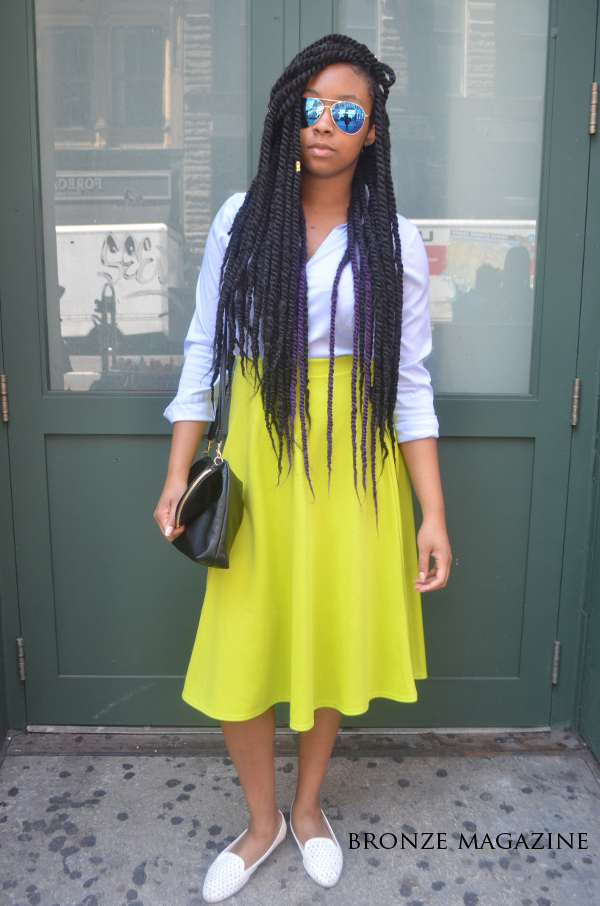 Name: Iris
From: Plainfield NJ
Career: Academic Coach at Pace University and also does PA work for a couple of Web series.
Inspiration for Iris' style: "The weather had a lot to do with my outfit, because it was a beautiful day and I wanted to wear bright, summery colors to reflect that."
The outfit approx. cost $80.
Social Media: twitter is @iryssx_Ology and Instagram is @ohiris
Credits:
Interview by Tanthony Raeshawn, Bronze Magazine Beauty/Fashion Editor
Photo by Saundra Heath