by Trishna Sanyal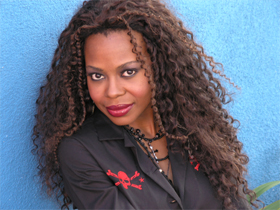 "My dad was the lead singer in a gospel band," says Dirrty Records Founder/Filmmaker Lunden De'Leon. "The first time I saw him on stage I knew I wanted to be a part of the music industry."Born in Barbados, while in high school, Lunden found a fry flipping job at Burger King and when the time was right, she hitched a ride to Hollywood with only $200 in her pocket.
"I was homeless for a short period of time in Los Angeles," says Lunden. "I did not know what the future held but I was determined to turn my stumbling blocks into stepping stones."Lunden soon found a roommate that changed her life forever.
" I tagged along to a modeling audition with my roommate. I wasn't interested in modeling or acting but when you're hungry and penniless you'll try anything to put food on the table. I got the audition. That same day I was signed to a one year modeling contract."
Fans recall first being introduced to Lunden as Joanne Mbutu on the hit television series Vital Signs. Years later, she catapulted that breakout role into a successful career with quite an impressive track-record by creating a number of unforgettable performances and starring in over fifty movies and television shows like the 20th Century Fox Movie The Ladies Room, Surviving Paradise, Fury, Faux-Pas, Cryptz, the HBO award-winning film Kickin Chicken and the NBC hit comedy "Just Shoot Me."
Lunden was soon voted by The Ave Magazine as "One of the Most Significant Women in Entertainment" alongside Halle Berry, Beyonce, Oprah Winfrey and many more.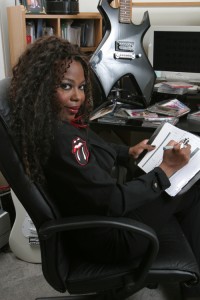 In fall 2003, Lunden opened the doors to her Los Angeles based record label Dirrty Records making headlines around the world for releasing a punk remake of Jimmy Hendrix's classic Purple Haze.
Lunden was soon inducted into the Caribbean Hall of Fame alongside such legends as Bob Marley and Sidney Poitier. Known for her compassion, confidence and inspirational achievements, Former Los Angeles Mayor James K. Hahn issued a special proclamation declaring February 7th as "Lunden De'Leon Day" in the City of Los Angeles.
Lunden recently ran for Councilwoman in her home state of South Carolina. Her film production company, Palmetto Film Studios, makes and distributes 5-7 films a year.
"I moved my record company to South Carolina and started a film production company to give back to my community," says Lunden. "I'm blessed and believe in blessing others."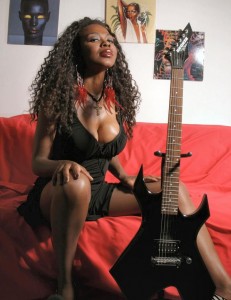 Take a look at an exclusive Bronze interview with the "Queen of Afro Punk"!
With so many professions under your belt (Actor, Model, Music Entrepreneur, Filmmaker), which of your talents is closest to your heart and why? My dad was in a gospel band and I grew up on gospel greats like The 5 Blind Boys, Shirley Caesar and James Cleveland. With that said music is a part of me and will always be closest to my heart.
How easy or hard has it been for you as a woman in the entertainment business? It was tough at first. People in the industry didn't think a black woman could own a successful punk rock label. I had to surround myself with like- minded individuals who believed in me and my vision.
What in the entertainment business has been one of your most shining moments and why? The day I booked my first television series "Vital Signs." It was my first major booking and I felt that I finally made it through the struggle.
What inspired you to start your own music label (Dirty Records) with a focus on punk rock? My dad.
When it's all said and done, what type of legacy would you like to leave behind? It's not about material things. It's about the positive imprint I've made and the lives I've touch.
Please tell us about any upcoming and/or future projects. You can catch me in the upcoming film "We're the Millers" starring Jennifer Aniston as well as the coming of age drama "Culture Shock".