Native New Yorker and Makeup Artist Orietta Leva has a talent and passion for makeup. Her amazing work has allowed her to grace the faces of countless celebrity clients. and to work alongside some of the worlds most renown Photographers, Designers and many more. Orietta's work has also been seen on the runways of Carmen Marc Valvo, Nicolas Putvinski and David Meister, just to name a few. Orietta was kind enough to take time out of her busy schedule to chat with us about her work and share some images featuring her talent for the art of makeup.
BRONZE: Orietta, it is such a pleasure to be able to feature you in Bronze. I have been an admirer of your talent for quite some time now. When did you first know that you had a talent and a passion for making people beautiful? Â 
ORIETTA LEVA: I knew I had a passion for Makeup, the first time I remember being intrigued by make-up was when seeing my mom put on makeup. When I was about 4 or 5yrs old. I was intrigued by the colors of her blushes, lipsticks and the scents of her pressed powders. You could say I was a bit more in love with Makeup than most young girls my age. I remember the first time my mom allowed me to wear lipstick, was for Halloween when I was about 5yrs old. It was hot pink. Which I choose. I was even more in love with the instant change it made to my appearance. The whole night I refused to remove my lipstickfor any reason. I was so excited!
Designer: Maggie Norris Couture; Makeup Artist: Orietta Leva; Model: Bianca; Photographer: Stephen Eastwood
BRONZE: Your industry is very competitive. How do you make yourself stand apart from all the others?
ORIETTA LEVA: I think passion makes you stand out. Just the amount of effort you put on your career, work and love for the work you do for your clients. Speaks for itself in the long run. I haven't really had to do anything else to attract more attention to myself.
BRONZE: What are some of the most important skills needed in order to be a MUA?
ORIETTA LEVA: Where to start. I believe being true to yourself, and your art is very important. Creating a path for yourself. Â Establishing a good rapport with people you meet along the way. Also never limit yourself always keep informed of all new products available, and new techniques. And of course never giving up.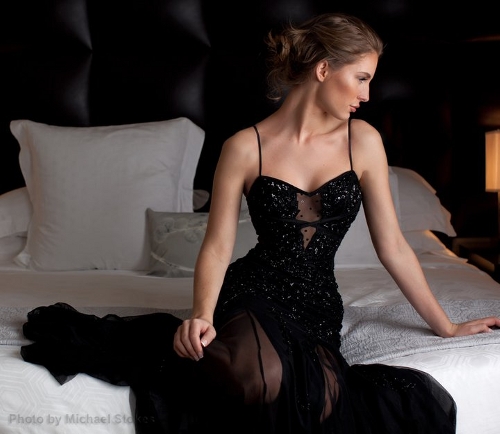 Model: Lauren; Makeup Artist: Orietta Leva; Photographer: Michael Stokes
BRONZE: You abilities have allowed you to work alongside some of the world's most renowned Photographers and Designers. How do you manage to keep yourself current on new developments in the Cosmetics Field?
ORIETTA LEVA: I keep myself current to new developments in cosmetics. Attending couses on all different  products from Airbrush to the HD development. Doing my own research in cosmetic stores. As well as speaking to other artists. You get to learn so much from one other, so everyone can help each other.
BRONZE: In addition to keeping such a busy and hectic work schedule, how do you find the time to maintain a healthy work/life balance?
ORIETTA LEVA: For a while I didn't, I was trying to find a happy medium. I was overbooked, meaning I was working seven days a week sometimes. I love being busyand never complain. I schedule at least 2 days off in the week now. That way I can go to the grocery store one day. The other day I just stay home and not even leave the house and kind of pamper myself. Even though things can get hectic. I always squeeze in time to spend with my family. Even if it means bringing my husband. Having a happy balance with family, and work is invaluable.
Performing Artist: Jodi Katz; Makeup Artist: Orietta Leva; Photographer: Kevin Zupp
BRONZE: If there was one important tip you could share with other aspiring MUA what would it be?
ORIETTA LEVA: Start building your kit as soon as you can and practicing as much as possible. Kits can be expensive and practice always makes perfect.
BRONZE: What's next for Orietta Leva? Do you have any upcoming events that you would like to share? How can people find/book you?
ORIETTA LEVA: Well I will be working with Givenchy a lot this upcoming year and I have a few upcoming Makeup Workshops that I will be holding in November and December. Just visit www.oriettaleva.com for more info.