by Destiny DeJesus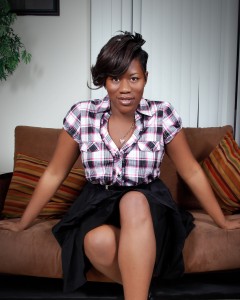 The famous quote "Age is nothing but a number" is validated by Tamika Newhouse.  As a four time African American Literary Award winner, CEO of Delphine Productions, speaker, founder of African Americans on the Move Book Club and much more, you'd think her age was a lie.
As a child, Newhouse struggled with herself. Alone and with few to no friends, she found her escape through writing.  She began with poetry then moved on to writing stories. Newhouse wrote creative, realistic stories and her first novel was finished before she was 13 years old.
Tamika discovered her talent at a young age but eventually felt that her lonely stages needed to come to an end. Following the wrong footsteps, Tamika had a child at the age of 16.
From then on, Tamika dropped her pen and forgot what writing was like. It was not until the death of her mother, that Tamika got back on her feet and started to write again. Though she had written her first novel long before, she began to take her talent more seriously and at the age of 21, started Delphine Productions. "Choosing a name was not difficult," said Newhouse "I knew right away I would name it after my mother."
Nine months after her debut novel, "The Ultimate No No", she was offered a major book deal and won four African American Literary Awards. Not only is Newhouse a writer, she also hosted her own radio show for quite a while but had to hand it over. Her show focuses on literary tips and Newhouse said that she hopes to get back on air soon.
Her new novel, "Kisses Don't Lie", is partially based on events that occurred in her life. It is a passionate story about a love triangle which focuses on a simple kiss.
"A kiss is the most passionate gesture," said Newhouse.
As a teaser, Newhouse explained her favorite scene of the novel where a woman questions her partner's nice gestures. Newhouse confidently stated that sometimes women are hurt so badly that they push good men away.
"I like to write things that are real," Newhouse said. "Not everyone has the talent to bring you into the story."
When Bronze Magazine asked Newhouse what her motto is, she confidently answered "Obsession and Consistency".
Newhouse's story is inspirational and she continues to motivate others through her novels and speeches.
Newhouse has several plans for the future. She is going to have a launch party for "Kisses Don't Lie" and currently updates her blog, passionatespot.com, where readers can learn about everything she loves.
Check out more about Tamika Newhouse at Tamikanewhouse.com and follow her on Twitter @Tamikanewhouse.