By Tiffany Chisholm
The MTV Movie & TV Awards, recently rebranded from the MTV Movie Awards, took place on Sunday, May 7, 2017. The event was in full swing and the celebrities showed up in their Sunday's best, dressed to the nines on the red carpet. Some of the most memorable looks from the red carpet were Yara Shahidi, Zendaya, Tracee Ellis Ross, Taraji P. Henson and Yvonne Orji.
Yara Shahidi and Zendaya
Zendaya (pictured right )and Yara Shahidi (pictured left) were in attendance to the event, and they both looked absolutely fabulous. Zendaya wore a green dress by Zuhair Murad Couture. The Disney's KC Undercover star is one of the most fashionable young ladies in the industry. She completed her look wearing a black curly bob. She, along with her co-star Tom Holland (not pictured), were at the event to promote and share a clip from her upcoming movie 'Spider- Man Homecoming.'
Yara Shahidi was dressed entirely in Gucci. The Gucci ensemble featured a floral top and a multi-colored mirrored skirt and black Gucci high heels. With her hair styled in two cornrows, the Black-ish star stunned on the red carpet, managing to successfully pull off this daring look.
Tracee Ellis Ross
Tracee Ellis Ross, Black-ish star and Yara Shahidi's TV Mom was also at the event. She wore a multi-colored Rosie Assoulin robe. The Swarovski printed dress is from the Rosie Assoulin Fall 2017 collection, which she completed with a brown belt. She also donned gold Giuseppe Zanotti high heels. Tracee sported her natural hair in cornrows, embracing her black cultural roots.
The look was quite avant-garde with there being so many colors on the dress, but she managed to pull it off. She picked up the MTV Movie & TV Award for the Best American Story for Black-ish.
Yvonne Orji and Taraji P. Henson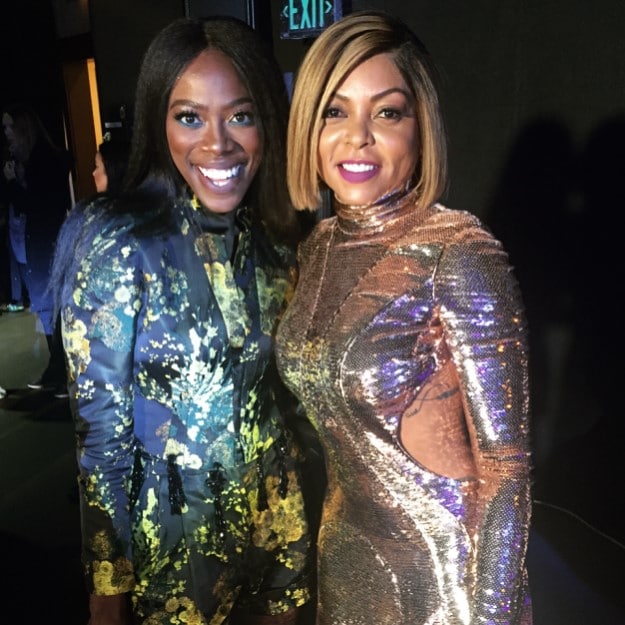 Yvonne Orji and Taraji P. Henson also showed up colorful and in the best hue of gold. Orji wore a Dries van Noten printed dress with an emerald green Rebecca Minkoff clutch. The HBO Insecure star matched the outfit with a pair of gold Stuart Weitzman heels. Insecure was nominated for the Show of the Year Award, but the award went to Netflix's mega hit Stranger Things.
Taraji wore a gold ensemble with matching blonde hair. Her gold cut-out back dress is from Emilio Pucci's Fall/Winter 2017 collection and is set off with a pair of gold Casadei platform sandals. Taraji was nominated along with her Empire co-star, Terrence Howard, for Best Kiss. The award, however, went to the critically acclaimed movie Moonlight and the actors Ashton Sanders and Jharrel Jerome.
The celebrities made a statement on the red carpet and left their marks. What were some of your favorite and most daring looks for the 2017 MTV Movie & TV Awards? Let us know in the comments and be sure to check out the celebrities' Instagram pages for more pictures.