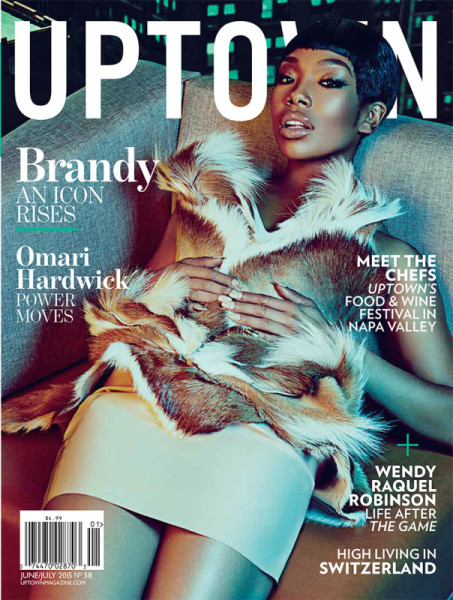 Brandy can be found on the July cover of Uptown Magazine in not only amazing fashion but also as an icon emerging. In the issue she states, "I have never met this Brandy before, I am just meeting her."
Other highlights from the issue include:
Over the last few years, Brandy has achieved nothing but an amazing career. It has been about 20 years of modeling, dancing, singing, acting and much more. The "Chicago" star also goes on to say, "I know who I am now and what I am supposed to do. I know my purpose."
What has Brandy been up to? one might ask. she recently wrapped up filming of BET's The Game in Atlanta for its ninth and final season where she played a character named Chardonnay Pitts, the now ex-wife of San Diego Sabers Jason Pitts. Upon finishing The Game and returning home, Brandy started wondering what was next that she could do.
What troubled her was that in 2004, her third album with Timbaland named Afrodisiac took a turn for the worse and it did not go well. On top of that, in 2006 on December 31st she was involved in a car accident that resulted in a fatality as well as settlements.
Brandy fell into a deep depression after the accident. She kept asking herself, "What did I do wrong?" "I didn't want to get out of bed, I didn't want to do anything." "I literally stopped dreaming."
After her deep depression, Brandy knew something had to change. Her friend Keisha Epps said to her, "Bran, you just have to do the work." From that conversation Brandy told her back, "I am going to do the work." And hung up the phone.
"I made up my mind to be the best version of myself and I kept affirming every day that I am getting ready for something. I did not know what it was, but I knew God has something for me that I'm getting ready for."
What is Brandy doing now? still following these positive steps and now starring in the Broadway musical Chicago as Roxie Hart.
When asked about her previous work such as Cinderella, she replies with something sweet about Whitney Houston. "I think about her every day. She is everywhere. She is with me all the time. She's always there. Whitney was the possibility of dreams coming true. I loved her. I loved her personality. I loved the way she danced. I loved her smile and voice."
Brandy got even deeper. She in fact spoke to Whitney a few days before she died. She stated, "I was just so happy to talk to her and I didn't care what was going on, if anything in fact was going on. I was just so happy to talk to her."
When Brandy's mom told her Whitney died, she replies, "I fell to the floor. I could just not believe it."
Looking ahead, Brandy replies with, "That's what life is about. I want to inspire someone else to believe in theirs. God created us to thrive. And I am the proof. If I can overcome, then you certainly can too."
by Tiarsha Harrison