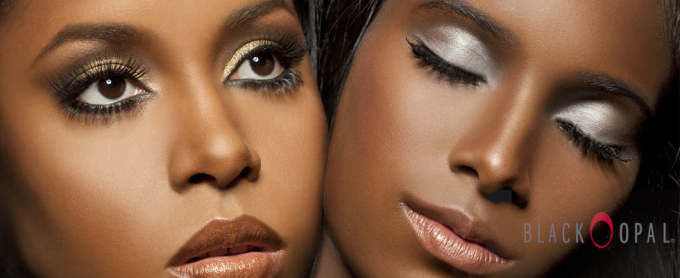 This cosmetic brand needs no introduction. Trusted by brown skin beauties for years, Black Opal Cosmetics gives you great makeup and skincare that's inexpensive, color conscious, and goof proof for women who are pros as well as beginners.
Known for their wide range of dark shades for women of color, you can find six foundation formulations in upwards of ten shades. Whatever your skin concerns may be, Black Opal has something for you. Their foundations are formulated with  skin care ingredients that are good for you  like vitamin A&E, hypoallergenic, and SPF protection. They also have amazing concealers, with the leading one as a stick. This is one of the best inexpensive concealers. It glides on like butter, doesn't cake, and provides long-lasting coverage.
Right now while fall is upon us and everyone is talking about keeping that summer glow, Black Opal has two amazing mosaic powders to give your face a flush of color. One is a bronzer with mixed patchwork shades that gives you a highlight as well as warmth of color. The other is a multi-berry hued blush that compliments all shades of brown.
Along with their mosaic powder they offer color cosmetics that compliments women of color. They are true to hue and longwearing. They have amazing lip products to compliment all other cosmetic offered. While they are giving you face, they also provide an amazing assortment of skincare addressing all the needs that women of color have to help keep your skin makeup ready.
Black opal is one of those brands that have been around for years. This is a great brand to introduce our young women to when first divulging in cosmetics. Starting off with brand that understands brown skin will allow them to grow outward. Black Opal can be found in drugstores, mass retail, and black opal site itself. It's a win win for everyone, inexpensive and guaranteed to look good.
by Rosalyn Robinson