By Tanya Smith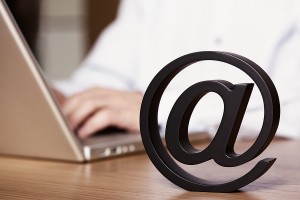 An easy way to think about branding is that it's your public image. You're consistent, you're an expert, and it's clear what you can do for people – this is what your brand (hopefully) tells people about you. So it's pretty important to think about branding in everything you do, including the emails you send to your list.
After all, your emails are your touch points with your subscribers and they should showcase your brand.
Things to Consider About Style and Design
For your emails, choose templates, colors and visual styles that reflect your business's image. This is a detail you can't afford to neglect. Your email design features should be in line with all of your other materials. If you make offers through your email messages that are also available through your site, they should look at least similar in design for both your website and email.
If you can help it, try not to use a standard template and whatever you do, don't use a bland 'thank you' page.  Remember, the 'thank you' page is what they see when they first subscribe to your list and it gives a first impression. It should have a personality a lot like all of your other materials. (By the way, I just recently figured this out and I'm going back and tweaking a lot of my own boring thank you pages!)
Keep your email design simple. Simpler design offers a better user experience. For most people, emails that are too busy look like spam. Keeping it simple also makes your offer much more clear.
Your Email Content
Think about the tone of your content. Is your brand youthful and casual, or businesslike and professional? Are you tough and no-nonsense? Are you brainy and geeky?  I happen to think I have a little of a mix – geeky and professional and fun.  What about you?
The wording of your emails should speak to who YOU are. If there's a disconnect between your wording and what you're offering, it won't establish the trust you need in order to be credible.
Greetings, signatures and PS's can be thrown in quickly, but it's much better when you  take time to consider the tone here as well. Your greeting should be personalized and include the list member's name.  (There is some conventional wisdom out there that says don't worry about this, especially since nowadays some people put a fake email & name just to get the free optin.  I personally trust that most people really want to be on my list and I will assume they are real.)
Never send out a message that begins with a generic 'Greetings' or 'Hello.' The signature may seem insignificant, but don't forget to include it. Leaving it off can make the message seem to end abruptly.
Other Things to Consider
Always read through your message at least once … maybe even twice, and check for grammar and spelling mistakes.  I remember a nice little "quality checker" in my list who called me out on a couple of occasions about spelling errors.  That's not what I wanted her to pay attention to!  No matter what image you're going for, mistakes in your emails aren't going to help you brand yourself as anything except an amateur.
Your logo should be displayed in your emails (if HTML) along with icons for your Facebook, Twitter and other social media sites. Make sure these are clear and readable.
When you're writing and editing email messages, always look at them from your audience's point of view and not your own. Put yourself in their place. Try sending yourself a test email before broadcasting a message to see how it looks.
If you want your emails read, remember that customers are more likely to respond when they recognize your brand and it speaks strongly to them.
About Tanya Smith
Tanya Smith is a creative business strategist and coach specializing in showing service based solo entrepreneurs how to simplify, save time & stand out with simple strategies that engage more quality leads and clients. Her company Be Promotable provides fresh actionable strategies and virtual resources to promote business owners as power players in their market. For instant access to your free 7 secrets to online time management report, visit us at: www.tanyasmithonline.com.