Review by Osundara Mayuri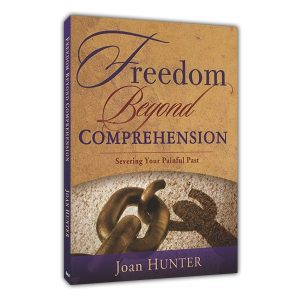 Are you nursing painful wounds of your past?  Many believers in Christ have a new spirit (born again) but still carry wounded souls. Author Joan Hunter unfolds why it is time to get rid of all trauma in our lives, be it a past car accident, childhood abuse, abortion, verbal abuse, rejection, divorce, loss of a loved one, abandonment, etc., which have served to throw us out of alignment.  This is a disturbance of the electrical, chemical and magnetic frequencies of the human system.  As a result stress comes on the scene and produces stress hormones which inhibit the function of the immune system (i.e. autoimmune diseases). "When you have been freed from trauma, you will find that some of the ailments you were suffering from have gone, as well, because they were caused by trauma."
Throughout the book, Joan shares the testimonies of many others and how they have overcome their past trauma, junk memories and spirits of guilt and shame to live a joyful and abundant life.  She shares prayers for releasing trauma and cellular memories and includes scriptures to inspire the reader.
There is power available to us when we believe in Jesus Christ and His finished work on the cross.  "When you trust in the Lord, you can lay hands on yourself and command that the spirit of trauma depart in Jesus name."
Hunter encourages us to move beyond the place of denial of our issues and any unbelief in Christ and to be a receiver of the healing power of God. Joan clearly explains why this is necessary for our health and wholeness, how our negative memories are stored in our physical cells and how to stop carrying around our disappointments and failures.
"You can erase the pain of your past!…It's time to get free!…It's time to come out of the cocoon of denial of negative things that happened to us in our past…spread our wings, and soar freely like beautiful butterflies."
'Now to Him who is able to keep you from stumbling, and to present you faultless before the presence of His glory with exceeding joy." (Jude 1:24)
Joan Hunter is a healing evangelist, President and founder of Joan Hunter Ministries. She is a featured guest on many national television and radio shows, such as
Today With Marilyn and Sarah and Sid Roth's It's Supernatural.  She conducts miracle services and healing schools throughout numerous countries.
Hunter has emerged victorious from her own childhood abuse and tragic circumstances such as being in a long term marriage to a man who fathered 4 daughters with her, while secretly living a double life of homosexuality.  Joan's book, Freedom Beyond Comprehension is published by Whitaker House (2012) and also available at Amazon
in print and Kindle edition. She is the author of numerous other books such as Healing the Heart.  "God wants to turn your pain into your passion.  He wants to make us new creations who remember only good and beautiful things."  Hunter's book clarifies how God sees the worth in us and how Jesus is our hope.
Copyright 2013 by Osundara Mayuri – Author, The Book Of Mayuri: Why We Can't Have Peace and How We Can Have Peace -Westbow Press, 2010
All rights reserved. Unless otherwise indicated. Scripture taken from the New King James Version. Copyright 1982 by Thomas Nelson, Inc. Used by permission.
All rights reserved. aka Verano LaRue  Contact:  veranolarue@earthlink.net