From playing Georges Rutaganda in Hotel Rwanda to having a recurring role as Mr. Scott on the television show Black Sails, Nigerian actor Hakeem Kae-Kazim is now hitting our TV screens as Samson in a rendition of the historical film Roots!
With 93 acting credits under his belt and a diverse background in film and television, Hakeem is taking his acting skills to the next level as he is currently filming the Roots miniseries, which is expected to air sometime this year. The original 1977 film follows the story of Kunta Kinte from freedom to enslavement and finally his descendants' journey to liberation. Hakeem will play the role of Samson, who helped Kunta Kinte learn the "slave ways," in which he describes this role as a "wonderful opportunity." Samson has a slight stutter, so in preparation, Hakeem had to watch a lot of videos on people who stutter and did research on its causes to develop a storyline for his character. He says, "It was an intense mental period of prep."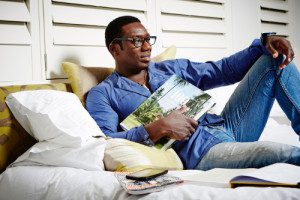 Watching the film growing up, Hakeem explains the profound effect it had on him. "Me being young and black and in England at the time it was, to see that on the TV for the first time and to really get a deep awareness of what it was like in that period." He adds, "It was never touched on and never really spoken about, which was a wonderful thing to sort of see and experience." With the newer generation getting a remake of the classic film, their perception of it may be different from that of those before them, but Hakeem hopes that the impact would be the same and it opens up a discussion of understanding. He also says that the remake will be rawer and based in reality.
In addition to this role, Black Sails is back for a third season and viewers can expect a "rocky ride" as they start to understand Mr. Scott's character and his motives for his actions. In comparison to other roles that he has done, Hakeem characterizes Mr. Scott as very family oriented as well as morally incentive. However, Hakeem never thinks of his characters as the same.
Although he is passionate about both film and television, if he had to choose between the two, Hakeem says he would choose film because he loves the process. "There's more time to explore within the process of filmmaking and explore the characters. I just love the visuals that film give you," he says. So as for the future, expect more films from Hakeem Kae-Kazim as Daylight's End, A Chance of Rain and ByPass will be coming out soon.
By Deidra Brown