By Aisha Powell
The cast of Black Panther defied all odds while protecting the sovereign nation of Wakanda, creating one of the blackest movies of the century. Black Panther hit every note a Marvel movie fanatic would want: super heroes, intriguing plots, shocking revelations, seamless graphics and action on action. For the black community, this movie was less about Marvel and more about representation. This is the only Marvel movie with a black director and a black leading cast that included black women in strong roles. The movie debuted at 218-million in its opening weekend and is the number 1 movie in the world. In case you haven't seen it, here is a quick glimpse at what you're missing.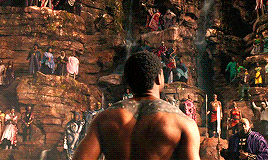 The movie starts in the hidden country of Wakanda, a country in East Africa that is home to five tribes: the River tribe, Mining tribe, Merchant tribe, Border tribe and the Jabari tribe. Long before it was inhabited, the country was blessed with vibranium, which is said to be the strongest metal known to man. Vibranium has made Wakanda one of the most advanced countries in Africa, expanding their technology. However, Wakanda is hidden from the rest of the world, making it the source of all the tension in the plot and resulting in the question of, should a wealthy black nation share with disenfranchised blacks around the world, or keep itself concealed to protect its people?
T'Chaka (played by John Kani) is the former king of Wakanda (and Black Panther) and T'Challa's father. He has since died in Captain America: Civil War. In this movie, he has set a precedent of isolation that creates the main conflict, one which also resonates in the black community today. Do you go back to help other nations, possibly damaging your own, or do you stay isolated in success and help your own nationals?

T'Challa (played by Chadwick Boseman) is the main protagonist and Black Panther. He is the newly appointed king but, not without challenges. He has to fight and fight and fight again for the rights to the crown. He has to deal with fulfilling his father's legacy while deciding whether he should descend or stay in line. By his side however, is his ex-girlfriend, Nakia (played by Lupita Nyong'o). When he is not drooling over her and trying to make her stay, he has to become the man he was destined to be.
T'Shalla's little sister Shuri, brilliantly played by Letitia Wright, offers the comic relief in the film. Not only is she highly educated and the mastermind of the technology in Wakanda, she brings the movie to the 21st century. She comes in at the right time with the perfect catch phrases and the realism that we all need to hear. Expect to laugh whenever you see her scenes.

Back to T'Challa's love interest, Nakia; not only does she help other countries in Africa progress, she also comes in to help save her homeland of Wakanda. Nakia shyly shows her affection for T'Challa throughout the film but keeps her focus on fighting for the good. Her strength shows that women can be main characters without a plot solely revolved around a man.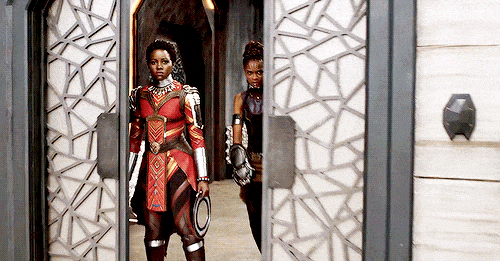 One of the most badass characters in the movie and overall superSHERO is Okoye, played by Danai Gurira (The Walking Dead). She is the best warrior, has dying loyalty to Wakanda and takes spear fighting to another level. When a fierce black queen meets combat, you get Okoye. She fights for Wakanda and is the protector of their legacy regardless of who the king is. Even when her love interest is on the opposing side, she always choses her homeland. For all you action lovers, just know that when you see Okoye, she means business.
Now for the reason why many women went to see the movie- Micheal B. Jordan as Erik Killmonger. Think savage and then times it by 20 for his character. He's an MIT graduate who has a keen eye for killing and becoming king of Wakanda.  While in the army, his reputation was for killing sprees and he has the markings to show for it. At first he can appear to be the antagonist and the enemy but, as the movie unveils you'll see another side of him revealed. But does he have what it takes to be the king?

Expect other appearances by black Hollywood royalty like Forest Whitaker, who plays Zuri, a spiritual advisor who has a big secret. Angela Bassett plays Ramonda, the mother of T'Challa and Shuri and wife of T'Chaka. Daniel Kaluuya (Get Out) plays W'Kabi, a man waiting for change in Wakanda and the love interest of Okoye.

Black Panther is more than just another Marvel movie. It proved that movies featuring black actors and actresses can be just as successful as movies with an all white cast. It shows women in powerful positions not being subservient to men and it proves time and again that black producers are still and have forever been valuable. The future of black representation in our media is looking very bright and very black! Check out Black Panther in theaters now.