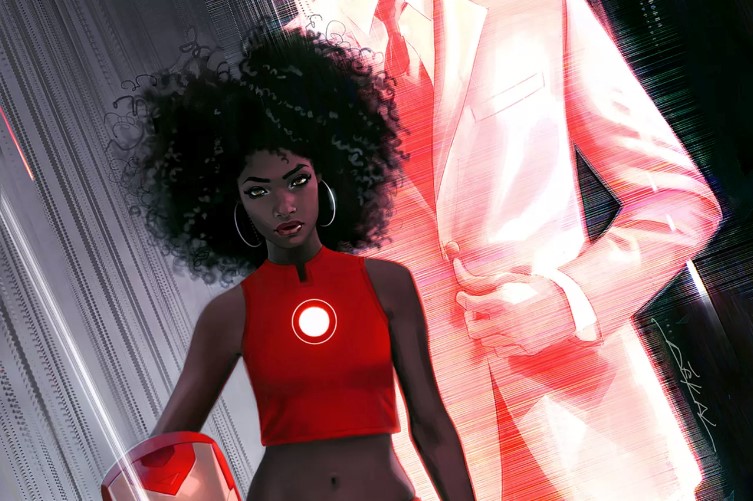 The new Iron Man is a black girl.
You heard right: Marvel Comics, known for universe-altering reboots that can and frequently do change the characters acting as the protagonists of different comics, has selected Riri Williams, a 15-year-old black girl, to be their new Iron Man—well, Iron Woman.
Enrolled in MIT at age 15, Riri grabs Tony Stark's interest by reverse engineering one of his old suits of armor in her dorm room. Stark himself is well aware that Riri is working much more quickly than he is in terms of creation. Marvel writer Brian Michael Bendis states: "[Riri's] brain is maybe a little better than his. She looks at things from a different perspective that makes the armor unique".
In a nutshell: Riri Williams is a dark-skinned black girl who wears her hair natural, she is a child genius, and an MIT student. She is the fictional representation of thousands of incredible, talented, and intelligent black girls all over the world, and she truly is incredible.
Not only is Riri a breath of fresh air in a realm typically dominated by white men—both as creators and characters—but she also represents an incredibly important blossoming archetype: the tech-smart black girl.
We don't see that very often either, in television or in literature. Usually black girls are shoehorned into roles like Sassy Best Friend, Head Mean Girl, or any other sort of side character (some roles less flattering than others) that biased casting calls will often award them. Very rarely are black girls allowed to portray the 'smart/geeky/tech-savvy girl' stereotype; yet it's even rarer that black girls in those roles are protagonists. Riri Williams accomplishes both in one fell swoop.
Almost as great as knowing that black women will now have a more prominent spot in comics, is knowing what potential effects Riri will have on younger generations of readers and Marvel enthusiasts. She is one of several characters in a new, more diverse generation of Marvel heroes that are finally beginning to accurately represent those who read and love Marvel comics. There's no doubt she will inspire hundreds, maybe thousands, of readers who will see themselves in her. Young black girls and boys will be encouraged to pursue their interests in technology; parents will see Riri and encourage their children to be like her; young black women will be inspired to blaze a trail for the girls who will follow in their footsteps.
Every time someone is inspired as a result of Riri Williams being the next Iron Girl, they—and Riri–contribute to strengthening the coming generations of innovative young black people. That is innovation at its finest, Iron Girl style.
By Femi Sobowale
Edited by Victoria Krute
Layout Design by Renita Singleton