By Kellea Tibbs
In the essence of Black History Month and to honor Black Owned Businesses in the tradition of handmade crafts and sustainability of the community, I'm kicking off my Black DIY Interview series.  If you know an African American artist, crafter, designer (fashion and home decor), etc., please share their business and website info in the comments section for a possible interview.
To kick of the series, I ran into an artist in a Facebook group called The Black Crafters Guild and her Etsy shop named Celestine Hart. Â Celestine is a painter residing in Lansing, Michigan who believes that "reusing, recycling, and up-cycling allows consumers alternatives" to what's on the market.
Q & A with Celestine Hart:
KELLEA: What inspired you to go into the craft business? Do you do this full-time or do you still have a day job?
CELESTINE: My mother taught me to sew when I was a teen. She also taught me to knit. I love to paint.  I also enjoy learning new crafts. I became a One Stroke Certified Instructor in 2005. I have taught painting for 5 years.  I had the opportunity recently to retire from my day job. I am now making my hobby into a full time business.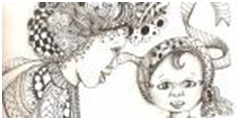 KELLEA: What's behind the name of your craft business? How long have you been in business?
CELESTINE: I just started my full time business 6 months ago but I have had a blog and website for 2-3 years. 
KELLEA: Describe your aesthetic/creative process when designing/making your product line. Is there a product in your line that you specialize in or are most proud of? What is your biggest seller?
CELESTINE: I make paintings that  reflect  my personal interests.  I also do face painting for events.  I also make and sell greeting cards.  Most of my art has an ethnic or urban theme.  I want to find and create more urban themed crafts.
KELLEA: What's the best thing about what you do? And the worst?
CELESTINE: There are many great things that draw me to arts and crafts.  I enjoy learning new things and exploring new ways to create. The most frustrating part of creating is when you have a creative block.

KELLEA: What's your opinion about the whole DIY Movement? What impact do you think this will have or has had on the Black Community? Why is knowing your DIY roots important to us?
CELESTINE: I believe the DIY movement is empowering.   The ability to create, reuse, recycle and up-cycle allows a person alternatives to consumerism.  Many crafts have a strong history in African culture and African American culture. Crafts born out of necessity became creative vehicles and means of communication. 
 
KELLEA: What's the best advice you've been given about your business or craft practices?
CELESTINE: Not to try to compete with Big Box craft stores.
KELLEA: Are there other crafters or businesses you follow and why?
CELESTINE: I follow many TV crafters including Donna Dewberry, Susan Scheewe, and Martha Stewart. I like the Double Stitch Twins.

KELLEA: Do you currently have any specials or sales going on right now?
CELESTINE: I have greeting cards on sale on Etsy. 
KELLEA: Is there anything else you would like readers to know?
CELESTINE: I have art prints available through Imagekind.com and products via Zazzle.com.
To  contact Celestine Hart, visit her website and etsy page listed below:
Business Name: Â Celestine Paints
Founder/Creative Director's Name: Celestine Hart
Location:Â Lansing Michigan
Business Phone : 517 484-2015
Email: celestine@celestinepaints.com 
Website:Â http://www.celestinepaints.com/home
Etsy Page:Â http://www.etsy.com/shop/celestinehart?ref=seller_info
Support Black DIY Crafters
Look for a Black DIY Holiday Shopping Guide Coming Soon!
If you or you know of an Black DIY-er, please leave a comment here or email me at ivywriter@live.com 
follow me on twitter: @ivywriter