By Charlene Kalala
Yoga is a discipline that combines physical and mental exercises. Often associated with a stigma of being for only those with thin and fit bodies, it's in the heart of Brooklyn, in the famous area known as Dumbo, where Paris Alexandra and Alicia Ferguson decided to open a body positive yoga studio BK Yoga Club. Their mission is to create a wellness space where people of all body types can grow in community through healthy movement and creativity.
What inspired you to start a body positive yoga studio?
We started BK Yoga Club to promote diverse representation in the woman space.
When did you start to practice yoga?
I started practicing yoga 14 years ago to connect with myself and cultivate self-acceptance.
Why did you choose this discipline?
I have a dance background, so yoga was a natural transition. I love the mind-body connection.
What challenges did you encounter when you decided to open your yoga studio in Brooklyn?
It's been really important to stay connected to the vision and why we're doing what we're doing. COVID-19 presented many challenges as classes instantly went to virtual and we had months without having classes in our physical space. So, it's really been about reimagining yoga and how that can look in these new times.
You offer yoga classes on YouTube and in your studio in Brooklyn, what kind of relationship do you have with your communities?
Our community reflects us, which means people from all backgrounds, sizes, and abilities.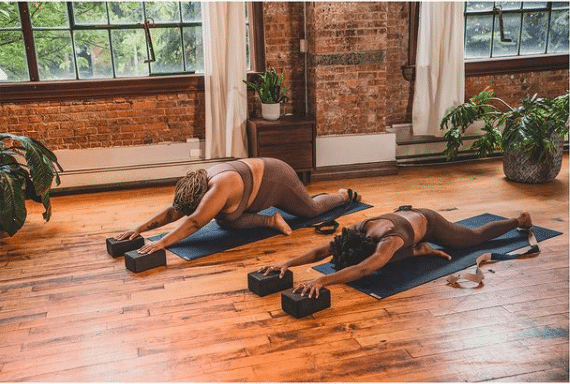 How does yoga help you in your daily routine?
It allows me to have more Mindfulness throughout the day and remind myself to take breaths.
What are some of the benefits of yoga?
For me some of the benefits includes connecting in community with like-minded people, breathing and being more intentional about the world we are collectively creating.
How do you define body positivity?
For me, it's about focusing on how you want to feel and finding self-acceptance in the process. It won't always look the same every day, so acknowledging that it is a journey to be celebrated.
Do you need to be flexible to practice yoga?
Absolutely not! Again, it's important to start where you're at and know that yoga is not about being the most flexible or doing the most headstands. You can truly bring all of who you are to the mat unapologetically.
What advice can you give to people who would like to practice yoga?
I think it's important to remember start small and continue to work your way up. Don't compare yourself to anyone else and celebrate wherever you are in the present moment.
Keep up with BK Yoga Club on Instagram at @bkyogaclub