Beyoncé has recently just launched a new line of activewear for women called Ivy Park. The 2016 spring/summer collection will be a collaboration with Sir Philip Green of the retail giant Arcadia Group. Beyoncé stated that she wants the collection to "inspire women who understand that beauty is more than your physical appearance." A new website (IvyPark.com) and video were then released to the public to promote the new activewear line. The two-minute long video shows the pop star modelling the new clothes in various athletic poses. The Grammy-award winning singer elaborates on why she loves to exercise. "I would wake up in the morning and my dad would come knocking at my door and tell me it's time to go running," she says. "I remember wanting to stop, but I would push myself to keep going." The video also depicts vivid images of Beyoncé doing various physical activities such as dancing, exercising, or running around with daughter, Blue Ivy. As the images play,  her voice is laid over them : "There are things I'm still afraid of. When I have to conquer those things, I still go back to that park." "Before I hit the stage, I go back to that park," Beyoncé said. "When it was time for me to give birth, I went back to that park. The park became a state of mind. The park became my strength. The park is what made me who I am."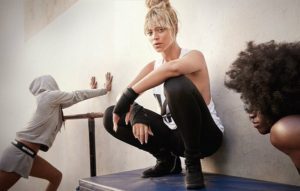 It should be noted that this is not Beyoncé's first foray into the world of fashion. Back in 2005, she collaborated with her mother, Tina Knowles, to start the House of Deréon collection. Expanding the brand, Beyoncé and her sister, Solange Knowles, launched a footwear line as well as  the less expensive junior line Deréon in 2006. The House of Deréon tagline was "Couture.Kick.Soul," which represents three generations of women: Agnèz Deréon (Beyoncé's grandmother) is the "soul," Tina Knowles is the "couture," and Beyoncé is the "kick."  The intricate fashion line was first introduced on The Oprah Winfrey Show, and was also prominently featured on The Tyra Banks Show. The unique collection was best known for its hip-hop influences and ultra-feminine flourishes with embroidery and ruffles. Even after making the brand international, Beyoncé announced Deréon's hiatus in 2012.
Beyoncé is featured on the May 2016 covers of Elle and Elle UK, serving up her signature flawlessness in Ivy Park gear. In a revealing interview, she shared the back story behind Ivy Park's inception: after being a loyal TopShop customer for nearly a decade (and being a huge fan of their clothing), she noticed that there was a lack in high intensity activewear and decided to reach out. Beyoncé became a TopShop Brand Ambassador in 2014, and signed a deal to partner with TopShop on an activewear line.
"I think having a child and growing older made me get more into health and fitness. I realized that there wasn't really an athletic brand for women like myself, or my dancers or friends," Beyoncé told ELLE. "I thought of Ivy Park as an idyllic place for women like us. I reached out to Topshop and met with Sir Philip Green [chief executive of its parent company, Arcadia]. I think he was originally thinking I wanted to do an endorsement deal like they'd done with other celebrities, but I wanted a joint venture. I presented him with the idea, the mission statement, the purpose, and the marketing strategy all in the first meeting. I think he was pretty blown away, and he agreed to the 50-50 partnership."
According to Topshop's official website, the line will include leggings, crop tops, sweatshirts, varsity knee socks, mesh bodysuits, and technical jackets. The clothing is full of cobalts, reflective material and has a high-octane style to match a high intensity workout. The collection is now available online and in Topshop stores, Nordstrom, Selfridges, and Net-a-Porter, with prices ranging from $30 to $200.
By Farren Washington
Proofread by Victoria Krute