By JoJo Harder
Valentine's Day is just around the corner, and Love is always worth celebrating. You will surely be inspired by these love-ly gifts from BIPOC owned businesses. Keep scrolling to discover this year's most memorable Valentine's Day gift ideas!
For Her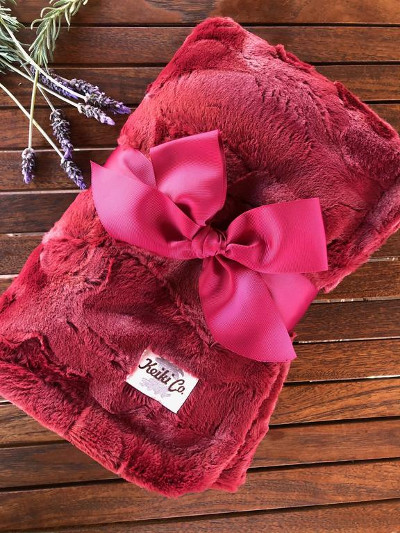 KeikiCo was founded by Renee Lipp, who as a new mother was on a quest for a functionally luxurious fabric that was delicate enough for her daughter's sensitive skin. She found the perfect fabrics, and KeikiCo now produces a variety of functional, luxurious, and cozy lifestyle goods. The brand includes throws, pillows, lounge pants, kid and baby items, spa robes, eye masks, and scarves. Their products aim to bring the feeling of comfort of luxury to people whether they are at home or on the go. Featured here, the Crimson Plush Throw is generously cut. Whether reading, taking a drive or snuggling up outside, the plush throw is the ideal size for you or someone you love.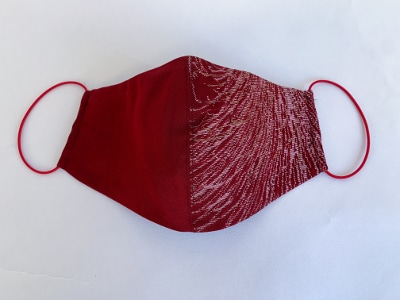 Mariko Ichikawa is a sustainable fashion designer living in New York City. She makes "few of a kind" upcycled fashions in a garment district factory, and her business is run from East Harlem. A former buyer for Bergdorf Goodman and Barneys, she takes traditional Japanese kimonos and up-cycles them into luxurious, one-of-a-kind coats and facemasks. Mariko Ichikawa founded her line with the goal of re-purposing traditional Japanese kimonos for modern day wear. Born out of the spirit of "mottainai" from her Japanese heritage, which emphasizes not wasting anything and re-using everything.  
For Him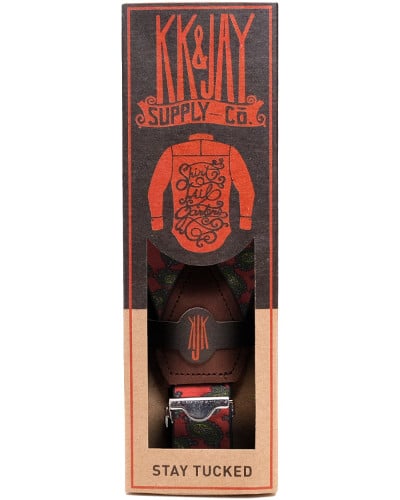 Give a gift that tucks! Shirttail Garters by KK & Jay do just that; guaranteeing to comfortably keep shirts perfectly tucked and looking fit. KK & Jay are proudly made in the U.S. of tuckin' A. Founders Mohamed Kakay (KK), and Jason (Jay) Devereaux, are known for the best quality Shirttail Garters and have helped to inform the masses, selling over 500K pairs worldwide. Manufactured in Brooklyn and headquartered in the Bronx.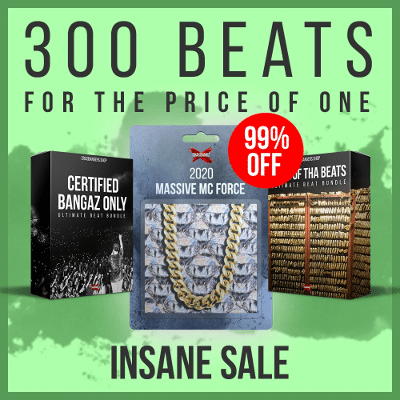 Crasbangers offers a beat pack that aspiring music producers and DJs can use to make great tracks. It's offered by Chris "Cras" Clay, a DJ and producer who has worked with a major record label and some of the top names in the music industry. Cras also has some free lessons for aspiring music producers on the main Crasbangers. It's the perfect virtual Valentine's gift for guys (and even gals!) who have a keen interest in music and want to make their own.
Wellness
Postal Petals, a farm-direct bulk bloom box delivery service for DIY floral arrangements, operates much like a farm-to-table produce box service. It ships handpicked boxes of fresh, seasonal flowers from one of their nearly 20 domestic, eco-friendly farm partners. Shipping across the continental US, their website offers consumers a selection of carefully curated bloom boxes featuring each farm's seasonal best, all at a competitive price point when compared to a traditional flower retailer. Postal Petals offers three box sizes, each including between six to 15 bundles of fresh flowers for clients to design and arrange as they wish. Each box arrives within 36 hours of harvest, ensuring a longer shelf life. Postal Petals care about flowers, but they care even more about people and the issues that impact their lives. They believe in the meditative experience of arranging flowers as a form of self-care.
Postal Petals Founder & CEO, Talia R. Boone, entered the floral industry after a groundbreaking career in sports, entertainment and social impact.
Health & Beauty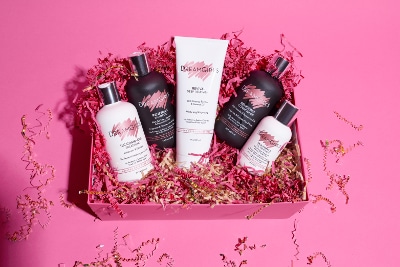 Born and raised in Los Angeles, the Thompson Sisters have made it not only their expertise, but their passion to help client's hair reach its greatest potential in both strength and length through their Healthy Hair Program and Healthy Hair Care System product line. Since launching their Los Angeles salons in 2006 and opening additional location in Sacramento in 2008, the very foundation of DreamGirls has been the principal belief that everyone, everywhere deserves to have healthy hair. It was not their initial plan to launch the starter kit during COVID-19, but they were worried that people would need at-home hair care solutions due to lack of access to your regular salons. The Thompson sister's desire to help their DreamGirls at home was bigger than fear and uncertainty of launching this product line at the start of a global pandemic. Surprisingly, the starter kit sold out numerous times since the launch and has continued to grow significantly every month! DreamGirls' signature haircare starter kit contains everything one needs to embark on a healthy hair journey.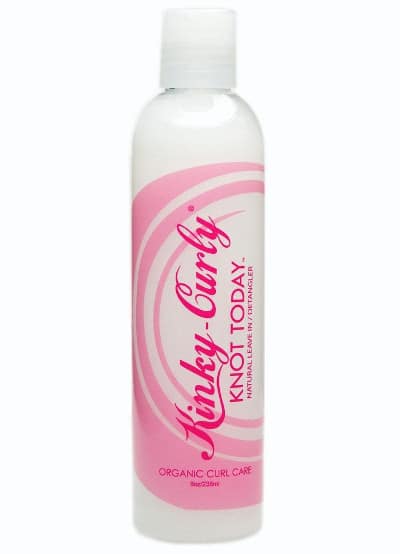 Kinky-Curly was founded in 2003 by Shelley Davis. She learned the value of herbs and plant-based ingredients while traveling to her homeland St. Vincent and the Grenadines one summer. Fueled to create products for natural kinky, curly and wavy hair free from alcohol, petroleum and mineral oil, she launched Kinky-Curly. It is one of the original natural haircare brands that has become a cult-like brand for natural and curly hair enthusiasts. Popular products include Knot Today, a creamy herbal conditioner and detangler designed to smooth the cuticle and remove knots, snarls and tangles from thick curly textured hair. Kinky-Curly is available at Kinky-Curly.com, Target and Whole Foods.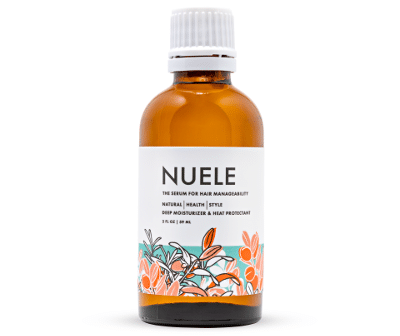 NUELE was founded in 2020 by best friends, Dr. Christine Martey-Ochola and Anne Cheatham, both of whom have a deep knowledge in science, research, and health. They wanted to provide women with a product that allows them to switch between different hairstyles, like curly to straight, without having to use harsh synthetic chemicals and the result was NUELE's fully organic and naturally made Hair Serum. When making NUELE's groundbreaking formula, the brand turned to places like Ghana and Morocco, where they found local female farmers already harvesting the ingredients that are necessary to make NUELE. By producing NUELE ingredients, these female farmers are also boosting their local economies. NUELE is available at Nuelehair.com, Credo, Goop and Amazon.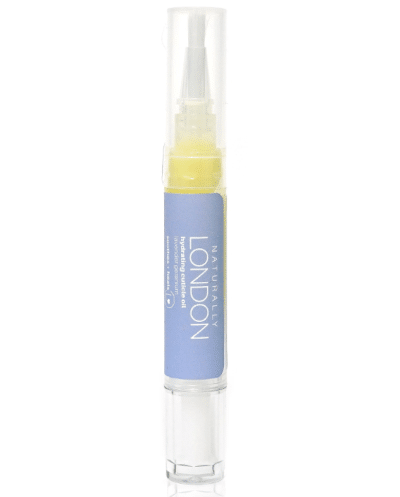 Naturally London products are formulated by Chrissy Cabrera, a certified aromatherapist, using ingredients with holistic benefits. The brand's cruelty-free, non-toxic products are handcrafted in Maryland, using sustainable packaging. In 2021, Naturally London is taking a strong stance on plastic, on track with packaging their products in glass jars and bottles with plastic lids. Their products are Vegan Certified, as well as PETA and Leaping Bunny Certified. The popular Hydrating Cuticle Oil Pen, nourishes nails with an easy-to-use cuticle pen can heal and soften dry cuticles, promoting healthy nails. The ingredients include aloe, lavender and rose hip.
Chef + Bartender
The Wonderffle was invented by entrepreneur Mike Bradford of Texas. He didn't even know about chicken and waffles until September 2014 when he first saw a plate of it while having lunch with coworkers. He was struck by the size of the portions, and then began thinking about waffles in general, and how there's no really easy way to eat them on the go. It came to him that it would be easier if all of the stuff we like to have with waffles — chicken, fruit, eggs and bacon, etc. — were on the INSIDE. Unable to find a device that could make this happen, he decided to build it himself.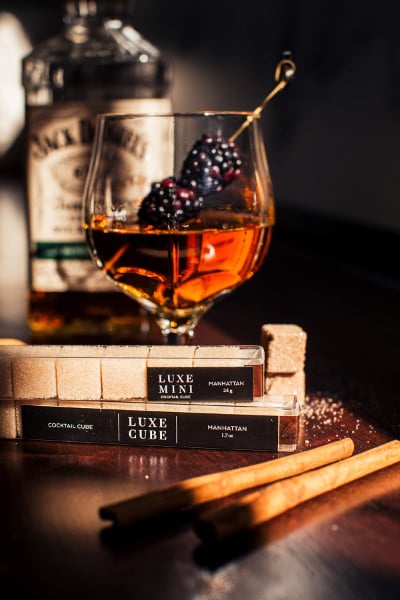 Teaspressa tea is all natural, organic tea brand founded by Allison DeVane. It's just plain tea with no coffee, artificial flavors, or additives. The main difference here is that Teaspressa created a way to literally make tea like coffee. The tea has the body and robust flavor of coffee and black teas have and the same amount of caffeine content as well. Their Luxe Sugar Cubes, an exclusive line of handmade, naturally infused and colored sugar cubes, are a perfect addition to both aesthetic and instant enhancement to your tea, coffee, and beverage. Just drop ONE cube to make an instant latte, mimosa, or cocktail! Hand-infused with concentrated cocktail ingredients like spiced cherry and Angostura bitters, vermouth extract, and spearmint leaves, they make an instant, mixologist-inspired craft cocktail Manhattan, Old-Fashioned, and Mojito. A straight-up excellent gift for cocktail lovers, travelers, and frequent entertainers.
For Foodies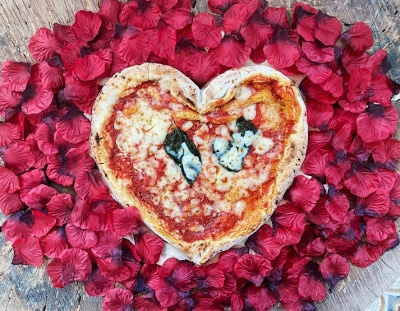 Introducing the first-ever, authentic Neapolitan heart-shaped Pizza shipped directly from Naples, Italy to the US. Talia di Napoli pizzas provide the convenience to fully enjoy authentic Italian flavors without traveling abroad. Whether it's for a romantic dinner at home or a seasonal gift for loved ones, Talia pizza is an excellent choice for good. The heart-shaped Pizza is a limited-edition pizza Talia created to celebrate the special day.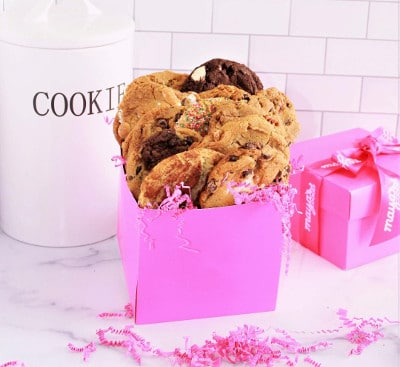 Maya's Cookies is America's #1 Black-owned, Female-owned, Gourmet Vegan Cookie Company. And this Valentine's Day, Maya has some sweet solutions. First, Maya has developed a beautiful Valentine's Day tin that features a gorgeous new flavor: Double Chocolate Cherry Truffle. This decadent cookie starts with a rich, chocolate cookie filled with Grand Marnier-soaked dried cherries filled with dark chocolate chunks. Second, give a gift that keeps giving with the Cookie Love Club subscription! 6 cookies beautifully packaged and delivered each month, to remind your loved ones that you are thinking of them every month of the year!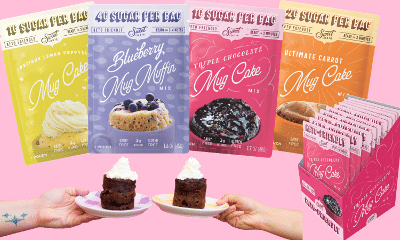 Meet Matt and Alli Owens, the owners of Sweet Logic based in Denver, Colorado. They make a line of keto-friendly mug cake mixes. Sweet Logic Keto Mug Cake Mixes are an indulgent diet friendly sugar free dessert for those who love cupcakes or brownies but not the sugar. With only 4G Net Carbs, these mixes are made with healthy ingredients like almond flour, coconut flour, cocoa powder, and all-natural sweeteners like allulose and stevia. Our low carb food is sugar alcohol free. Their keto desserts come in 4 signature flavors: Triple Chocolate, Luscious Lemon Poppyseed, Ultimate Carrot Cake, and Morning Orange Almond.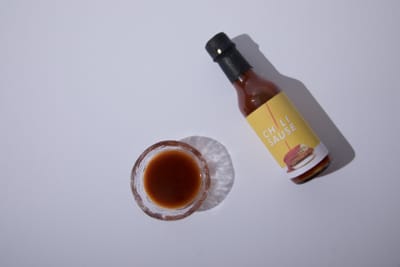 BÀO Tea House found its roots in mainland China where the founders fell in love with the culinary culture and the potential it possessed. After moving to New York City, the owners saw the perfect opportunity to open a location in Greenwich Village and create a brand, which is comprised of two main components, bao and tea. Bao, or bun, is a staple in traditional Chinese food. The second part of their brand is a high-quality tea that is healthy, tasty, and convenient substitute for coffee. Their hot sauce makes a thoughtful Valentine's gift for foodies who are in it for a little heat. The shop has been using this hot sauce on its cult-favorite buns, and finally decided to bottle it for sale at the end of 2020. Its house made with the following ingredients: peach, chili, soy sauce, honey, cooking rice wine and white sesame.
Outdoor Enthusiast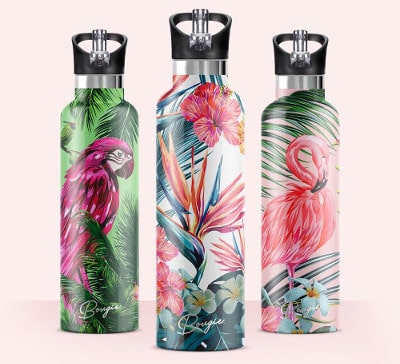 Introducing My Bougie Bottle by Juliet Pearson. There are a variety of reusable brands out there, however, many do not offer convenient features for the busy woman on the go and most are lacking a fashionable edge. Not only are these products safe for the planet but you'll be the envy of all your friends when you show off any one of My Bougie Bottle. So now you can look, feel and know you're so bougie. The company mission is to create the toughest, bougiest and most beautiful range of double-walled vacuum insulated stainless steel sports water bottles out there. The tropical bottle artwork is intended to inspire and raise awareness of the benefits conservation has on our planet.
Puppy Love
These beautiful cookies from Pixie's Treats, will have your dog's tail wagging! The cookie box is their best seller and is called Valentine's Puppucino Box. The frosting is safe for dogs and made from yogurt powder. All Pixie Treats, are human grade, gluten free and preservative free. Ships nationwide.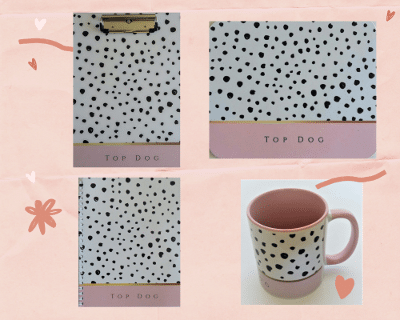 Stay organized, and stunningly stylish, with America's Top Dog Model's Dressed Desk gift set. The Top Dog office collection includes a clipboard, mousepad, notebook and mug. Items can also be purchased separately.
Twitter: @jojostylemaker