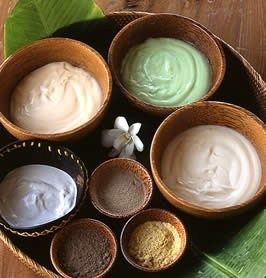 We're all aware of how obsessed naturals are with their conditioners and the importance they place upon them. The various opinions on ingredients in conditioners, their brand names, and whether or not they're actually for "natural" hair will forever be debated. When most women decide to embark on a natural hair journey they usually gravitate towards the most popular brands or those brands that are specifically for natural hair. Over time during the journey, many naturals will tell you it's about maintaining healthy hair, because no one woman's hair is alike and each individual's journey results will vary. One of my biggest lessons I've learned is do what works. I have learned that there are some great conditioners at the drugstore that work well if not better than some brand names. The following conditioners have been recommended by naturals everywhere:
1. The V05 5 Essential Vitamin conditioners work well as a co wash, leave in, and as a pre-poo (shampoo) treatment when coupled with your oil of choice. You can find these for less than a dollar in drugstores all around.
2. Us naturals know all too well about Tresemme Naturals conditioners, but there are also a couple of others that work very well within any natural's regimen. Tresemme's Luxurious Moisture Rich, Curl Hydration, and their Anti Breakage conditioners have been a staple that stayed in my rotation. These conditioners offer great slip, hydration, and protection for your hair. Tresemme can be found in mass retail and drugstores for less than $5.
3. The entire Pantene for Naturals line has worked wonders for my hair. The co wash, conditioner, deep conditioner, and daily moisturizer all run between $4-$6 range. If you have dry, brittle, or broken hair this is the line for you.
4. Another great moisture rich product is Herbal Essence The Sleeker the Butter. This is a multipurpose conditioner for all hair types. Coupled with The Sleeker the Butter hair milk you will have healthy, bouncy, and moisturized curls. The hair milk and conditioners can be found in drugstores for under $5.
5. Lastly, the Aussie 3 Minute Miracle conditioners don't need an introduction. Whatever your hair needs or concerns are they have solutions for you. Retailing under $4 allows you to mix and match giving your hair and curls max results.
For those who are newly natural, budget conscious, or just want some variety, these are a great way to start. Some of these aren't' necessarily curly girl friendly for some but for others they provide the right amount of moisture and protection to maintain healthy hair.
by Rosalyn Robinson