Madam C.J. Walker. Beverly Johnson. Anne T. Malone. Vanessa Williams. These Black women carved their names in the history books, to be remembered for generations to come. This, and every Black History Month, we celebrate them, but this year, we're expanding, shedding light on other Black women who have changed the business game. From beauty to fashion, these Bronze Beauties are writing the next chapter and setting example for up-and-coming leaders to do the same.
Supporting Black and Indigenous-owned businesses, in turn, leads to job creation and economic empowerment, which are essential foundations for creating greater social change in our communities."

Mbali Z. Ndlovu, Founder & CEO, Lukafit
Inspired by the lack of activewear that caters to the curves us Bronze Beauties are blessed with,Ndlovu set out to create properly fitting options to sport while working out. "It's frustrating to support brands that treat curvier women and women of color as tokens in their advertising," admits Ndlovu. "Lukafit's mission is to truly celebrate our customers by developing every aspect of our business with them in mind – from our uplifting designs, to our measurements specifically made for curvier figures, and our inclusive marketing images and messaging."
The brand carries "squat-proof" leggings and biker shorts with a high waist and drawstring for an added layer of protection and a secure fit. They also come with a back pocket (who doesn't love a surprise pocket) to hold the essentials while getting your sweat on. Also made with a moisture-wicking fabric to draw moisture away from skin are Lukafit's sports bras, which complete a full set of activewear to look just as good in as you feel. "We want to empower our customers of all shapes and sizes to truly embrace and feel confident in their bodies."
What would Ndlovu tell up-and-coming Black women in business? "My biggest piece of advice would be to develop a mindfulness practice. Entrepreneurship is incredibly challenging and it's easy to become overwhelmed by anxiety, stress, imposter syndrome, microaggressions, and the endless fires you'll have to put out on a daily basis."
Being a black woman in business means being seen. It's a real thing and I never thought of it that way, so now I'm very conscious of what I do, how I represent myself, being in charge of my own story, and being an example of what we all can achieve."

Shirley Menard, Founder, Beurre Shea Butter Skincare
With naturally-sourced ingredients such as shea butter from Africa and plant-based oils, Beurre products are handmade, vegan and cruelty-free, and are known for their vanilla and calendar scents. The brand carries belly creams for expecting mothers and an eczema line, inspired by those seeking options other than medicated creams.
Beurre's founder is shaping the lives of those far and wide, and not only those who use the brand's products, but those much closer as well. "I've been doing it for so long that I never fashioned myself to be a leader, just surviving," said Menard. "Until one day I was talking to one of my young cousins who was telling me about his new business venture. When I asked him why he started his business, he answered, 'I'm just following you – you're the godmother for all of us.' This really put everything in perspective."
For up-and-coming Black women in business, Menard urges confidence. "Don't let anyone talk you out of your vision. Be prepared by having a plan for the big and small parts of the business. Do your research. You will fail, then you will get up, and fail again but keep getting up," she says. "You got this!"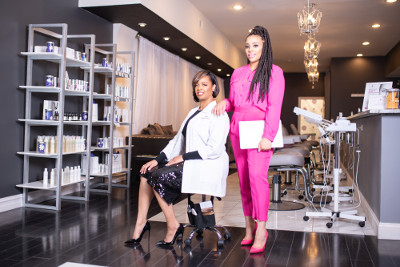 I'm proud of being able to have my daughters witness all of this from the start and know that their mommy never gave up."

Jessie Hayes-Stallings, Founder & CEO, Skinphorea
Skinphorea Facial Bar & Spa is changing the way we look in the mirror – literally. With services such as facials, peels, laser hair removal, waxing and more across two Detroit-area locations, Skinphorea's focus on skin is just as strong as it is on education and opportunity. The spa has created more than 25 jobs, serves 350 monthly VIPS, and has had more than 9,000 clients over the years, helping to boost confidence. The Acne Bootcamp Clinic offers programs tailored to each client's unique condition, providing counsel, step-by-step instructions, products and lifestyle changes for clearer skin.
When asked what being a Black woman business leader means personally, Hayes-Stallings said, "I think all of the strength it takes daily to deal with the challenges and adversities just because I am a black female business leader explains it all. Most importantly, as a leader, this is bigger than me. It's not what it means to me. I think what's most important is 'what does my leadership mean to others?'"
"What I'm told honestly on a weekly basis is the growth of Skinphorea and the trajectory we have been on gives others that look like us hope, and a blueprint hoping knowing they too can accomplish something on this scale and even larger in this climate."
Shareese Shorter, who co-owns Skinphorea, says it's "a real opportunity to gain market share for showcasing our natural and creative talents. Black women have always been leading innovators of hair care, fashion, and everything beauty, so now is the time for us to start being valued and properly paid for what we bring to the table."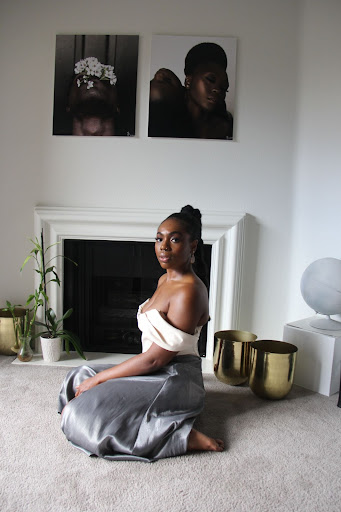 I get to light the way for others coming after me and be a resource for my community. It means I get to create my own normal and even though I will make mistakes, I have people who love me enough to bet on me."

Ezinne Iroanya-Adeoye, Founder, SKNMUSE
SKNMUSE radiates Black beauty and luxury, bringing African skincare influences to a lineup of products. Made with Shea sourced from West Africa, body butters come in welcoming varieties like cacao, Egyptian honey and Madagascar vanilla. Body oil and balm, cuticle oil and candles also round out the brand's offerings to help create a relaxed self-care environment.
What makes SKNMUSE stand out from other beauty brands? "I believe it's our love for community and culture," said Iroanya-Adeoye. "We've been able to emerge in the existing beauty market that feeds off of blackness without inclusivity. At SKNMUSE we are an authentic reflection of blackness in luxury beauty."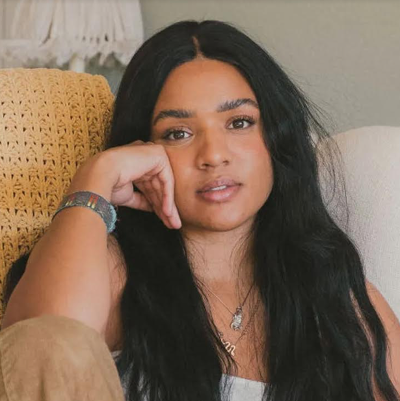 What does being a black, woman business leader mean to me? Showing up to represent, grow and succeed in spaces that weren't made for you."

Jamika Martin, CEO, ROSEN Skincare
Experiencing breakouts from a young age, Martin tried everything. The solution? Jump into the driver's seat. ROSEN Skincare was born. ROSEN uses what the brand calls "clean-ical ingredients" to bring serums, toners and masks, moisturizers and scrubs to consumers.
Since 2017, Martin has been leading the team to success. For up-and-coming Black women in business, Martin advises, "Find your network of founders, creatives and mentors who look like you. Get perspective on the issues you'll face and inspiration for the battles you'll be able to overcome."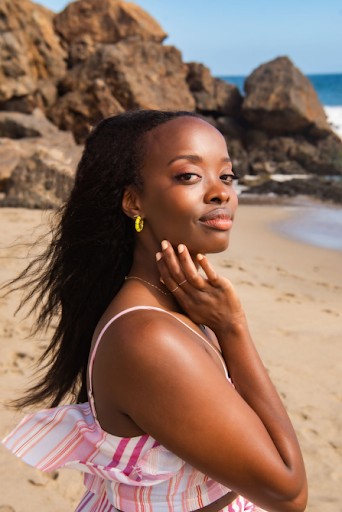 I encourage Black women in business to just start–start wherever you are and even if you don't feel fully prepared the time is now because we are capable of so much more."

Lorraine Beraho, MD, MPH, FAAP, Founder and CEO, GlowRx Skincare
With Ugandan and Rwandan lineage, Dr. Lorraine Beraho searched for products that were tailored to a variety of specific skin needs. Her patients all had common complaints, which she attributes to products made with ingredients that leave skin dry, especially for Bronze Beauties. She created GlowRx Skincare with melanin in mind. 100 percent vegan, the brand's products, including a vitamin C serum, a face oil with Moringa, and a detox charcoal mask to name a few, are designed with clinically-proven, non-toxic ingredients to tackle dryness, and cater to sensitive skin and hyperpigmentation.
An entrepreneur making a name for herself and the company, Dr. Beraho hopes to inspire others to set things in motion. "We can be anything we set our minds to, but we need to dream bigger and support each other through this journey. Take that leap of faith, take more (calculated) risks, start that course, invest in that idea, take that sabbatical to reset, and most importantly do everything with integrity motivated by a desire to serve communities that can benefit from whatever gift she is sharing through business."
Dr. Beraho isn't the only one in the family with their hands in the business. She works alongside her mother, an ICU nurse, who helps fill orders. "She has been a huge help from the inception of GlowRx and continues to work on the front line during this pandemic."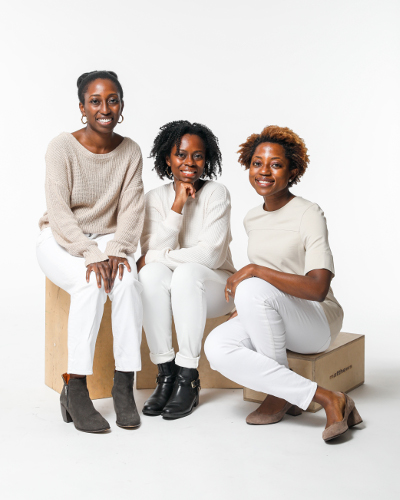 If you have an idea, go for it! We need to be present and own more spaces in the world to be taken seriously as a demographic. By doing what we do, we are truly paving the way for future generations."

Akua Okunseinde, Chief Creative Officer, Karité
This team of sisters from Ghana took their diverse backgrounds in dermatology, marketing and law to bring us Karité. The brand offers hand and body creams as well as a newly launched lip balm. The dermatologist-developed products are hypoallergenic and bring a piece of natural remedies from Africa to skincare.
"We are very close, so working together feels very natural. We are very lucky!" said Okunseinde about working with sisters. "I think the one challenge is that we are always working because we are constantly in communication. We recently took time off and traveled back to our beloved Ghana. It was so nice to truly disconnect from the 24/7 nature of a family business."
Karité also supports our Bronze Beauties in Ghana. "Our Shea for Soles charity helps supply much needed comfortable footwear to the women shea nut farmers who own the shea co-operatives in northern Ghana," explained Okunseinde. In December, the sisters returned to Ghana, where they spent their childhood and source Karité ingredients, to donate over 75 pairs of shoes to these women.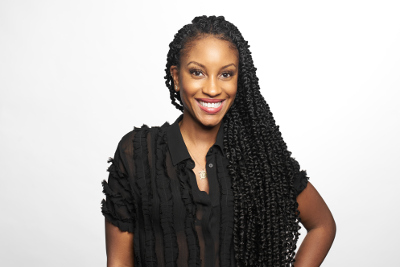 It's a badge of honor I wear proudly. Being a Black woman business leader means I have overcome challenges, defied stereotypes, and beat the odds to create a business that thrives on my Blackness and contributes to my community."

Brittney Ogike, CEO and Founder of BEAUTYBEEZ
Shopping for beauty supplies tailored to us Bronze Beauties often leads to a small "ethnic" section with few options to choose from. BEAUTYBEEZ in Hollywood, California, challenges those limitations. "Beauty retailers have ignored our demographic for far too long," said Ogike. "We needed a place where we felt celebrated and appreciated. That's what BEAUTYBEEZ does – a space where Black women can learn, explore and play in a world full of beauty."
The 3,300 square-foot location and online store offer more than 200 brands across beauty, bath, body, skin and hair. The Beauty Bar and Braid Lounge round out the one-stop-beauty-shop, which also offers locs, twists and facial services.
Ogike has arms in other categories outside of beauty. She also runs a management firm for pro athletes, and is on the board of her family-run foundation, The Middleton Family Foundation, which supports underserved communities and benefits community programs.
"My advice for up-and-coming Black women in business is to be confident and resilient," said Ogike. "It's not an easy journey but if you stay determined and committed to beat the odds, you will ultimately find success."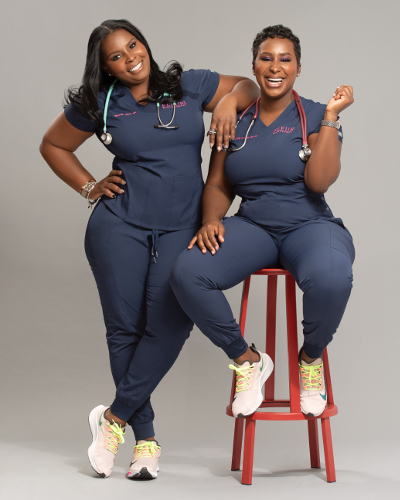 As clinicians, we noticed that there was a major lack of representation of Black skin care providers in our community. Our goal was to provide easy access to corrective skin care."

Wendy Jules RN, BSN and Carla Nelson RN, LE, ​​co-founders, Fleur De Lis Beauty & Esthetics MedSpa
Oxygen facial or a hot stone massage? Maybe a wax? You don't have to choose at Brooklyn's Fleur De Lis Beauty & Esthetics MedSpa. Founded in 2016 by two sisters who used their knowledge of the medical field as registered nurses, the spa provides a space for wellness.
"As first-generation Haitian Americans, being Black women business leaders means trailblazing the industry that we're in (medspa) while staying true in our commitment our community," they said. "We opened Fleur De Lis Beauty & Esthetics during the height of the pandemic because we saw a need and an opportunity within our community to provide easy access to corrective skincare for melanin- rich skin. We believe that everyone deserves access to knowledgeable, luxurious services in a comfortable neighborhood that they call home."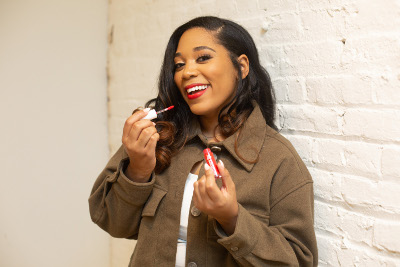 Stay true to yourself, be sure to celebrate the small wins along the way, and remember that it's okay to ask for help. It's not easy being a black woman in general – and then add on trying to own and run your own business."

Briana Williams, CEO & Founder, LipLoveLine
We all have our one thing that can truly make us feel confident and beautiful. For some, it's lashes. For others, eyebrows. Some love to get dressed up and show out. For Williams, it's all in the lips. Growing up with health issues and low self-esteem, a go-to for feeling beautiful was lip gloss."I wanted to create an inclusive health and beauty brand that encourages the celebration of women and beauty in all its forms."
LipLoveLine officially launched in 2021 and offers balms, glosses and lipsticks in colors from pink, nude and brown to that bold pop of plum or red. All products are vegan, cruelty-free, and free of sulfates and parabens. "Our lifelong mission to celebrate beauty in all its forms and inspire fearless self-acceptance extends far beyond our lip products. We believe that beauty manifests in many forms and exists in every individual. We believe in embracing and owning your natural beauty and that of others."
When asked what being a black woman business means Williams said, "It's an honor, truthfully. It takes constant courage. Doing what my ancestors could only dream of is truly incredible and brings about an emotion that is indescribable. I now have the opportunity to encourage and inspire young girls of color to follow their dreams, too."
What's next for LipLoveLine? Williams says the brand will "continue to partner and collaborate with organizations that support young girls and women in need of counseling, therapy, and health and wellness guidance."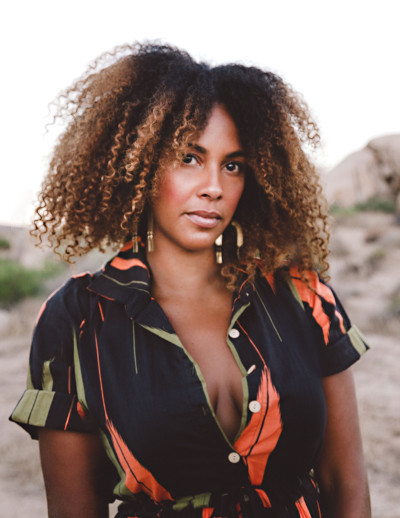 I want little girls to see an unapologetic leader who doesn't have to compromise to be successful."

Dorian Morris, Founder and CEO of Undefined
Imagine working at some of the biggest corporations. Would you leave it all behind for a new, meaningful journey? Morris did. The beauty industry veteran wanted to build something purpose-driven. "Being a beauty & wellness insider, I felt inclusivity was missing from the space–and not inclusivity meaning the color of your skin–inclusivity in terms of accessibility, knowledge, and mindset." That something is Undefined.
The brand also uses a "clean-ical" approach, combining the power of plants with clinically-proven actives to create cleansers, serums, bath soaks and even vegan chocolate. Undefined's products are plant-based, non-toxic, cruelty-free for a clean, affordable beauty routine.
What does being a black woman in business mean for Morris? "It's about changing the narrative—challenging the status quo—and living Undefined… It's about reframing and rejecting what beauty and wellness have historically looked like; there's not just one way to be, live, love, consume, appreciate, vibrate. Wellness previously had one face and she was white, blonde, thin, affluent. We all deserve access to wellness and Undefined is bringing those into the conversation that has been historically excluded. It's about celebrating the beauty of choice and meeting her wherever she is on her wellness journey. It's about taking our power back. Not confirming. Embracing individuality, quirkiness, fluidity, and uniqueness."
While supporting those on their wellness journeys, Undefined also places an importance on its partners. "Undefined operates under the principle of Conscious Capitalism which means across my supply chain I partner with female-founded, BIPOC and LGBTQ founded businesses because I'm a strong believer that business empowers business."
As for advice for up-and-coming Black women in business? "Be a rule breaker and don't take no for an answer. Find out what is important to you and what values you live by, and work according to those standards. It is one thing to create a brand or a business, but it is another thing to do so while staying true to yourself and your values. Do everything with intentionality."