For this post I wanted to focus on skincare! It has been one of my obsessions lately, and I'm always looking for the latest skincare products that will cater to my beauty needs! With so many products on the market, it can get difficult to find the right product that works for you. Well the worry is over! I present to you, the DreamTone Serum from Lancome!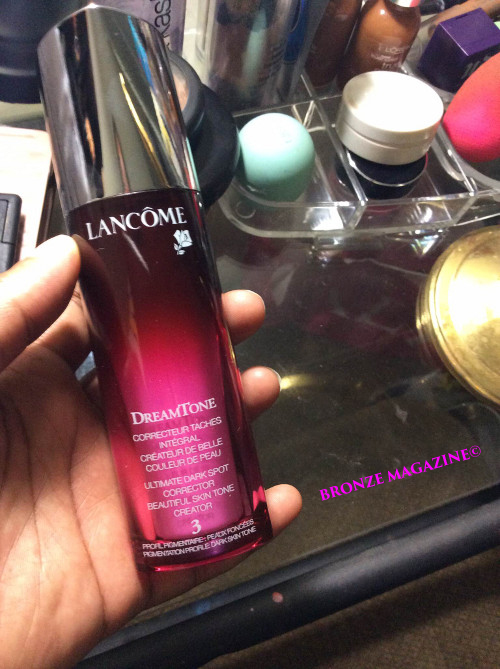 The DreamTone Serum is a dark spot corrector that visibly fades the appearance of dark spots. Its comes in three different formulas that are designed to work for all skin tones.
Fair Skin Tone (1)
– Dark Spots
– Uneven Skin Tone
– Redness
Medium Skin Tone (2)
– Dark Spots
– Uneven Skin Tone
– Sallowness
Dark Skin Tone (3)
-Dark Spots
-Uneven Skin Tone
– Acne and Blemish Marks
I use the number three in the DreamTone serum because I have old acne marks and blemishes that I wanted to fade away. What I love most about the product is the texture. Unlike other dark spot correctors I've tried, DreamTone doesn't have a harsh texture or feel to it. It's nice and silky and leaves the skin feeling very smooth. After using it for a month, I noticed that my dark spots were not as pigmented, and my skin had a nice glow to it. I like to use this in addition to my acne skincare regime, which I usually do at night. The smell of the product is nice as well. The signature Lancome rose scent is quite soothing and not over the top.
DreamTone absorbs into the skin quickly and does not leave the skin feeling oily or heavy. I recommend using this both day and night starting off, and then as you start to see improvements, only at night. I prefer to use the serum at night because that's when the skin is at it's purest, rebuilding itself back up for the next day. I can honestly say that using this serum has made me a lot more comfortable going without makeup. At one point in time, I would always have to leave my house with a BB Cream or Powder. Once my acne marks started to fade and my skin was more even toned, I would, and still can leave the house feeling beautiful and put together. I highly recommend this product to anyone who wants to correct dark spots without harsh treatment. It does retail for $98, but it is worth every penny! Stop by your local Lancome counter and ask for a sample. I'm sure you'll love it!
Written and photographed by Kimberly Wyms