For the past few weeks I have been indulging in chocolate without gaining weight, breaking out, or messing up my teeth. How is that possible? actually, I was cleansing my face with Karin Herzog's Finest Chocolate Cleansing Gel. This product cleanses the skin without stripping it dry; it removes makeup, and restores the skin's ph balance while leaving it hydrated.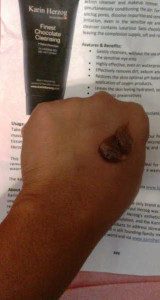 For starters, the sleek tube packaging allows you to store the product without taking up too much space. It's also designed perfectly for dispensing just the right amount of gel needed for cleansing, and for keeping the spout sanitary. When you first twist the cap off, the tube exudes the smell of chocolate; for those that have a sensitive nose, no worries, the scent isn't overbearing. It's a soft chocolate smell, as if you baked brownies in the morning and the aroma lingers as the day goes by. Next, the texture is a true gel formula. The consistency is smooth enough to spread without it being too runny or thick. The gel squeezes out in a clear brown color.
Because it is a makeup remover as well as a cleanser, you need to apply the gel to dry skin and massage gently until your entire face and neck area are covered. It glides on like butter, so you'll find yourself massaging it in more than is specified. When rinsing off, you can opt to use a warm wash cloth or to remove with water if in the shower/bath.
What's the Verdict?
I have nothing but good things to say about this cleanser. It removes makeup, even waterproof mascara and eyeliner. Since I have sensitive dry skin, I needed something that could remove makeup, dirt, and impurities without stripping my face of its natural oils. On the days when I didn't wear any makeup, I opted to use the chocolate cleanser in order to get a deep cleanse and moisturizer all in one. Afterwards, my skin was left feeling extremely soft, supple, and clean. Also, when using a wash cloth you don't have to worry about the "chocolate" staining anything. Did I mention one of the ingredients in this multi-action cleanser is salicylic acid? This was an added bonus for me. I can cleanse my skin, remove makeup, fight a breakout, or add moisture all with one product. I know we are in an era of minimizing our routines and using products that perform double duty, but Karin Herzog's Finest Chocolate Cleansing Gel  has taken skincare to the next level. This cleanser is made for everyone regardless of your skin type.
by Rosalyn Robinson