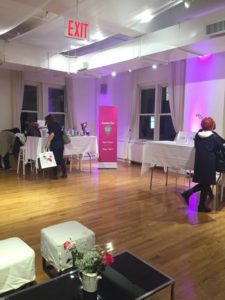 Beauty Press, an International Public Relations Network held an exclusive event called Spotlight Day (Winter EDITION) that I was fortunate to be able to attend on behalf of Bronze. The event took place on November 9th at the beautiful Midtown Loft & Terrance here in New York City, and allowed over 150+ different print and digital media outlets to view mainly beauty companies that were there to discuss their brands and products. It was my first time attending an event like this and when I first walked in, a few people that worked for Beauty Press greeted me. They asked me for my name and handed me a name tag along with a gift bag of goodies from one company called "NOTE Cosmetics".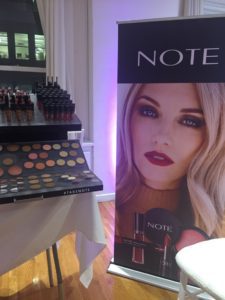 After receiving my bag of goodies I walked towards the center of the giant room and looked around. The tables were lined up next to each other and nicely decorated. I walked over to a booth that caught my eye. It was a skincare company called Mirai Clinical, a Japanese based company whose motto is "Less is More." Their focus is on simplifying one's skincare routine to prevent having to use multiple products to keep the skin clear. When I do my own skincare routine, I use up to five products, but with Mirai Clinical I only need one. This would significantly cut down the time it takes to do my skincare routine.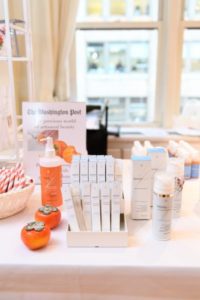 After a lovely conversation with the Mirai Clinical reps I headed over to the NOTE Cosmetics booth. NOTE Cosmetics is a new cosmetic line that is featured in Ulta Beauty Stores. The reps were super friendly and showed me a few of their new products that are coming out. After reviewing their Terracotta Blusher, I had a quick delicious snack while walking over to different booths to observe and discuss their products.
One of my favorite booths of the event was that of the feminine hygiene company Summer's Eve. What I thought was so cool was that you were able to make a quick freshen up bag that you can take with you on the go. I was able to have cleansing cloths, Altoids, hair ties, and anti-bacterial hand gel.  I use my freshen up bag all the time now! I spent almost two hours talking to different companies. My experience was great and everyone was extremely friendly. I liked the fact that the companies took the time to talk intimately about their brands. Also, I liked the fact that there were different types of companies and none of them were the same. I definitely recommend this event for those who are interested in the beauty industry or if you want to work with beauty brands.
By Morgan Conyers